Here are 24 cult classics everyone should see at least once.
Classics you shouldn't skip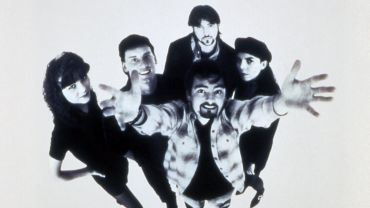 It can be tricky to determine which films have cult-classic status. After all, they're usually films that initially received little notoriety, only to evolve over time into truly appreciated works.
To determine our own list of can't-miss cult classics, entertainment data site PrettyFamous looked at movies that came out before 2005 and earned less than $30 million (adjusted for inflation) at the domestic box office. To get on our list, films couldn't be part of a franchise, documentaries or children's movies, and they have to still be showing in limited theaters today.
Here are 24 cult classics everyone should see at least once.
#24. The Room
In 2008, rumors were spreading around Los Angeles that a flop from five years earlier was giving the legendary "Rocky Horror Picture Show" a run for its money as the new must-see midnight movie.
"The Room," which had grossed just $1,800 during its two-week run, was so unforgivably terrible on every level that it had redefined the so-bad-it's-good genre. "The Room" became a global phenomenon, one that Vulture referred to in 2013 as "the biggest cult film of the decade."
Creator and lead actor Tommy Wiseau now refers to the film as a comedy, though it was first advertised as a drama.
#23. Barbarella
Like so many cult classics, 1968's "Barbarella" is, in a word, campy. It falls into the category of "so bad it's good" — a status that few strive for that can cement a movie's place as a cult film just the same.
#22. Ghost in the Shell
In the year 2029, humans are connected to vast computer networks through cybernetic bodies. Their abilities are heightened, but so are the tactics crooks and hackers can use to manipulate people's minds.
This 1995 animated film is based on the popular Japanese manga of the same name.
#21. Clue
The cult status of "Clue" can largely be traced to its litany of impossibly bad jokes (Think: "Like the Mounties, we always get our man." "Mrs. Peacock was a man?").
The simple fact that it was based on a board game drew in loyalists.
#20. The Rocky Horror Picture Show
Arguable the most iconic cult classic of all time, "The Rocky Horror Picture Show" is one of the only movies where audience participation is preferred over silence.
During the film's legendary midnight screenings, the faithful dress up, shout back at the screen during pauses in dialogue and throw props.
Although it earned more in the box office than our criteria for this list permits, it makes the list given its high screenings volume and constantly growing fandom.
#19. Bottle Rocket
"Bottle Rocket" — which served as the onscreen debut of both Luke and Owen Wilson — was Wes Anderson's first film, and the MTV Movie Awards was one of the few institutions that realized the talent it showcased.
Anderson won the award for Best New Filmmaker. Martin Scorsese was also impressed. He listed the film among his 10 favorite movies of the '90s. Few others, however, got it. The movie bombed so badly that Owen Wilson nearly quit acting to join the Marines. As Wes Anderson and the Wilson brothers' careers took off, however, so did the film's standing as a cult classic.
#18. My Own Private Idaho
"My Own Private Idaho" developed a cult following, in part because the troubled life — and tragic death — of its star, River Phoenix, mirrored so closely that of the character he played in the movie. Phoenix died in 1993, two years after the movie was released.
#17. Donnie Darko
Is Donnie schizophrenic or can he travel in time? Everything changes when Donnie Darko is led away from his bedroom by Frank — a spirit in a scary bunny costume — as a jet engine falls into Donnie's bedroom. He escapes death due to Frank's guidance, but ultimately many lives would have been changed (potentially for the better) if Donnie hadn't followed him.
Part of the appeal of "Donnie Darko" is the unanswered questions and holes left open for interpretation.
#16. True Romance
Written by Quentin Tarantino, "True Romance" was an unmitigated box office disaster. It didn't achieve cult status until the smashing success of 1994's "Pulp Fiction" sent new Tarantino fans flocking to see what they had missed the first time around.
#15. Clerks
The premise might seem simple: two store clerks go about their day at a convenience and video store. However, the film launched several recurring characters in director Kevin Smith's future works, including Jay and Silent Bob.
The film was released in 1994 and is shot entirely in black and white.
#14. Johnny Guitar
"Johnny Guitar" achieved cult status because of its cinematic beauty and subtle anti-McCarthy message — a bold move, given that it was released during the height of the Red Scare in 1954.
The movie is also noteworthy for its behind-the-scenes drama, which included alcohol-fueled rages from star Joan Crawford, like the kind that inspired "Mommy Dearest."
#13. The Warriors
Released in 1979 during the height of New York City's bad old days, "The Warriors" earned a cult following largely from the sheer controversy — both real and imagined — that the film inspired.
Although Ronald Reagan reportedly loved the movie, many local authorities did not. The movie triggered a wave of violence and vandalism, and New York City criminals threatened the crew and destroyed film equipment because the film's creators did not hire local street gang members for roles in the movie.
#12. Rushmore
Bill Murray may have more of a cult following than any living actor. The release of "Rushmore" signified the beginning of the beloved actor's rise to cult stardom.
The film also introduced actor Jason Schwartzman to film in this high school love triangle written by Wes Anderson and Owen Wilson.
#11. Hedwig and the Angry Inch
In 1998, a New York Times review predicted "Hedwig and the Angry Inch" to be "the kind of 'Rocky Horror Picture Show'-style event that may inspire a rabid cult following."
The New York Times was right. The musical, which tells the story of a love-inspired sex change operation gone wrong, cemented its cult status when it became a staple of the burgeoning gay rights movement.
#10. The Big Lebowski
A case of mistaken identity ties Los Angeles slacker and bowler Jeffery "The Dude" Lebowski to a millionaire by the same name. Enter the kidnapping of the millionaire's trophy wife and The Dude gets stuck in the middle of paying off a ransom to save her.
Lebowski Fest, in Los Angeles, occurs annually involving a large movie party and a bowling party to honor the film's titular character.
#9. The Princess Bride
The arrival of the Internet — and the short attention spans on which it thrives — breathed new life into the cult status of "The Princess Bride." The reason? Its sheer quotability.
Perhaps more than any other movie on this list, Internet buzz enabled "The Princess Bride" to circle back around and draw new members into its cult following, which it first developed after its lukewarm original release in 1987.
Even though it exceeded our criteria in box office sales, we included "The Princess Bride" due to its cult following and understood status as a cult film.
#8. Paris, Texas
"Paris, Texas" achieved cult status partially because of the litany of stars who have vouched for it. Both Kurt Cobain and Elliot Smith reportedly said it was their favorite movie ever made, and U2 cite the film as the inspiration behind their album "The Joshua Tree."
#7. A Clockwork Orange
Stanley Kubrick voluntarily withdrew "A Clockwork Orange" shortly after its release in the U.K. in 1971, when an X rating forced the film out of the mainstream.
But, the persistent rumor that it was actually banned in Britain fueled its status as a cult film. According to the BBC, "it lived on in the form of battered VHS tapes passed reverentially between teenagers, becoming a small screen rite of passage in the near three decades until it was finally re-released."
Though the film earned more in the box office than our criteria permits, we couldn't exclude this cult classic.
#6. Blade Runner
"Blade Runner" came out at the perfect time to become a cult classic. Widely considered one of the greatest science fiction films of all time, the movie explored the integration of human beings and the machines that the movie predicted would come to dominate their futures.
That was in 1982, around the birth of the personal computer. Though it earned more in the box office than our threshold for this list, "Blade Runner" fits the criteria in other meaningful ways.
#5. The Killing
"The Killing" was one of Stanley Kubrick's first films. Not only did it develop a cult following, but its non-linear style — which was nearly vetoed by the studio — heavily influenced future non-linear films like "Reservoir Dogs" and "Pulp Fiction."
#4. Shadow of a Doubt
Although it is likely not his most famous film, and certainly not his most successful, "Shadow of a Doubt" is considered by some to be Alfred Hitchcock's greatest masterpiece. Those Hitchcock purists still drive the 1943 film's status as a cult classic more than 70 years later.
#3. Vertigo
Any film by Alfred Hitchcock will be beloved forever by his horde of loyal followers. "Vertigo," however, has extra cult appeal because it was one of the "Five Lost Hitchcocks" — a collection of movies made during the same period that were denied to audiences for three decades until they were re-released around 1984.
#2. Rififi
This low-budget, 1955 crime thriller, which introduced Americans to Parisian underworld slang, achieved cult status largely because of its legendary, 32-minute-long heist scene, which featured no dialogue and no music.
"Rififi" left such an impression on its faithful fans that copycat criminals began using criminal tricks from the movie for bank robberies and other crimes. It was banned in Mexico after multiple burglaries imitated those of the film.
#1. Spirited Away
"Spirited Away" is the first anime film to be nominated for, and to win, an Academy Award. It also holds the distinction of being the first film ever to gross more than $200 million before being released in the U.S. So ... how is that a cult classic? Of the $275 million that this artistic masterpiece earned globally, just a hair over $10 million came from the United States.