City prepares to guard ash trees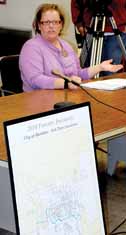 As the tree-munching emerald ash borer beetle continues to threaten Wisconsin, Baraboo officials may spend more than $600,000 to take down and replace ash trees over the coming years.
Last week a consultant recommended that the City Council spend about $4,000 for chemical treatment to save 43 excellent ash trees when the insect pest eventually is found here.
Tree consultant Kelli Tuttle of Drummond reported to the council Tuesday on the results of an emerald ash borer readiness plan she prepared beginning in fall.
Baraboo has 1,302 ash trees on city property. They are threatened by the emerald ash borer, an insect native to Asia whose larvae eat the living part of a tree underneath the bark, killing it within two or three years. The insect first was detected near Detroit and has been spreading, Tuttle said.
The nearest the ash borer has been detected is 100 miles away in Vernon County, Tuttle said. There is no way to know when it might arrive here.
"Last year there weren't any new significant finds - the existing finds grew," she said.
There are pesticides that will kill the adult insect as soon as it lands on a treated ash tree and before it lays eggs, Tuttle said. However, at a cost of $200 per tree every three years, chemical treatment is expensive if used to save every city-owned tree.
"It has to be done in perpetuity," she said. "If you stop treating them, your ash tree will get emerald ash borer and die."
Tuttle recommended the city gradually remove the ashes and replace them with other tree species not vulnerable to the pest. Removing and replacing the city's stock of ash trees would cost about $621,000 spread over five to seven years, she estimated.
She also suggested spending about $4,000 every three years to chemically treat and save the 43 excellent trees, "for posterity's sake." Saving Baraboo's good and excellent trees would cover 722 ashes at a cost of $88,000 every three years.
"Of all the trees in your city, ash are the best," Tuttle said. "Your ash in general are a very healthy population, which is unfortunate."
It is possible for the city to get help removing the ash trees, she said. Some Wisconsin communities have convinced their local electric utilities to pull out ash trees under power lines, for example.
Tuttle said cities often help residents by providing them with information about the emerald ash borer. However, private property owners generally have to deal with damage on their own.
"Lots of homeowners see the value of saving their private trees," she said. "So I think the rate of chemical treatment on private trees is much higher."
Parks and Recreation Director Mike Hardy emphasized Tuttle's recommendations are just that, not city policy. Over the coming months the Parks and Recreation Commission and its emerald ash borer committee will work out policy recommendations for possible action by the City Council, he said.
"Right now, we're a little hesitant on spending money for the chemical treatment," Hardy said. "Obviously, because we're not at the point where we're threatened quite like the other communities are.
"We're considering her recommendation to treat the ones that are in excellent condition," he said. "If the bug did get here, we'd look a little more closely into costs."
Hardy said he hopes to have recommendations ready for the council in spring.
• Residents with questions or concerns about their ash trees may call the state emerald ash borer hotline at (800) 463-2803; or find information online at http://www.emerald ashborer.wi.gov.
More from WiscNews