Geocaching: Modern hide-and-seek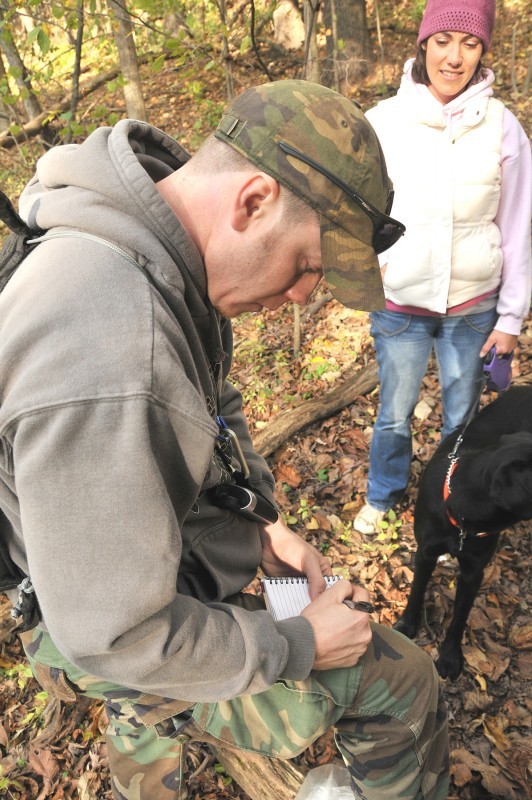 Team Dennis was within several feet of its target.
The crisp fall leaves crumpled underneath the team members' feet in a wooded area on the north side of Devil's Lake State Park. They walked back and forth holding their global positioning devices in front of them. Their heads bobbed up and down, searching for something out of the ordinary.
There it was. A small container dangled from a string tied to a tree branch. Inside was a tiny logbook that listed the names of everyone who found it since the container was hidden.
For Aaron Dennis, of Stillwater, Minn., it was his 2,314th find. And from there, it was on to the next set of coordinates on their list.
"There's definitely a community (of geocachers) out here," Aaron said.
Aaron and his wife, Becca, made the trip to Baraboo on Saturday for Geocaching Day at Devil's Lake State Park.
Geocaching is like playing hide-and-seek with global positioning devices. People hide containers that contain log books - and sometimes little trinkets - all over the world, then post the coordinates to the World Wide Web. Others with GPS units load the coordinates to their device and go hunting.
The global positioning systems usually bring seekers within a 10 to 30-foot radius of their target. Once they find it, they sign the log book inside to prove they've been there and put the container back where it was. Later, at their home computers, they sign in to their geocaching profile and log the find.
Sometimes, they leave a note to the person that hid the container to tell a funny story about the search. Or they simply write TFTC, which stands for "thanks for the cache."
The search isn't always easy.
"When we went to Colorado last year, we found some (containers) that were buried under six feet of snow," Aaron Dennis said. "That was challenging."
There are 575 hidden containers within a 25-mile radius of Devil's Lake, and about 19,400 in Wisconsin. Worldwide, there are 1.5 million geocache containers, said Larry Eisenhardt of DeForest, also known as Lions Fan Larry to his geocaching friends.
"Not everyone likes the same thing," Eisenhardt told a group of prospective geocachers inside a shelter at N43° 25.640 W089° 43.768, on the north side of Devil's Lake.
"A lot of people like what's called 'park and grabs.' You park your car, hop out and it's right there. Other people like to walk in the woods."
GPS units receive radio waves from satellites more than 12,000 miles from Earth. The devices use those waves tell their user exactly where they stand on Earth in degrees of latitude and longitude. Degrees are broken down even further into minutes and seconds.
Geocaching began in 2000, after the military freed up a more accurate GPS signal for civilian use. That allowed GPS users to find coordinates with great precision.
"The more satellites (your GPS unit) can receive signals from, the more accurate you're going to be," Larry Eisenhardt said.
And there's different ways of playing the game.
Some people leave an encoded device inside their container with a note that asks geocachers who find it to move it to a new container at another location. The person that hid the device then tracks it from their home computer as it travels around the world, sometimes crossing oceans.
Some containers have toys inside for geocachers who go hunting with kids. But those who take a toy are encouraged to leave one of similar value.
Jeff Little of Bluffview, also known as Hot Dogs Off Trail, used his handheld eTrex GPS unit to hide several containers throughout Devil's Lake. His finds aren't easy. One is inside a piece of Styrofoam made to look like a rock.
He said the hobby is relatively inexpensive. It includes an up-front investment of between $100 and $500 for a global positioning device. After that, the gas in your car is your only cost.
He's even found an added bonus to having a GPS unit. His dog wears a device on its collar that sends out a signal. If it ever gets lost, he'll know where to look. And if he's lucky, maybe he'll make a few other finds along the way.
More from WiscNews