LANDS' END
Sears says it may spin off Lands' End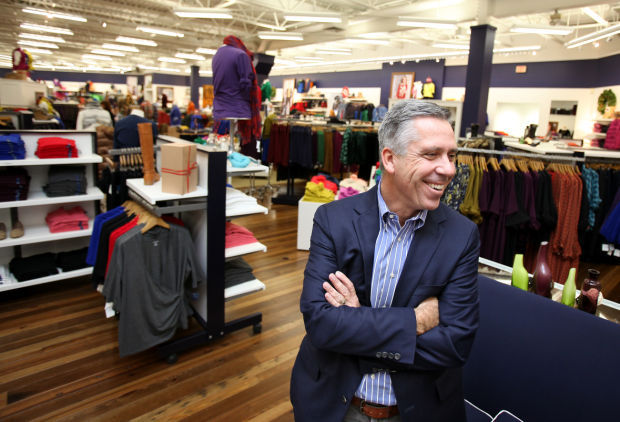 Sears Holdings Corp. says it may spin off Lands' End, a process that could restore the Dodgeville clothing retailer to a stand-alone, publicly traded company for the first time in more than a decade.
The news, along with other cost-cutting moves Sears announced Tuesday, spurred big interest on Wall Street. Trading of Sears stock nearly doubled average levels and shares jumped more than 10 percent over the previous day.
Rumors have abounded for years that Sears chairman Eddie Lampert has been trying to sell Lands' End, but this is the first time the Hoffman Estates, Ill.-based Sears has publicly acknowledged that it is considering a split, a Sears spokesman said.
On Tuesday, in a corporate news release, Sears said it is "evaluating" splitting off both Lands' End and Sears Auto Centers as part of a continuing effort to put the struggling merchandiser on firmer financial ground.
"We seek to accelerate our transformation by becoming a more focused company that is easier to understand," Sears said.
"We believe separating the management of these two businesses from Sears Holdings would allow them to pursue their own strategic opportunities, optimize their capital structures, attract talent, and allocate capital in a more focused manner while bringing our business unit structure to life outside of the Sears Holdings portfolio," the company said.
As for Lands' End: "We believe that Lands' End is an iconic brand with the potential to become a more global brand," Sears said.
A Lands' End spokeswoman deferred comment to Sears officials. Lands' End has about 5,000 employees in Wisconsin, including a distribution center in Reedsburg.
Sears said it does not plan to sell Lands' End but instead, if there is a split, it would be "through a transaction that would allow existing shareholders the opportunity to benefit from the significant potential for value creation over the long term."
Asked if Lands' End might become a publicly traded company once again, Sears spokesman Howard Riefs said that would be up to the Lands' End board. He said the benefit could be in the form of a special dividend.
Riefs said there is "no public timetable" for a decision on a potential spinoff.
Sears Holdings' predecessor, Sears, Roebuck and Co., bought Lands' End — whose stock had been traded on the New York Stock Exchange since 1986 — for $1.9 billion in 2002. Kmart bought Sears in 2005 and the company became Sears Holdings.
Retail analysts have questioned the pairing of Lands' End with Sears almost since the outset. When Sears merged into Kmart in 2005, analyst Howard Davidowitz, chairman of the New York retail consulting firm Davidowitz & Associates, said there was "an excellent chance that Lands' End will be ultimately removed from the Sears stores because it's been a debacle."
Returning Lands' End to a separate company would be a good thing, said Morningstar equity analyst Paul Swinand. "Would Wisconsin want to be owned by Illinois?" he asked rhetorically.
Swinand said he thinks Lands' End, currently in about 285 Sears stores and 14 Lands' End stores, could survive on its own again. "I think it could do all right. It's in a competitive space, but they've got their own brand, got a different niche."
Spinoffs often do well, said Jim Seward, executive director of UW-Madison's Nicholas Center for Corporate Finance. "Sometimes when you combine businesses, you end up with very complicated businesses and businesses that don't necessarily belong together," he said.
Seward said it's hard to know if Lands' End would do better on its own since Sears does not disclose Lands' End finances. "I do know it will sink or swim on its own merits," he said, rather than that of Sears.
Seward said that if Lands' End is separated, "it's a virtual certainty that it will be publicly traded" — a move that could set up an acquisition by another company that may not want to negotiate with Sears.
More from WiscNews