Survivor leads campus marrow drive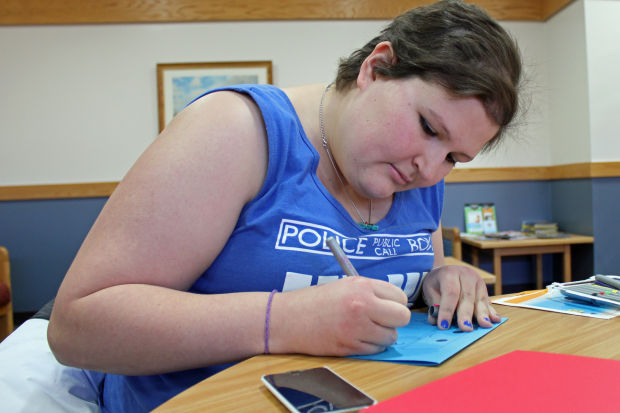 Cancer survivor Sam Bieno can't forget the day her stem cell transplant came a year ago. Tired and nauseated from the chemotherapy and full-body irradiation that had prepared her for the procedure, the donation arrived, looking like a simple gift but bearing a special significance.
"It comes in a blood bag, and it just looks like blood," said the Portage 21-year-old. "So it looks like you're just getting a blood transfusion. But it's bigger than that. It's literally my second chance."
The University of Wisconsin-Baraboo/Sauk County student was diagnosed with acute myeloid leukemia at age 20. Working in her family's dry cleaning business at the time, she remembered being exhausted but had attributed the tiredness to many hours of hard work.
"I didn't want to recognize it," she said.
Bruises on her arms and legs prompted her to seek medical attention. Once diagnosed, she endured chemotherapy and radiation, and her doctors informed her that because of a gene mutation in the cancer, she would need a bone marrow transplant.
"That mutation would make the cancer keep coming back no matter what they did," she said.
Bieno's doctors first looked to her siblings, and when a match was not found, they searched the National Marrow Donor Program's registry, a network in which people who meet certain age and health criteria can register to voluntarily donate life-saving bone marrow.
Now well enough to return to school, Bieno said she is studying to become a child life specialist and wants to work to help children with serious health problems and their families through difficult times. She's in her first semester at the university.
Early on in the year, she was talking with student affairs coordinator Steve Paske about her reason for being back in school.
"I told him that the reason why I'm here was because I needed to get back into the swing of school because I've been out because of cancer," she said.
Paske first conducted a registration drive on campus in 2009.
"My hope would be to register someone who goes on to save a life, providing hope for those in need." he said.
Paske said he'd also like to educate potential donors about the processes for giving, which could include surgical removal of bone marrow or the nonsurgical removal of blood-forming cells from a donor's blood.
"This is not our parents' era: Processes have changed," he said.
Paske had expressed interest in hosting another bone marrow donor registration drive on campus, and he and Bieno teamed up to organize an event along with the national program's Be The Match, which will coordinate the activity.
They've scheduled a drive from 10 a.m. to 3 p.m. Tuesday on campus in the Umhoefer Classroom and Administration Building.
The process to register is painless and takes about 20 minutes, Bieno said.
People between ages 18 and 44 can fill out a health history questionnaire, and those eligible will have their cheeks swabbed to be tissue typed and placed on the registry.
"It's simple, it's necessary and it's life-saving," Bieno said of registry and donation.
The Harry Potter, Dr. Who and Sherlock Holmes fan said she, too, likes to give back. Right now, she's in the midst of a project to craft 500 holiday cards for children with cancer.
The one gift she'd like to receive is to meet her donor, the man who offered her another chance at life. She has attempted to reach out through the program.
"I wait for the letter every day," she said.
Bieno encouraged others to consider a similar act of generosity by joining the registry.
"It's Thanksgiving," she said. "It's the time of year for giving."
More from WiscNews