University of Wisconsin Colleges' top administrator says merging the University of Wisconsin-Baraboo/Sauk County with a larger, four-year campus could bolster declining enrollment at the two-year school.
UW Colleges Chancellor Cathy Sandeen said Friday that UW System President Ray Cross' plan to merge the state's two-year colleges with its four-year institutions would give UW-Baraboo more access to recruitment marketing resources and expand degree offerings, which could attract more students.
The changes would bring the campus under the umbrella of the University of Wisconsin-Platteville and ensure its "doors remain open," she said.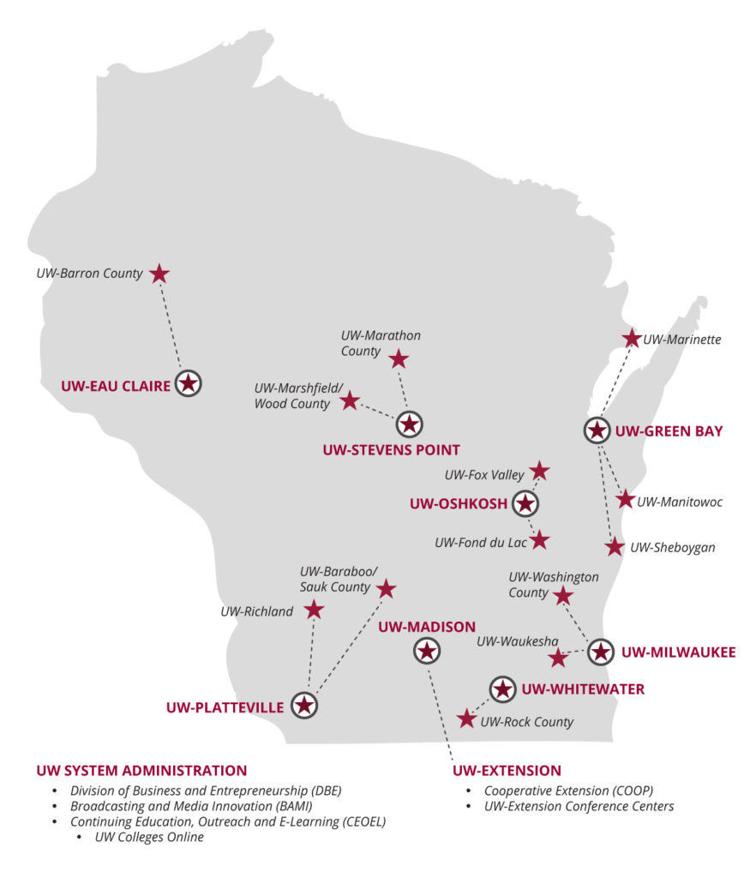 UW-Baraboo Campus Commission Chairman Phil Wedekind said the panel, which is comprised of representatives from the campus, Sauk County and city of Baraboo, has yet to discuss the proposed changes in depth. He said campus, county and city leaders have been kept in the dark on many specifics of the proposal.
"We really haven't discussed it because we don't know what to discuss," he said.
Enrollment at UW-Baraboo has decreased 30 percent since 2010, dropping from 466 to 327 full-time students, according to statistics from the UW System. Throughout the 13 UW Colleges campuses, enrollment has dropped 32 percent over the same time period.
Cross has described his proposal to merge the system's 13 two-year campuses with seven of its 13 four-year campuses as a way to address declining enrollment and projections of little to no growth in college-aged state residents in the coming decades. The plan also would bring the UW-Extension's Cooperative Extension Program and the management of its conference centers under new administration.
The statewide office that manages UW Colleges and Extension, now led by Sandeen, eventually would be eliminated entirely.
While Cross has framed the proposed changes as a way to prevent the closure of any two-year colleges, local campus leaders are questioning the haste and transparency of the process.
'Unvetted process'
Aural Umhoefer, a former UW-Baraboo dean, wrote in a Baraboo News Republic letter to the editor published Oct. 23 that "the rushed and unvetted process to nucleate the college campuses to selected UW four-year campuses has the potential to destroy the current ease of system-wide transfer that has benefited students and their families.
"There are far too many unanswered questions for Regents' approval in November and implementation in July 2018," Umhoefer wrote. "Given the business background of the Regents, it would be astounding for them to approve this major change without having fiscal projections and understanding the consequences."
Cross has said the restructuring would give students access to more general education and upper-level courses. Transferring credits would be simplified, tuition levels would remain the same, and campuses could further regionalize administrative operations to more efficiently use resources, according to a UW System press release.
"We must restructure these two organizations given the state's demographic challenges, budgetary constraints, and the need for closer alignment between research and practice," Cross said in a press release. "We want to leverage the strength of our four-year institutions at a time when overall enrollments at UW Colleges are declining."
The proposal was announced earlier this month and will be brought before the UW System Board of Regents for approval Nov. 9.
Sandeen said she was not included in discussions of which four-year campuses two-year schools would be merged with. She said most were decided based on geographic proximity and the school's transfer patterns. However, UW-Platteville is not a top transfer destination for UW-Baraboo graduates.
A UW System spokeswoman said the decision to merge UW-Baraboo with UW-Platteville was based on the campuses' proximity, along with various course offerings that the larger university could bring to Baraboo.
"Platteville offers a variety of courses and options," said spokeswoman Stephanie Marquis. "That's really the long-term goal here is to bring more classes to all of these campuses as well."
Transfer options
Sandeen said UW-Baraboo students who wish to transfer to institutions other than UW-Platteville still will be able to do so if the merger is approved. Offerings like the Guaranteed Transfer Program are expected to remain in place, she said.
"The intention is that any student who goes to any two-year campus will have the option to transfer anywhere in the system," Sandeen said. "That will be maintained, but we'll have to see how it plays out as the years go by."
Sandeen said the proposal was not designed with layoffs to faculty or staff in mind. Sandeen the changes also will not affect operations at the Sauk County UW-Extension Office.
If the merger is approved, UW Colleges faculty and staff will become employees of their campus' partner four-year school. Likewise, UW-Baraboo students would be considered part of UW-Platteville's branch campus but still would be charged the two-year schools' lower tuition rates.
If the restructuring proposal is approved by the Board of Regents next month, Sandeen said she expects students and faculty will have a voice in proposed changes as the process moves toward its planned implementation date of July 1, 2018.
"Students and faculty will be included in the process," she said. "I know there has been some criticism about the process to date, but I'm convinced that it will be a more inclusive and open process as we move forward after the board vote."