Although they won't be ready to meet the public for about a month, the Ochsner Park Zoo's river otters are quickly growing accustomed to their new home.
The brothers arrived May 2 from a zoo in Montana, accompanied by Baraboo zoo manager Tori Spinoso. They now live in a three-section pen in the back of the zoo's new North American river otter exhibit. Still getting acclimated to their new digs, the otters spend their days cuddling on a hammock, taking a dip in a pool and sniffing the new items — plastic balls, a tree stump, tires — zoo staff bring in.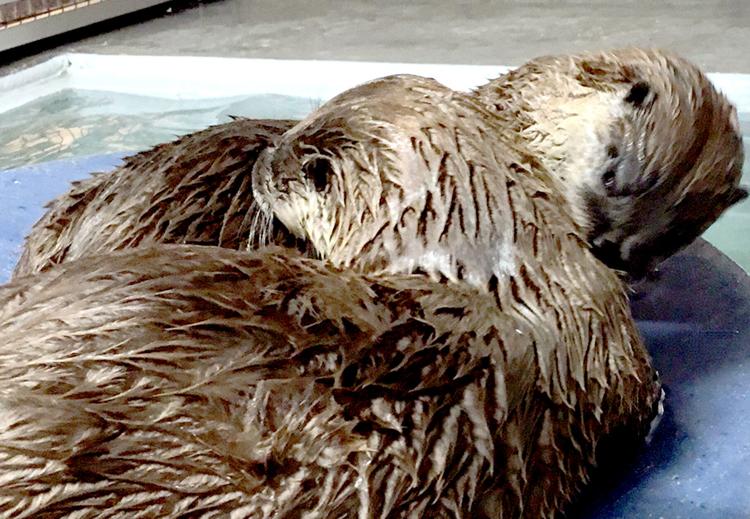 Spinoso hopes the otters will be ready for a brief public appearance during the Friends of the Baraboo Zoo's largest annual fundraiser, Zoo Crew Day, on June 3.
"We want to make sure they're healthy," Spinoso said. "I think they've adjusted very quickly."
"The Friends of the Zoo is incredibly excited to help introduce and welcome two new otters to Baraboo," Friends President Amber Giddings said. "The board has worked for many years to build a beautiful new exhibit and to bring these two otters home."
The 1-year-olds were born in a zoo where they were reared by their parents. A third brother now resides at the Milwaukee County Zoo, which is opening an otter exhibit Saturday.
As the Friends group neared its fundraising goal for the Baraboo zoo's long-awaited otter exhibit, Spinoso ramped up her search for otters to put in it. She figured she had a few months to work with, as the exhibit isn't expected to be complete until August. But repeated contacts with Zoo Montana in Billings paid off when the brothers' parents produced a new set of pups and it was time for the trio to leave the den.
Parks and Recreation Department staff continue to work on the exhibit, and zoo staff soon will turn their attention to clearing the otters' yard of winter storm debris. Renowned rock sculptor Warren Ness will conduct a design workshop at the Ochsner Park Zoo this summer, showing zoo managers how to create affordable, appealing habitat. Serving as a laboratory, the local zoo will be the beneficiary of their work.
"He'll make it look natural," Spinoso said.
In addition to completing fundraising for the otters' outdoor pool, Friends of the Baraboo Zoo will seek donations for the exhibit's rock work, which could cost $16,000.
"It's all hands on deck," Spinoso said. "It's a lot of people getting together to coordinate everything."
This summer will be a busy one at Baraboo's zoo. In addition to opening the river otter exhibit, the zoo will move its deer pen along Eighth Avenue. Spinoso said a pair of sandhill cranes in their 30s will come from Illinois to join the deer. At that age, cranes are considered elderly. "We're proud to be able to give them a home when others wouldn't," Spinoso said.
The Friends group is planning a series of public events, including a May 22 golf outing, "Brews for the Zoo," the day before Zoo Crew day, and a concert by award-winning bluegrass band Old Farm Dog on June 8.
"We will be hosting morning and evening events throughout the summer and fall," Giddings said.