UW MEN'S BASKETBALL
Badgers men's basketball: New rules make an immediate impact on the offense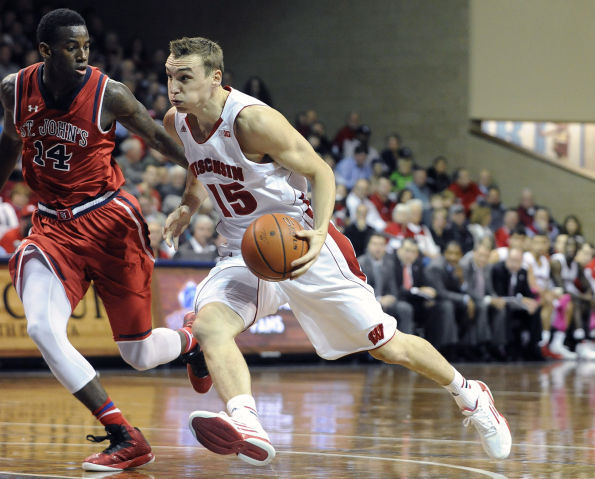 The University of Wisconsin men's basketball team probably caused some double takes from coast to coast with its 86-75 victory over St. John's on Friday night.
Did the Badgers really score that many points in their opener at the Sanford Pentagon in Sioux Falls, S.D.?
"People will be confused," UW junior forward Duje Dukan said. "They'll have to check and figure out what's going on."
Junior guard Josh Gasser, who led the No. 20 Badgers with 19 points, had a pretty good guess what the reaction would be.
"New rules worked," Gasser said.
Gasser was referring to the new defensive rules that were put in place this season to increase scoring.
Officials have been told to eliminate hand-checking and the use of forearms that impede the progress of an offensive player.
There wasn't a noticeable difference in how the game was called during the first half of the UW-St. John's game, but the final 20 minutes were full of whistles. At one point midway through the second half, the flow of the game came to a grinding halt when six fouls were called in a span of49 seconds covering three possessions by each team.
"I guess they accomplished what they wanted, a little higher scoring," Gasser said. "But at the same time it's tough to play defense, especially in the second half there."
Still, it could have been worse. During Seton Hall's 83-72 win over Niagara on Saturday, the teams combined for 73 fouls and 102 free throws.
That made the combined 51 fouls and 53 free throw attempts in the UW-St. John's game seem relatively tame in comparison.
"This is it, there's no changing it," UW coach Bo Ryan said. "So we've got to coach it and teach it, and they've got to learn it."
St. John's was a good litmus test for UW's defense because the Red Storm's roster is full of athletic players who can score in a variety of ways.
It was good preparation for what the Badgers (1-0) will see Tuesday night when they host No. 10 Florida (1-0) at the Kohl Center.
The Gators opened the season with a 77-69 victory over North Florida on Friday. Senior forward Casey Prather (28), sophomore guard Michael Frazier II (19) and freshman guard Kasey Hill (15) combined for 62 points for Florida, which was playing without three key players who are suspended because of a violation of team rules.
Florida coach Billy Donovan said each of those players — senior guard Scottie Wilbekin, sophomore forward Dorian Finney-Smith and junior forward/center Damontre Harris — will sit against the Badgers.
But UW assistant coach Gary Close said the Gators will still be bringing a lot of talent to Madison.
"Plenty," Close said. "Trust me, plenty. Instead of 12 great players, they have 10."
Florida attempted 32 free throws, making 27, in its opener. Prather went 8 of 11.
It'd be a difficult test for UW's defense even without the new rules. Gasser believes the Badgers learned some valuable lessons during the second half on Friday night that will help them against Florida.
"We're going to go out and practice and we're going to get better at it," Gasser said. "Coach Ryan knows what he's talking about, so he'll figure it out and so will we."
Donovan wasn't happy with his team's defense in the opener. Now the Gators will go against a UW team that had five players in double figures against St. John's.
The new rules led to more free throws for UW, which finished 25 of 30 from the line, but the Badgers' high point total wasn't simply a product of the increase in whistles.
UW did a good job making the extra pass, which led to open looks on the perimeter. The Badgers were 11 of 23 from 3-point range, with four players making at least two 3-point shots.
Junior guard Traevon Jackson, who finished with 13 points, looked up at the scoreboard in the final minute of the game and noticed four teammates — Gasser, sophomore forward Sam Dekker (16), Dukan (15) and senior guard Ben Brust (15) — had more points than he did.
Jackson couldn't have been happier.
"He said, 'That's what we need all year, balanced scoring,' " Dukan said. "That's what we're going to need if we're going to be successful: share the ball and have fun."
More from WiscNews