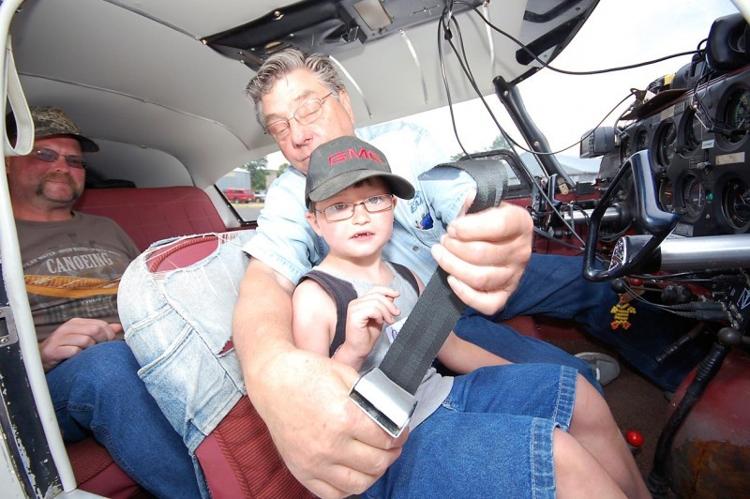 Six-year-old Brenenn Ott of Wonewoc got to enjoy something Saturday many people don't experience until they're adults — the view from an airplane window thousands of feet in the air.
"Cool!" is how the boy explained the experience moments after landing at Mauston-New Lisbon Union Airport.
And that's exactly the reaction members of Chapter 1365 of the Experimental Aircraft Association hope for at the group's annual Young Eagles event.
"The Young Eagles program is meant to introduce young people to aviation," said Tom Chudy, president of the chapter, which is based at Mauston-New Lisbon Union Airport.
The Oshkosh-based Experimental Aircraft Association launched the Young Eagles program in 1992 to give kids from 8 to 17 an opportunity to experience flight, learn about aviation and, members hope, fire kids' imagination and enthusiasm.
"These are people that will go into aviation and buy airplanes down the road, run airports, be aviation mechanics — whatever," Chudy said. "Aviation is full of opportunities. You don't have to just fly."
The Experimental Aircraft Association, or EAA, is best known for its annual AirVenture fly-in event, which attracts thousands from across the world each summer to Oshkosh. But the EAA consists of about 1,000 local chapters, like the one in Juneau County, that are active year-round.
To date, about 1.7 million children nationwide have taken a Young Eagles flight. Saturday's event in Juneau County was the 10th local Young Eagles event. Chudy, who co-founded the local EAA chapter 10 years ago, has been part of all of them.
Each flight Saturday lasted 15 to 20 minutes and followed a roughly circular route from the airport east to the Wisconsin River, then north over Castle Rock Lake and back to the airport.
Pilots Paul and Sharyn Richardson, a husband-and-wife team from the Hillsboro area, were among the chapter members at Saturday's event.
Paul Richardson, 77, said he remembers when parents would take kids to airports to watch planes. "We don't do that anymore," he said.
Today, other attractions — including computers and video games — are filling children's free time, said Richardson, who started flying at age 18 and flew professionally for 41 years, including 30 as a commercial pilot for Eastern Airlines. These days he's flying something a bit smaller — a tiny single-engine 2010 Aviat Husky — and loving every minute of it.
Sharyn Richardson, 65, has been a pilot just 18 months.
"After about six months of flight training Paul said to me, 'Do you think we'll ever talk about anything except flying again?'" she said.
Steve Mesner of the Tomah area is a certified flight instructor at the Mauston-New Lisbon airport who has been giving Young Eagle flights since 2006. He said there's concern that the general aviation practiced by EAA members is slowly dying.
"If we don't promote it to these kids, who's going to do it?" Mesner said. "Kids have too many other things. Who's going to be the pilots of tomorrow if we don't expose them to it?"
Chudy said the public perceives recreational flying as expensive and dangerous. "Flying does not have to be either of those," he said.
The Young Eagles event is fun, but it's designed to be educational, too.
"It is more than a ride at the fair," Sharyn Richardson said. "What we're hoping to do is to invite enthusiasm in these children and give them the idea that they, too, can do this."
Before flying Saturday, kids got a preflight lesson from two pilots-in-training that consisted of a tour of a small single-engine plane of the type used at the event.
After flying, kids completed a logbook and had an opportunity to ask the pilot questions.
"It was great," said 11-year-old Jon Vonarx of Tomah. "I thought the plane would be all shaky, but it was actually very smooth."
Lacey Ott, Brenenn Ott's sister, is a few days shy of her 10th birthday. She took her second Young Eagles flight Saturday and the first without her father.
"I just wanted to experience it alone," Lacey said. She's years away from career decisions, but is there a chance that aviation will play a role in her future?
prebhahn@capitalnewspapers.com
More from WiscNews