New Lisbon High School student overcomes disabilities to achieve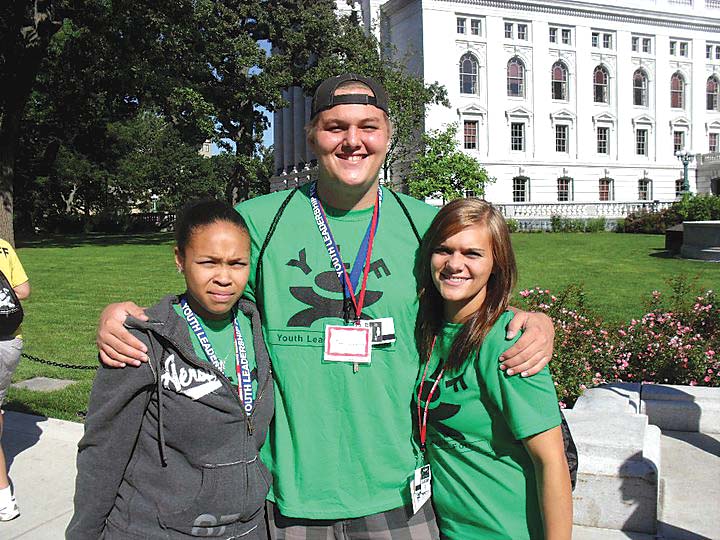 Along with the usual stressors and challenges of youth surviving the teen years unscathed, one local girl has had additional obstacles to surmount.
Carley Haschke, 17, a New Lisbon High School student, needed to adapt to several disabilities in order to succeed.
Haschke said, "I have a learning disability in math, Attention Deficit Hyperactive Disorder and dysnomia."
She said dysnomia is a memory problem, where she is able to remember big things such as when a PowerPoint project is due at school, but forgets small things like appointments.
Her mother Lori said, "For her whole life, she has had an anxiety disorder. She was stressed out and couldn't sleep, along with not being able to follow directions."
Lori said Haschke was put on medications at age 4 when diagnosed as having "a textbook case of ADHD."
Lori said, "Her brother [Matthias] was two years younger and could focus better than Carley at age 4. Carley said when first on the medicine it 'made the inside of her head stop shaking.'"
Lori said it was a relief to have some normalcy in her and her husband Brett's lives.
She said, "I just bawled as Carley played with Barbies [dolls] for 1 ½ hours and she could sleep through the night."
Haschke was selected as one of 24 students in the state to be a delegate to the Wisconsin Youth Leadership Forum for persons with disabilities.
The forum, held June 27 to July 2 at Edgewood College in Madison, facilitates youth in learning about advocacy, education, employment and the disability movement.
She said Chris McIntosh, one of the speakers, had surgery on his leg. His doctor told him he would never be able to play sports. McIntosh went on to become a UW-Madison Badger football player and was the team captain when they played in the Rose Bowl.
Haschke ranks 14th in her class, was on prom court, played varsity volleyball and softball and is on the Transition Action Committee helping teens adapt from high school to college.
Her plans include becoming an early childhood education teacher after attending Western Technical College in La Crosse and UW-La Crosse, while hopefully rooming with her sister, Chelsea.
More from WiscNews