Presidential horse team came from Fox Lake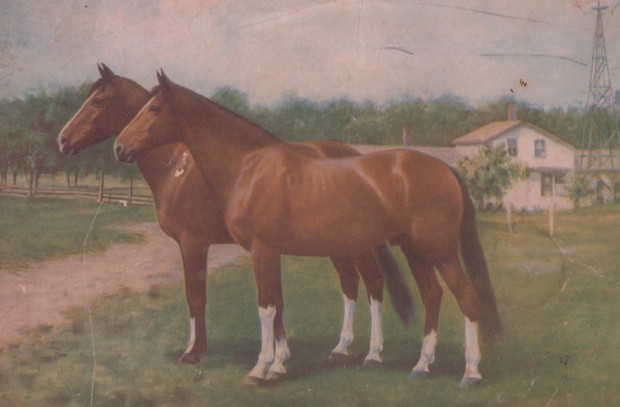 FOX LAKE — It was in 1899 when a pair of horse buyers were guests of the Laurel Hill Farm east of Fox Lake.
They had come to look at the horses raised by George and Mary Warren and their identities were kept a secret until the sale was made. After the sale was final it was found out that the visitors were Mr. R. Huntington, a famous New York horseman, and Secretary Wilson of the Agriculture Department. They had come in search of a carriage team for President William McKinley.
George and Mary Warren, owners of Laurel Hill, had married and come to the Town of Trenton in Dodge County in 1849. They began with 160 acres of wooded land and with an unfinished log house that had no windows or doors.
Mary Warren wrote about the log house, "Our own castle loomed up before us. There it stood, not like a 'thing' of beauty, oh no! but it stood nevertheless, inviting us to enter and make ourselves at home. It resembled a huge dry-goods box that was set up on four pieces of oak log. It seemed capable of defying the elements, with neither doors, windows or floors. Then commenced the battle of life with inconveniences and mosquitoes in good earnest. There were a few shingles left from shingling the roof and we shingled the spaces in between the boards all over the house. We were in hopes the house would look so bad it would frighten the mosquitoes and cattle away, but it didn't."
By the time the horse buyers were guests of the Laurel Hill Farm there had been many changes. The Warrens had built an imposing mansion in 1868 on a raised and terraced lawn. There were more than 30 rooms on its three floors, with a large cupola at the fourth floor above. There were 11 bedrooms, five with brown marble washbowls and running water furnished by lead pipes from tanks in the attic. There were several marble fireplaces and large bay windows with French windows to light the interior. The third floor was a ballroom. It was a majestic brick home and the lumber was brought to Fox Lake from the mills at Warren, Wis. Inlaid floors of hard maple and walnut, and trim of black cherry and walnut enhanced the rooms. A stone sidewalk stretched from the front porch to the highway below. The home cost an unbelievable $15,000. An artist was brought in from New York to do the fresco painting and to paint pictures in oils at an additional cost of $1,500.
By 1868 the Laurel Hill Farm was 400 acres with a large barn housing a herd of Jersey cattle with state and national records. Across from the main farm was the horse barn. The barn enclosed a quarter-mile race track. Inside the track were stalls and grooming areas for Mr. Warren's nationally known herd of Anglo-Arabian horses. The Warren sons — Fred, Frank and Walter — traveled all over the country and abroad looking for breeding stock. One of the stallions brought to Laurel Hill was Damascus II, grandson of the famous Linden Tree, presented to General Grant by the Sultan of Turkey.
The carriage team purchased for President McKinley were described as beautiful chestnuts, with white faces and feet, standing 16 1/2 hands high, weighing 2,400 pounds. They were five years old and were the offspring of Damascus II. They could race at a speed of 12 mph.
The horses left Fox Lake in a special car attached to a passenger train on July 17, 1899, headed for Washington, D.C.
When President McKinley was assassinated the team pulled his hearse. Later Mr. Warren tried to buy them back, but Mrs. McKinley would not sell them. She said they were the best behaved carriage team she had ever owned.
After George died in 1900 Laurel Hill Farm was sold and Mary moved into Fox Lake. She passed away in 1904, but by then Laurel Hill Farm had been sold. The large horse barn was torn down soon after and the cow barn was struck by lightning and burned in 1966. Both barns were replaced by more modern dairy barns. Finally in 1969, George and Mary Warren's once bustling Laurel Hill mansion was torn down and replaced with a new house.
George and Mary Warren left imprints on Fox Lake and Warrens, Wis. They are entombed in a mausoleum in Waushara Cemetery, now Riverside Memorial Park in the City of Fox Lake.
More from WiscNews