Dodgeland kicks off cancer fundraiser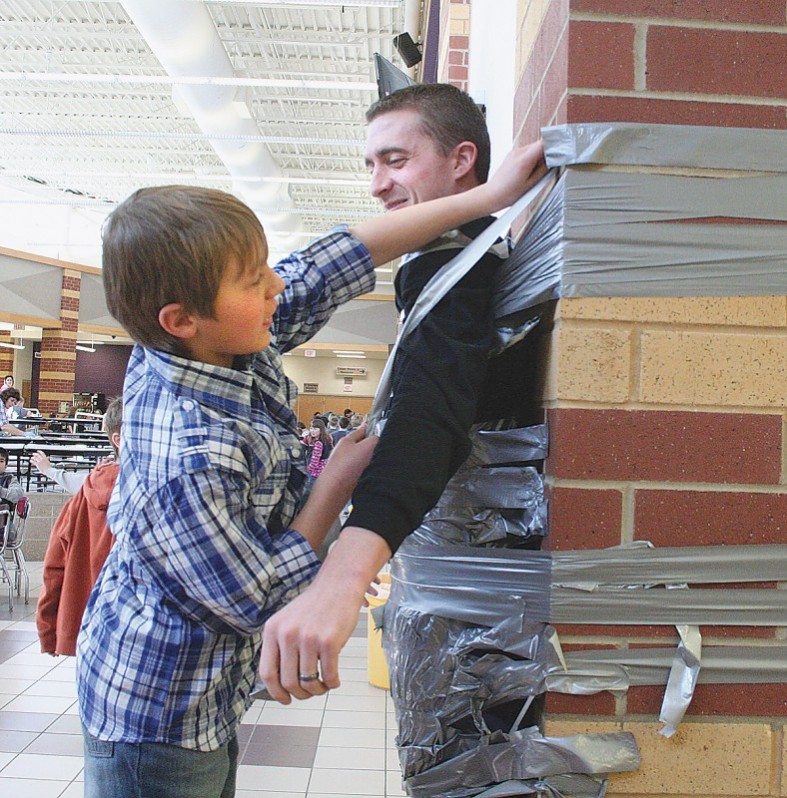 JUNEAU – Students giggled and high-fived Kevin Klueger as they walked by him.
Klueger, a third grade teacher at Dodgeland Elementary school, was duct-taped to the wall in the lunch room from 11:30 to 12:30.
"Every year we have a fundraiser called Pennies for Patients, where we're raising money for the leukemia and lymphoma society. Today you see Mr. Kleuger getting stuck for a buck. It's a fun way for us to raise money together. The kids pay a dollar. They get to put duct tape up on Mr. Klueger and get him stuck for a buck," said Dodgeland Elementary Principal Jessica Johnson.
Dodgeland students attended a kick-off assembly Friday, March 11, where a presenter from the Leukemia and Lymphoma Society talked about what leukemia is and showed a video of kids in Wisconsin fighting leukemia.
"This year Pennies for Patients takes on a whole new meaning for us, because we have a 4-K student, Ava Roche, who has leukemia and she's been battling cancer. So when we talk about students with leukemia, she's our own Dodgeland hero," Johnson said.
Part of the fundraiser is Stuck for a Buck, where students can pay a dollar for a piece of duct tape to tape Klueger to the wall.
"I volunteered myself. This is my third or fourth year doing it now, so it's become a tradition here at Dodgeland," Klueger said.
"An hour is quite long, believe it or not. Once I get down, it takes me a while to get back to normal with bending my legs and stuff, because my knees are locked."
He said the kids love seeing him stuck to the wall.
"I'm known as the guy that's stuck to the wall. A lot of them don't remember my name, but they remember this," Klueger said.
"I am a third grade teacher, but the younger kids, they remember me for this. Every time they see me in the hall for the rest of the year, I'm the guy who was duct taped."
Student Jared Brock said he thought it was "pretty cool. A lot of kids are paying to stick him."
He said he thought Klueger was probably having fun.
In addition to Stuck for a Buck, the students can also pay $1 for hat day or to play hand-held video games at recess through the week of March 14 to 18.
"I think it's actually pretty fun. I was thinking of who would get the highest tape on him," said student  Josh Stuebe.
"I like all the fun things that we've been doing, like this week if we bring a dollar, we can bring our DS."
Student Spencer Morris said he likes knowing he could help someone who had cancer.
"I was hoping that we could get enough tape on him," Morris said.
This year the goal for students was to raise $2,011 for the week. Johnson said they try to challenge the students to raise more each year.
"I think last year we had over, we ended up raising over $120 and that was more than enough to keep me stuck up here for an hour," Klueger said.
On Friday, March 18, there will be a family bingo night to end the week. All proceeds from the night will go to Ava's family.
tpruett@capitalnewspapers.com
More from WiscNews