19th century bugle passed down through American Legion members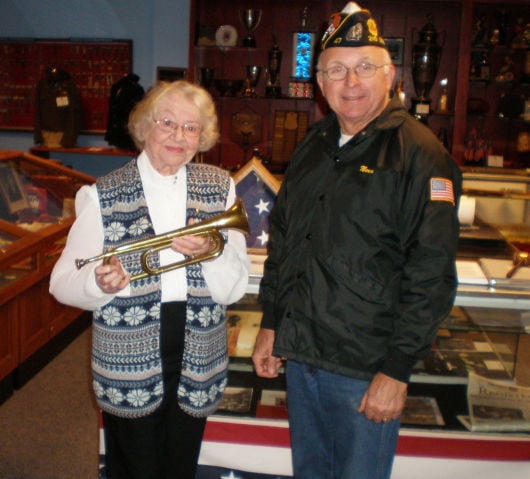 If the 1902 bugle could speak, perhaps it would tell stories of decorum by the Portage American Legion Post 47 veterans who once played Taps on it, passing the instrument down from member to member.
"Julius never had a chance to pass it on to another American Legion member," said Norm Bednarek, museum board chairman for the American Legion Headquarters in Portage.
This summer, Gayle Sarafolean donated the bugle, which hadn't been played since her husband, Julius, died in 1987, to the headquarters for display.
The Navy veteran of World War II was a skilled trumpet player, head of the mail division on the ship docked in New Zealand and played in the military band, too.
"I'm more attached to his trumpet than I was to his bugle and I still have the trumpet. I know he had feelings for the bugle, and it was kind of sad, but I knew I needed to get it out of the house, so I thought it would be best to give it to the museum," Sarafolean, 88, said.
The bugle was in the bottom of a trunk, Sarafolean said, and she wanted to make sure it found a permanent home. All she knew from Julius was that a fellow Legion member passed the bugle on to him for the Honor Guard rites. When he died of cancer in 1987, a teenage boy from the high school played Taps and it's been that way ever since, she said.
The bugle is 111 years old if the inscription on its metal frame is accurate. The engraving reads: JTL, Jerome Thibouville-Lamy and CO., Paris, New York, L. Duchartllier, March 4, 1902.
At least two instruments manufactured by Thibouville-Lamy are at The Metropolitan Museum of Art collection in the form of a clarinet and slide trombone both from the 19th century, according to metmuseum.org. The French Thibouville's musical connection to manufacturing woodwind and brass instruments dates back to the 16th century, according to his biography at corilon.com.
It's the only bugle on display at the Legion headquarters, Bednarek said, and it would be nice to know its origins. He's been on the Honor Guard for years and didn't know about the bugle until Sarafolean's donation.
"When we fire the rifles, the 21-gun salute and the final tribute we give to that deceased veteran, many times I don't know who the veteran is, it just puts a lump in your throat," Bednarek said. "It's a very emotional time for anyone who is there, which is good because it needs to be done and it needs to be felt."
Sarafolean met Julius in 1945 when they both worked at the Navy Bureau of Supplies and Accounts in Cleveland, Ohio. The prior year, Julius was stationed at port in New Zealand.
"He was in the Navy band and he played for dances in Cleveland. We met when the war was winding down … of course he was in uniform and I'm crazy for musicians," Sarafolean said. The pair married June 1946 in Ashland, Ky., and moved to Portage less than a decade later.
Julius was a railway mail clerk and a friend in Portage suggested he move to the central location between Chicago and Minneapolis, Sarafolean said, and so he became the Portage Postmaster from 1956 to his retirement in 1975.
"He just liked the people," she said.
Some people called Julius "J.C." as a nickname to include his middle name Clifford, Sarafolean said, but she always preferred his full name.
"He came to the United States at 12 from Romania and didn't speak any English," she said.
Who taught Julius to play the trumpet is unknown, as is the origin of the bugle, Sarafolean said, but when he played there was a heartfelt story being heard.
"He had a very rough time playing Taps when it was some of his friends, it was emotional for him … he did a very good job," she said.
To contact Bednarek with information about the bugle, call the American Legion Headquarters at 745-1090.
More from WiscNews