Science project brings unexpected result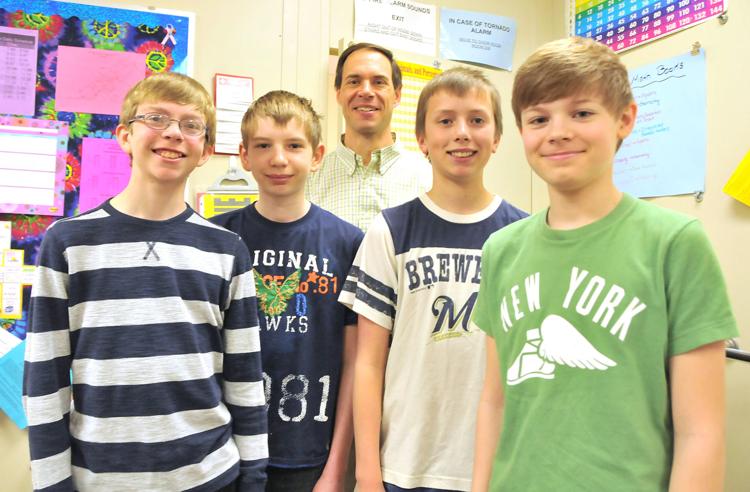 Four local seventh-graders learned something important this spring: Scientific experiments are about the journey, not the destination.
This winter, the students entered a U.S. Army-sponsored competition for research projects conducted by students in grades six through nine. Their research on links between global warming and crop production placed second in the state, winning each of the four boys $500 savings bonds.
Their success was a shock, considering they failed to prove that they would be able to predict future crop growth based on weather patterns brought about by climate change.
"I was surprised," Connor Granberg said. "It was pretty inconclusive."
"I didn't think we'd even get close," added Ryan Boukhankov.
Jack Young Middle School teacher Karen Mesmer assembled the team — which included Granberg, Boukhankov, Aidan Carlson-Edwards and Jasper Swallen — and asked Stephen Swallen, Jasper's father and a University of Wisconsin-Baraboo/Sauk County chemistry professor, to coach it.
The team used government websites to compile data on variables including temperature, precipitation and crop yields.
The boys thought they'd find that global warming restricts crop growth. What they found instead was that climate change has created weather extremes that are largely unpredictable.
Although they found no predictable relationship between climate change and crop growth, contest judges gave the Baraboo team an A for effort. Stephen Swallen said the boys demonstrated their worth by analyzing data and answering their hypothesis, even though the hypothesis was rejected. "That was the most valuable learning experience," he said.
From early January until March, the team met weekly at UW-Baraboo to compile and analyze data. Stephen Swallen helped them analyze data and prepare a report on their findings. They recently learned they'd finished second in the state in the eCYBERMISSION competition, a web-based science, technology, engineering and mathematics contest that asks students to propose solutions to problems in their communities.
In retrospect, Stephen Swallen said the Baraboo team might have had better luck predicting the future of Wisconsin's agricultural economy had it chosen different variables to analyze. The boys didn't arrive at the answer they sought, but they learned plenty along the way.
"Maybe we'll do it again next year," Stephen Swallen said.
Send email to bbromley@capitalnewspapers.com
More from WiscNews