After nearly 22 years of leading the Wisconsin Dells Visitor & Convention Bureau, Romy Snyder has seen the impact of Dells tourism on not just Wisconsin but across the Midwest.
This year, the bureau is celebrating its 70th anniversary and it continues to find new, innovative ways to extend its promotional reach. There's no doubt the Dells has served as a major tourist hub for several decades, but its attractions have changed throughout the years. The addition of its large water parks, have transformed the Dells into "The Water Park Capital of the World."
The Dells isn't just a getaway for Chicagoans anymore.
The amount of money the bureau has spent on marketing and promoting the Dells has risen as well.
"When I started in 1995, our total budget was $2 million," Snyder said. "This year, for 2017 our budget is $12.4 million, so it's grown pretty significantly."
Out of more than $12 million, Snyder said the bureau spends about $9 million promoting the area as a leisure destination. Generally, the bureau targets its promotional efforts within a 3-hour drive from the Dells/Lake Delton area. That would include major metropolitan cities like Chicago and the Twin Cities. In recent years, however, Snyder and her staff have sent materials to Omaha, Nebraska and have noticed Nebraskans don't mind driving several hours to enjoy Dells attractions. Snyder said the bureau has also seen an increase in traffic from St. Louis area residents and have started marketing to that city, too.
"We have many places that can track license plates and hotels can track zip codes so we started seeing an uptick in Nebraska visitors, so we've been in Omaha for a number of years," Snyder said. "We realize we're a regional destination, but every year we see people from California and Maine. By and large, though, the lion's share of customers come from a three-to-five hour drive."
Regional municipalities within an hour of the Dells have an interesting relationship with the tourism juggernaut. The economic impact the Dells provides trickles through to surrounding communities. In fact, the Dells-Lake Delton area extends into four counties: Sauk, Columbia, Juneau and Adams. On the other hand, communities struggle sometimes in finding ways to stand out and attract tourists being so close to the Dells.
There is a perception officials from surrounding communities do a little eye-rolling when referring to the Dells. Mayor Brian Landers is well-aware of the "we're not the Dells" mantra.
"But those communities definitely benefit from what we have going on here," Landers said. "Even in terms of employment, we provide so many seasonal jobs for residents outside the Dells."
Overall, Landers said the Dells has formed fairly strong partnerships with area communities and would like to work as partners to continue the growth.
Los Dells bringing Latin flair to Mauston
A few miles east of Mauston lies the popular Woodside Sports Complex, which also has a complex near the Dells. The Mauston complex is busy organizing Los Dells, a Latin music festival scheduled for Labor Day weekend. Organizers promise the first installment of the concert series will be the largest Latin music fest in the Midwest.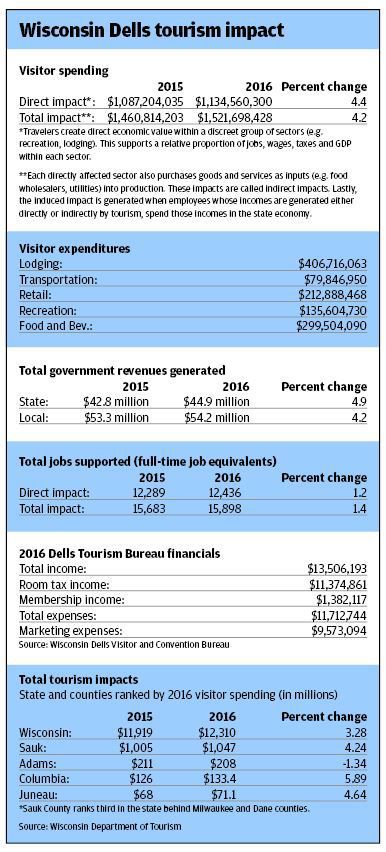 They're expecting more than 20,000 fans to flock to the woods of Mauston for the two-day extravaganza. But there's a reason why it's not being dubbed Los Mauston.
The Dells-Juneau County area doesn't have a large Latino population, but Chicago and the Twin Cities does.
Promoter Damon Rey is banking on the Dells' centralized location between the two major urban areas to bring Latinos to the festival. The lineup is also strong with headliners Mana, a Mexican rock band, and Daddy Yankee, a Puerto Rican rapper who scored a major hit this summer with "Despacito," a collaboration with Justin Bieber.
"The Dells is such a familiar tourist destination for people in the Midwest and we wanted to tap into that," Rey said. "Also we thought the name Los Dells would fit because it's a form of 'Spanglish,' which a lot of Latin Americans use. They often go back and forth between English and Spanish when they're speaking."
Terry Whipple, executive director of the Juneau County Economic Development Corporation, said the county is always looking to grow its tourism base and being close to the Dells is an advantage.
"We don't have to spend a tremendous amount of dollars to do it because it's not like we have to get noticed and have somebody from Chicago to try and come up here — they're already here," Whipple said. "They're very close in proximity so we just have to get them from the Dells here to expand their footprint a little more and experience Juneau County, we're right on the border."
Tourism leaders across the area say their communities don't try to compete with the Dells; they try to emphasize what their community offers. In Juneau County for instance, seasonal residents enjoy being near the Dells for its attractions, but also like the calm and serenity of Castle Rock and Petenwell Lakes on the county's eastern border. The summer can be very busy in the Dells area with heavy traffic, but the chance to "get away" is only a short drive up the road.
"The lakes are a huge draw for Juneau County," said Tamaya Oldenhoff, assistant director at the county's economic development corporation.
"You have people who come here for that natural beauty and quietness and all of a sudden everybody sort of encroaches on them so you always have that balance or battle," Whipple said. "I look at Juneau County as having that natural feel, especially with having the National Wildlife Refuge up here (in Necedah). That would be the only drawback I can see being close to the Dells. People sometimes feel encroached upon and search for that peace and quiet."
Both sports complexes in the Dells and Mauston attract athletes from across the country for weekend tournaments. Oldenhoff said families who play at Woodside Dells often stay in Mauston-area hotels because there are fewer distractions.
"If they're here for a weekend soccer or baseball tournament, their parents or coaches probably don't want them at a water park all day and then try to play a game at night," Oldenhoff said. "They can keep them up here where it's a little more focused, but when the tournament wraps up they can do down there and play."
Oldenhoff said the Dells also brings national attention to the area. Residents outside Wisconsin might not know where Juneau County is, but they've heard of the Dells.
"We can just say we're a half-hour away," Oldenhoff said. "As we've been developing an interactive tourism map, we've chosen the url juneaudells.com for that very reason. When people Google 'Wisconsin and the Dells' we're much easier to find that way."
Circus World part of original Dells attractions
Some communities, like Baraboo, have chosen to be active partners with the Dells' tourism magnate.
Scott O'Donnell, executive director for Circus World, said his organization joined the Dells tourism bureau in 1959. O'Donnell also serves as president of the Baraboo Area Chamber of Commerce.
"We are considered one of the classic Dells attractions because we opened on July 1, 1959," O'Donnell said. "So we and Deer Park, Tommy Bartlett Water Show and the Stand Rock Ceremony are deemed the 'classic Dells attractions' because of how long we've been in the area."
Through the visitor's bureau, Circus World can market itself to a much wider audience.
"We're blessed with Circus World in Baraboo because we sit with the Dells to the north and less than a mile away to the south is Devil's Lake State Park, which is the largest, most-visited state park in the state," O'Donnell said. "Geographically, we're sandwiched in-between these two behemoths and that allow us to expand our brand and heritage to a greater degree than we can with our own marketing budget."
Wisconsin has seen steady growth in tourism for several years and O'Donnell believes the rise is linked to the state's diversity. Sauk County especially offers a variety of tourism options and while the Dells contributes to that, Devil's Lake and Lake Wisconsin are also major factors. Sauk County ranks third in the state in tourism dollars.
"Our room tax revenue continues to climb every year and that's a direct correlation between the Dells and Devil's Lake State Park," O'Donnell said. "We're just close enough to the Dells where we see their visitors and we're just far enough away where we can give people a different experience. Baraboo is sort of a mix of Norman Rockwell Americana, natural resources and the hometown of the Ringling Brothers."
The Highway 12 bypass, which recently opened near Baraboo, should help visitors navigate more freely from Baraboo to the Dells as well as attract Madison residents.
Portage offers winter sports appeal
For tourism, the Portage area stands out with Cascade Mountain, a skiing and snowboarding destination off Interstate 90-94 about 20 miles east of the Dells.
In addition, Portage has many natural resources and history attractions that separate it from the Dells. Portage Chamber of Commerce Director Marianne Hanson said the city has a nice, alternative mix.
"A lot of people will visit our community who are looking to get away from the atmosphere of the Dells," Hanson said. "They're coming to visit our downtown to do some retail shopping and they're coming to visit our historic sites. We might bring in families who had their fill of the water parks but are looking for something different to fulfill their vacation."
Along with Cascade Mountain, Portage has developed a strong curling culture which gives the city another option in the winter when tourism slows in the Dells.
State trail brings cyclists to Reedsburg
Reedsburg, less than a half-hour drive from the Dells, has a close connection to the Dells through the "400" State Trail.
Kristine Koenecke, director of the Reedsburg Chamber of Commerce, said the trailhead starts in Reedsburg and extends to three additional trails.
"We have 101 miles of bicycle trails beginning in Reedsburg and that naturally draws a lot of people because we're directly connected to the Elroy-Sparta Bike Trail," Koenecke said. "It's a great attraction to all those towns along the '400,' which are LaValle, Wonewoc, Union Center and Elroy and they all see a lot of tourist traffic and a lot of bicycle users."
In the future, Koenecke said the trail could be extended through the Sauk Prairie area to the south and the Devil's Lake area to the north. Tourists in the Dells, especially bicycle riders and hikers, don't have far to travel to take advantage of the trail. Koenecke said it's a nice change of pace from the Dells.
"We tend to see a lot of tourists who enjoy the outdoor quiet sports," Koenecke said. "They might go to Devil's Lake hiking or maybe they want to go to Mirror Lake. It's very appealing to people with those kinds of outdoor interests."
Koenecke said the Reedsburg area sees some tourism overflow from the Dells, similar to Baraboo and Portage. Hardcore cyclists, however, tend to stick on the trail system.
"They say I just want to do trails and that's all I want to do and some like to dabble in different things," Koenecke said. "It's an interesting aspect."
Koenecke said communities who don't try to replicate the Dells have a better chance of creating their own niche. She said the area has a lot to offer for people with a variety of interests.
"We see a lot of repeat visitors and we think that's great and try to focus on that as opposed to trying to do what we can't possibly do," Koenecke said. "There are a lot of creative things happening in Sauk County now."
Wisconsin River connection to Sauk Prairie
While the Sauk Prairie area is furthest away from the Dells, it still feels the impact, according to Tywana German from the Sauk Prairie Chamber of Commerce.
German said the Wisconsin River, known as "the original lazy river," is a huge component to Sauk Prairie's tourism base, along with Lake Wisconsin. Similar to surrounding areas, Sauk Prairie offers a slower pace people enjoy.
"A lot of people want to get out for the day," German said. "They're tired of the crowds at the water parks and they want to come down here to enjoy nature and the river and lake certainly provide that."
German said her area sees a flow of "day trippers" that hit both Sauk Prairie and the Dells within a day or a weekend. She sees the area as the gateway to Sauk County. In addition, Sauk Prairie offers year-round recreation opportunities.
"We have Devil's Head Ski Resort so we see people across the Midwest who come up here in the winter and the river yields itself to eagle viewing, which attracts thousands of day trippers," German said. "We're the first impression to people who travel through this area. We have so many hiking trails and natural water amenities people are craving. I wouldn't say we have a hard time competing with the Dells; we offer something completely different as well as Baraboo and Reedsburg."
State impact of Dells
The Dells area is certainly a cash cow for Wisconsin tourism, along with popular locations such as Lake Geneva, Door County, Bayfield and the Minocqua area. Those tourist hubs have beautiful natural resources, but they don't have water parks. Dells has both.
"We've been really lucky to have that area in Wisconsin families come back to year after year," said Kristina LeVan, public relations coordinator for the state's tourism department.
The memories of long summer days in the Dells can be passed on through generations. The Dells is especially appealing to families on a budget who can affordably make a Dells trip their annual vacation.
"You do have families who take those huge trips to Disneyland, but for us to have these large water parks right here and all the other attractions, combined with the natural resources is why families keep coming back every year," LeVan said.
In May, the state department announced the financial impact of tourism on Wisconsin reached $20 billion. In Sauk County, direct visitor spending topped $1 billion and the economic boom could grow as the county explores more tourism options. Koenecke said the area is developing an emerging restaurant culture as well.
"It's becoming a more popular destination for food enthusiasts as well," she said.
Contact Kevin Damask at 608-963-7323 or on Twitter @kdamask