Parkhurst returns from Tanzania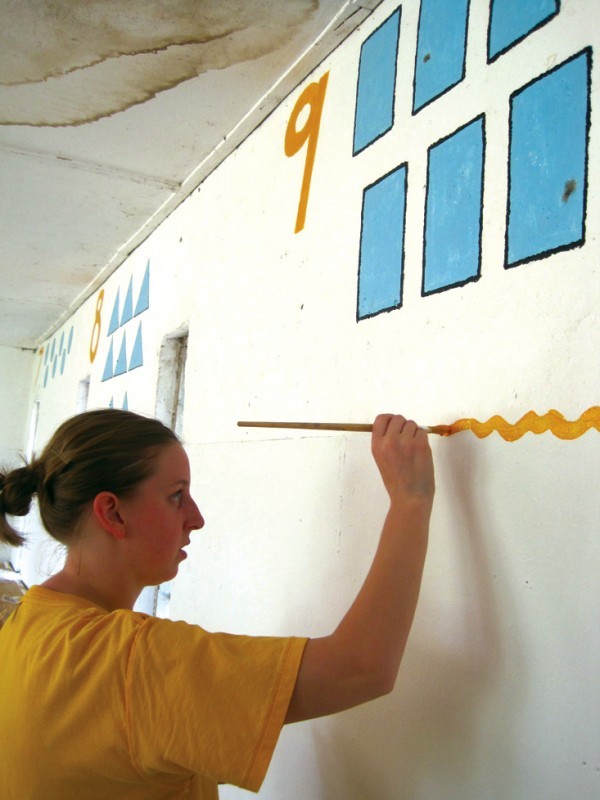 Beaver Dam native Cassie Parkhurst has returned from Tanzania and although the trip proved to have some heartbreaking moments she did create successful libraries in four schools and other projects that will help the people of the area.
Parkhurst, a 2006 graduate of Beaver Dam High School, started the Tanzanian Education Project in July as a way to help children in an area where she had volunteered while spending three months in Tanzania.
Supplies that she helped gather in Beaver Dam were sent out in March landed on May 13.
"It was tiring and there were many issues with the strike in South Africa and the slow process to clear the port," Parkhurst said. "After it landed we went full force with building the libraries and unpacking."
Parkhurst said they had planned to build the libraries in three schools but added an additional school after they realized they had the resources to do so. Two secondary schools, a primary school and a nursery school were supplied with new libraries.
The facilities are not as nice as American schools but Parkhurst said they are nice for the area.
Fanaka Memorial Secondary School, a school comparable to an American high school, has 220 students with a full capacity of 560 students.
"These are kids who would be seen as middle class," Parkhurst said. "Realistically they are the future leaders. They are the kids who have the chance to make one step up to become leaders."
Parkhurst visited a very good library in Tanzania and was pleased to learn that the library at Fanaka had a better range of books.
"We have 5,000 books ranging from fiction to the Encyclopedia Britannia," Parkhurst said.
The books were supplied by Beaver Dam schools and others in Beaver Dam. Older school sports equipment was also sent.
 All the projects that the group did, which included herself and two other of her former classmates at Winona State University, were multilevel projects.
"The students using the libraries are just a positive side effect," Parkhurst said. "The libraries make the schools more attractive which brings in more students and more school fees which adds teachers to the schools."
The group also created and fully supplied a stationary shop.
"The stationary shop has three goals," Parkhurst said. "It's a functional shop that sells things, copies, prints and scans and does typing, which is in high demand there."
Profits go back to the schools, which helps them to be self-sustaining.
Students at Fanaka also help with the school's bookkeeping – one of the many practical skills they learn.
"Ninety percent of the students walk out of Fanaka and right into the real world," Parkhurst said. "It's important that we give skills like keeping the books so when they enter the workforce they are competitive."
The project's fundraising also helps keep enrollment fees low, provides medical service and covers enrollment fees for orphans.
During their time there they also fixed a school bus and painted the nursery in educational designs.
"Most people here might think we just made things fancy, but they don't have books so those designs on the walls are the only way they have the information they need to learn," Parkhurst said.
Posters were put up with educational information as well.
"Some of them never saw a world map until we put them up in the classrooms," Parkhurst said.
All three of the volunteers became sick with malaria while there.
"We managed to work full speed and organize the books half dead with malaria," Parkhurst said.
One of Parkhurst's colleagues had to go home early at the end of the trip because she became very ill, but the greatest loss they felt was the passing of their host mother.
"We called her our adoptive grandmother because 'host mother' doesn't really reflect how we see her," Parkhurst said.
They called her Bibi, Swahili for grandmother, and she had been the director of Fanaka and the owner of Ela, the nursery school.
Bibi died of cancer while the girls were there. Her family now runs the school.
"We are in need of hiring a new head mistress or master who has similar qualities to hers," Parkhurst said. "They wouldn't have to be as charismatic as Bibi."
Parkhurst was asked to fill the position but feels strongly that someone from Tanzania should be in that position.
"I'll remain a strong volunteer for them," Parkhurst said.
In the future, Parkhurst said she'd like to finish a computer lab that was half built on the trip.
"We'll have to raise money to finish it but he structure is built," Parkhurst said. 
Until mid October Parkhurst said she will be in Beaver Dam showing people the impact that they made.
"There was a 7-year-old girl who donated her $10 a week allowance," Parkhurst said. "She should know that she made a difference."
Parkhurst will be a guest speaker at area clubs and hopes to show a documentary in the Beaver Dam High School auditorium sometime during the first week of October. The timing will be printed in The Daily Citizen at a later date.
"I'd like it to be a community-wide event so people could see what they have done to make an impact on kids halfway across the world," Parkhurst said.
Parkhurst plans to move to Denver in November to get residency there before attending graduate school.
"I plan to make my life dedication to this organization," Parkhurst said. "I'll run it out of Denver but Beaver Dam will be our home base."
She added, ""I want to thank the people involved in this. Without their support, we couldn't be a success. This isn't' the end. We have good ideas for the future."
She plans to return to Tanzania sometime over the next few years.
tpederson@capitalnewspapers.com
More from WiscNews