High-capacity wells draw concern
To some they're a necessity. To others, a time bomb.
High-capacity wells have been contested and debated in recent years but drifted to the surface this June when Governor Scott Walker signed a bill easing restrictions on wells needing to be replaced or sold. The Wisconsin State Journal reported wells no longer require environmental reviews from regulators in these cases.
The wells serve numerous purposes across the state, ranging from irrigation for farm fields to drinking water for communities. Opponents have expressed concern about the location, abundance and effects of these wells, while others say they serve a critical role in meeting the state's needs.
Death by straws
Environmentally minded groups like the Wisconsin League of Conservation Voters have been against relaxed restrictions on high-capacity wells. Communications Director Ryan Billingham called it "death by a thousand straws legislation."
He said the league has taken a stance against the latest bill signed by the governor.
"We've fended it off in the past," he said. "Unfortunately this time it passed."
The Central Sands has become a leading example of the difficulties associated with high-capacity wells. Spanning across six counties in central Wisconsin, this area has made headlines due to its abundance of high-capacity wells and shrinking water levels.
Long Lake, once home to trophy fishing, has lost surface to the point many houses no longer have a waterfront view, Billingham said.
Lakes aren't the only bodies to dry up. Prized trout streams and rivers can lose water, he said.
Billingham said the league isn't against high-capacity wells in general but it wants to see protections, including reviews and studies of the cumulative effects of multiple high-capacity wells. If wells continue to proliferate, regulation has to keep up.
"We have more lakes than Minnesota and we want to keep those 10,000 lakes," he said.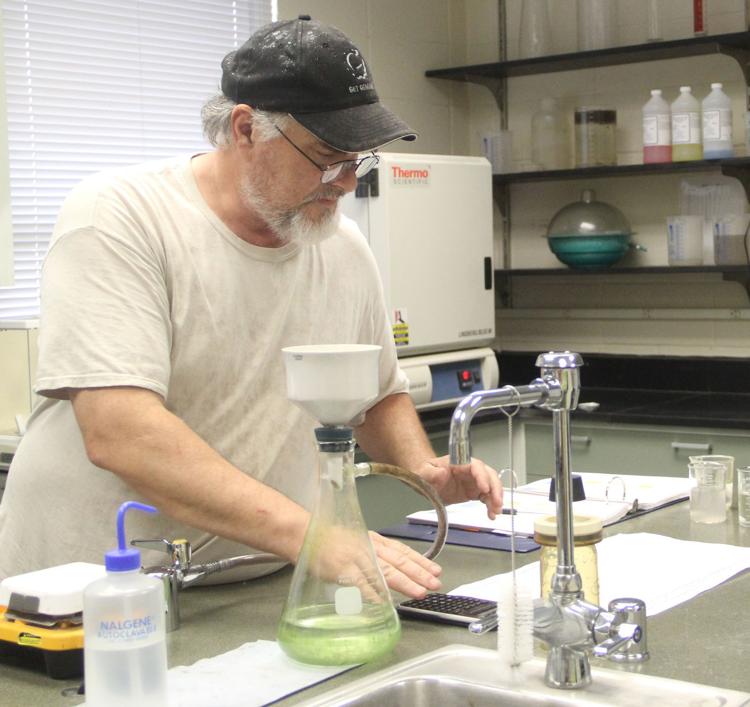 Concentrated
Although high-capacity wells are spread around the state, the wells have a large concentration in the innermost area. It may be due to the region's mostly flat terrain and easy to reach groundwater, said Skip Hansen, chair of the Central Sands Water Action Coalition. It's efficient to irrigate an even 40- to 60-acre parcel, and wells need reach only 100 to 200 feet down in the sandy soil. Land with bedrock can require drilling 300 feet or more for water.
The habitat has prompted farmers to set up shop in Adams, Wood, Marquette, Waushara, Portage, Waupaca, Marathon and Shawano counties.
Hansen said he doesn't fault farmers for wanting a bountiful harvest but wishes for more studies and follow-up reviews to ensure lasting resources. General homeowners should have a greater voice through the Wisconsin Department of Natural Resources, he said.
"If you suspect a well will affect your property you are essentially powerless," he said.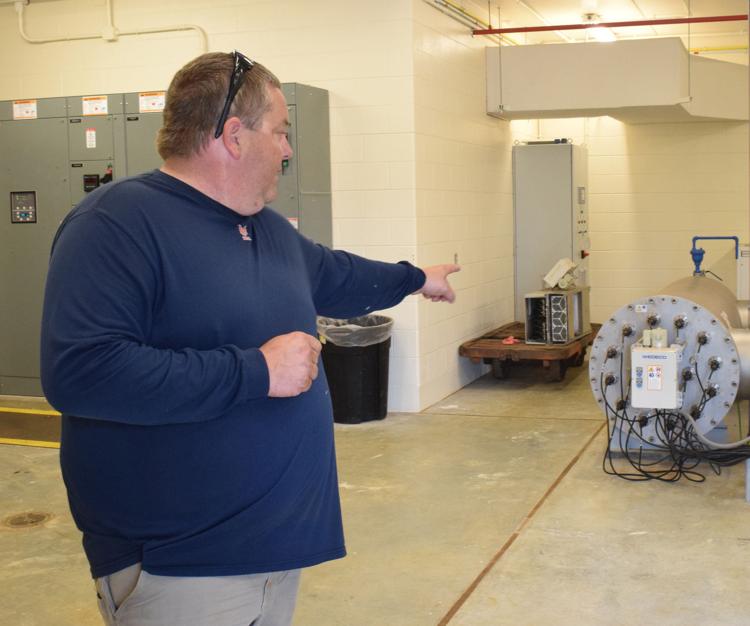 Farming needs
Tom Webb said he understands opponents' concerns. The farmer, who has land between Lake Delton and Baraboo, installed a well three years ago to irrigate his crops. Webb said he cares about water but also knows people and animals need to eat.
Webb said he has farmed for more than 20 years and the industry has become challenging.
"You can't handle a crop failure," he said. "You've got to have a crop."
Webb said he didn't have an irrigation system in 2012 when his fields suffered from drought. Some fields only gave up 24 bushels per acre compared to the usual 140 bushels per acre, he said. Now, thanks to the irrigation system, his fields can produce up to 200 bushels.
Crop insurance was his safety net in 2012. He said he still carries crop insurance and even receives a discount due to the irrigation system.
Rep. Ed Brooks, R-Reedsburg, also understand the value of irrigation. The leader and farmer said high-capacity wells are a backup plan if Mother Nature doesn't cooperate.
"If you don't need it you don't use it but it's there in the back of your mind," he said.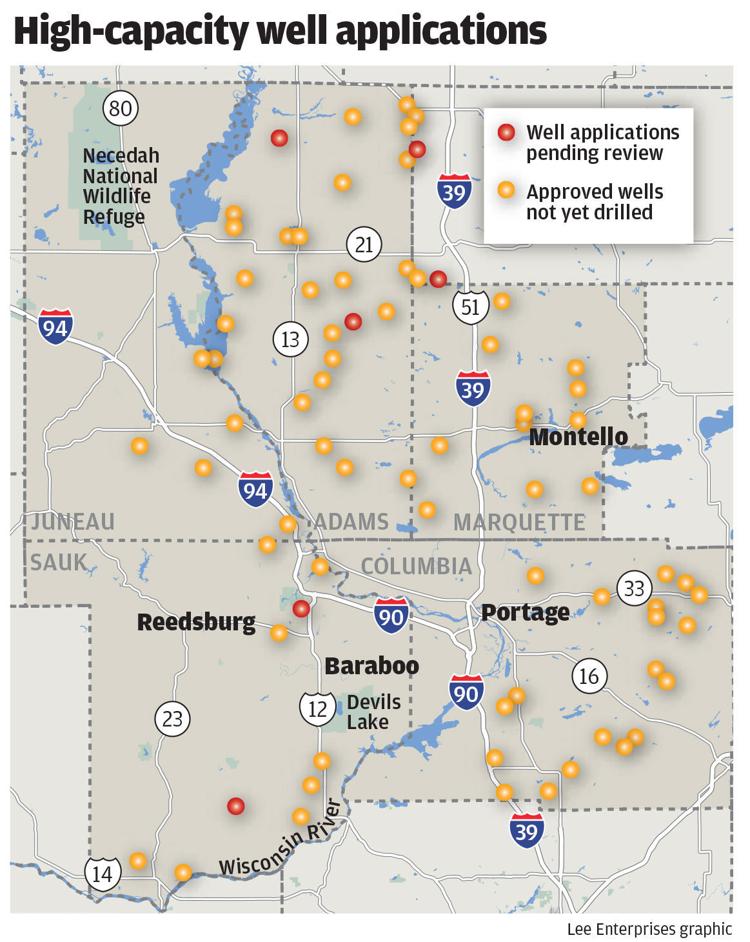 Brooks said the state needs a balance. Farmers with wells should have the right to fix them. At the same time, the state needs to make sure water continues to support the population.
The agricultural industry is not against protecting water, said Paul Zimmerman, a lobbyist for the Wisconsin Farm Bureau Federation. He said farmers are willing to work with others if science shows groundwater sources are being depleted. But it will require collaboration from all sectors, not just farming.
"That means all water users have to come to the table at the same time," he said.
With Walker signing the legislation, it's now up to the legislature to provide funding for DNR studies, he said.
Drought is one of the most devastating disasters to befall a farmer, and irrigation provides assurance, Zimmerman said. Most farmers would rather make do with too much water than not enough, and irrigation is there to fill in the gaps whenever necessary. Wells also mean better productivity and more stability for Wisconsin farms.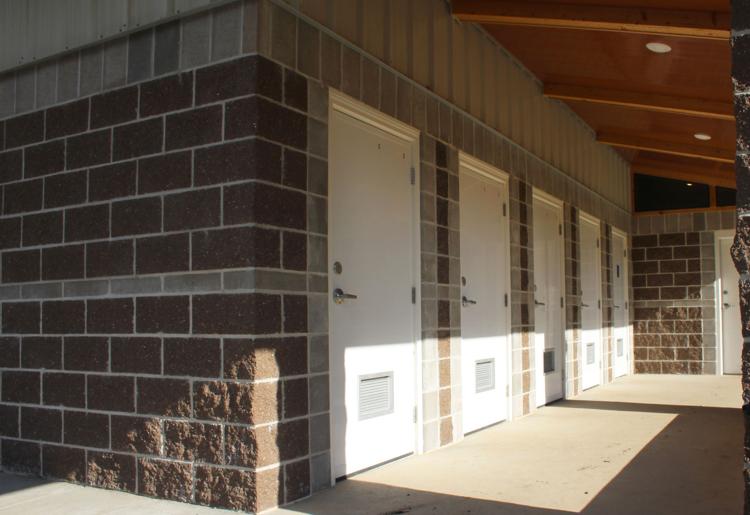 Tourists, residents
Fishing, boating and swimming are big draws to Wisconsin's waterways, and travelers spend money related to these pastimes. Hansen said tourism is a critical part of Wisconsin's financial health.
Last year tourism accounted for $20 billion of the state's economy, up from $700 million in 2015, according to the state's Department of Tourism. Agriculture generates $88.3 billion annually to Wisconsin's economy, according to the state Department of Agriculture, Trade and Consumer Protection.
Property values for waterfront homes can deteriorate if there's no more water, said Amber Meyer Smith, director of programs and government relations for Clean Wisconsin. Out-of-state buyers and retirees may be less likely to build or purchase along a lake if the surface appears to be shrinking.
Residents in general may worry about their own wells, and new homeowners may steer clear of construction if they worry about access to drinking water, she added.
"Those are very real ramifications to the lack of oversight," Meyer Smith said.
Michigan and Minnesota have addressed the issue and found ways provide for all residents. Wisconsin should consider all options, which may include doing more studies or restricting where wells may be dug, she said.
"There is no doubt in my mind we could enact protections for agriculture to grow healthy, sustainable crops while protecting our waterways," she said.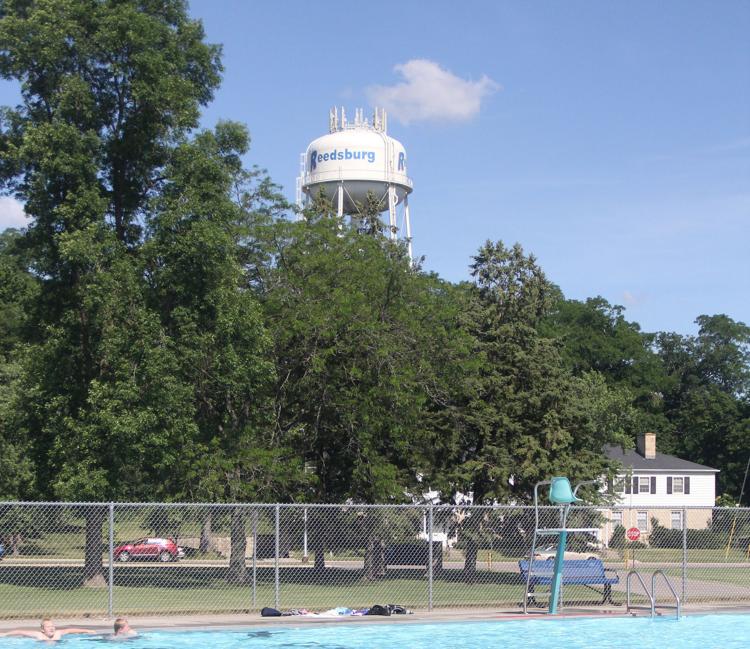 Many uses
High-capacity wells serve far more than agricultural purposes in Sauk, Columbia and Juneau counties.
Two years ago a new well was added in Castle Rock County Park to provide drinking water and more showering facilities for visitors. The 60-gallon-per-minute pump has the most usage between May and September, according to DNR records. Last year the well averaged nearly 34,500 gallons each in June, July and August.
The campground still has its original shower building but the new one is more efficient, said Brian Lloyd, forestry and parks administrator for Juneau County.
He said there hasn't been any opposition to the well and so far users seem pleased with the addition to the park, he said.
"Campers have been asking for it," he said.
Many communities have at least one well for drinking water. The Reedsburg Utility Commission oversees the city's water, which comes from a 457-gallon-per-minute pump. The well was constructed in 1956, according to the DNR.
Summer tends to be busiest, with the well pumping around 2.5 million gallons during warmer months, said Utility General Manager Brett Schuppner. Otherwise pumping hovers around 1.5 million gallons per month.
Water from the system goes to a separate location operated by city staff: The waste water treatment plant on Division Street. Manager Chris Kleinschmit said the plant sends water to the Baraboo River, to rejoin the water cycle.
Kleinschmit said the plant and Utility work in tandem to provide and collect Reedsburg's water.
In Pardeeville, Alliant Energy's energy center has three high-capacity wells to help power turbines. The wells provide the necessary condensation, said Scott Reigstad, a public relations representative for Alliant. Water is reused during the process.
Wells are sealed so they don't require much maintenance, and are inspected annual by the DNR. Alliant also runs quarterly tests to meet guidelines, he said.
Prairie du Sac also digs deep to find water for its residents. Well No. 4 has pumped for two years, generating 1,000 gallons per minute, said Troy Murphy, public works and utilities director and village forester for the village.
He said digging a well requires extensive permitting and paperwork completion through the DNR. The village must complete daily, monthly, quarterly and annual testing for various components such as radium.
High-capacity wells can raise concerns even if they aren't related to agriculture. Murphy said people everywhere need water and more pumping means greater worries about groundwater health.
"That's one reason why you want different wells in your town to pull from different aquifers," he said.
The village is close to needing another well and water tower because the population has grown. Murphy said it's not unusual for the city to pump 600,000 gallons a day during the summer. DNR records show the well pumped more than 4 million gallons last May and more than 3 million last June, the two highest months.
More residents and workers mean more demand for water.
"If you have 25 new homes there are 25 new lawns," he said. "That's a lot of water."
Follow Heather Stanek on Twitter @HStanek1 or reach her at 608-697-6353.