Labor of love: Man's passion for ink makes him who he is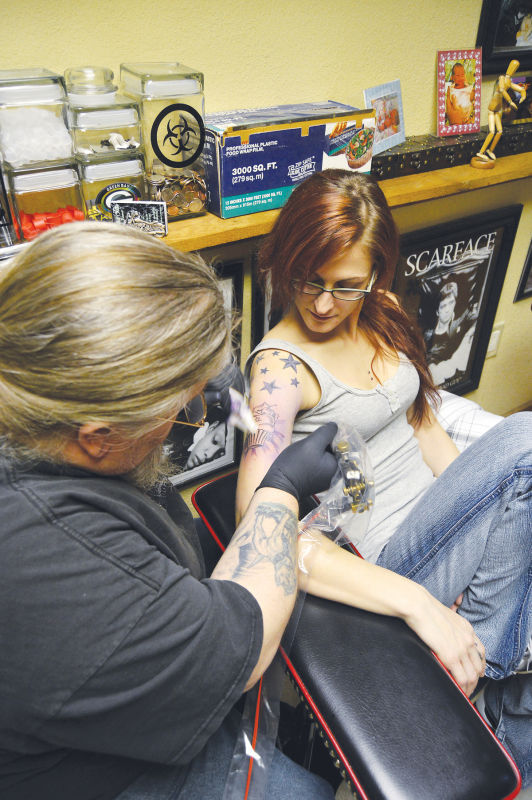 HORICON — For Ed Meinhardt life is all about surrounding yourself with what you love. That's especially true for his tattoo shop, Westside Tattoo & Treasures, 301 E. Lake St., where he does the inking and his daughter Missy does piercing.
Meinhardt's passion for drawing started as a child when he spent a lot of time with his grandmother, an art teacher for the elderly and mentally challenged, after his parent's divorce.
"We spent a lot of time at grandma's house, so she taught us all to draw," he said. "I do really good floral pieces because she would make a flower arrangement out of plastic flowers and make us draw it."
Meinhardt's grandmother had gotten a chance to see him tattoo, and even though she never would have gotten a tattoo herself, she liked his work.
"It's art," he said. "It doesn't matter how it is art, it's just art."
As a teenager, Meinhardt had planned to become an engineer like his father, but he realized spending hours at a desk was not for him.
"I'm two credits short of my engineering degree, but I realized I was going to live in a cubicle the rest of my life and I just couldn't do it," he said.
Meinhardt started his tattoo business in Milwaukee in 1999 after it became legal to tattoo within the city limits. According to Meinhardt, city administration had worked on "cleaning up" Milwaukee with a decency law during the 1900s. Historically Milwaukee had a sizable red light district in the late 1800s
"They cleaned up the red light district they closed down all the prostitution, all the dirty bookstores, all the tattoo parlors and any bar within 30 miles," he said. "That closed the tattoo parlors down so it wasn't legal to tattoo in Milwaukee until 1998."
Meinhardt, while working in Milwaukee, also traveled around the state doing 17 events a year with a mobile tattooing trailer. Once he decided to move into a smaller shop, he looked to Dodge County as that county fair was always profitable.
"We picked Juneau because I had done the Dodge County Fair for three years and it was our second best fair," Meinhardt said.
Meinhardt didn't feel like Juneau was properly supporting his small business, however, and then moved to Horicon after friend and customer Shelly Weiss found a building that was available.
"I sat with a clicker and counted cars, not semis, just cars," Meinhardt said.
"(I counted) 550 cars in Horicon on a Sunday afternoon. It's good traffic."
After months of hard work and remodeling, the shop opened up in April 2012.
Meinhardt doesn't just want to pursue body work at his shop; that's where the "treasures" in the company name comes in. He also wants to sell what he calls "oddities."
"You wouldn't believe the crazy stuff people bring in (to sell)," he said. "We end up with a lot of weird stuff. We want to do more of a 'hot topic' like thing."
He also wants this location to be a place where people hang out, as the first thing greeting people in the door is a pool table.
"I want to have a shop that my family and friends can hang out in," Meinhardt said. "I don't want one of those tattoo shops you see on TV. I had that once before and it's just too much for me; I like it calm."
Meinhardt is both hopeful and motivated to connect with the community of Horicon and is looking into connecting with art students at the high school as well as area businesses.
"When you do what you love, you never really work another day in your life, and I have so much fun doing this," Meinhardt said. "Tattoo isn't really what you do, it's who you are."
msheridan@capitalnewspapers.com
More from WiscNews