Group to honor memory of counselor with scholarship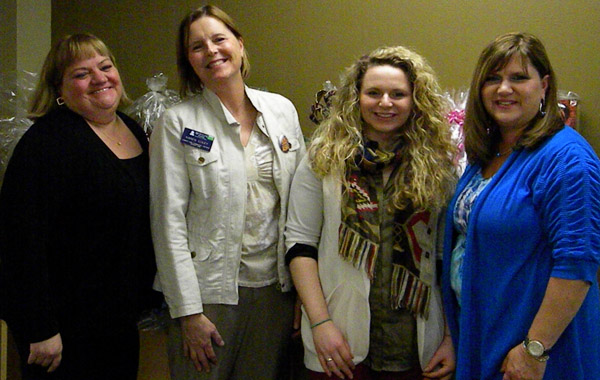 When Bonnie Weiland-Hare died after a battle with cancer on March 6, 2012, she left behind an extended family of siblings, nieces and nephews and her husband.
She also left behind her second family, the staff, students and former students of Moraine Park Technical College and Beaver Dam schools that she had helped in her many years as a counselor.
Now that second family is honoring her memory.
Moraine Park Technical College Campus and Community Partner Karen Coley said there is currently a scholarship fund set up in Weiland-Hare's memory. Coley and a group of parents and former students are aiming to add to the scholarship fund with a series of fundraisers that are currently under way.
Starting last Monday, a raffle is going on in the MPTC library. The library is open from Monday through Thursday from 8 a.m. to 9:30 p.m. or Friday and Saturday from 8 a.m. to 4 p.m.
The raffle items have largely been donated from local businesses, including Kohls in Beaver Dam. Many of the items are in baskets, and tickets for those items will be sold for $1 each or six tickets for $5. Once citizens have purchased tickets, they can put the tickets in the bag for whichever item they're interested in.
The exception is two larger items, a necklace donated by Skalitzky Jewelers in Sun Prairie and a six month family membership from the YMCA of Dodge County. The tickets for those two raffles will be $5 each or six tickets for $25.
The raffles will all be drawn on April 30. Additionally, on April 30 from 11 a.m. to 1:30 p.m., ice cream sundaes will be sold for $2 each at MPTC.
Culvers donated everything to make the sundaes, and all of the proceeds from the raffle and sundaes will go to the scholarship fund.
Also, Benvenuto's agreed that on April 30, they will donate 15 percent of their sales for the day from any customer who mentions that they're supporting Bonnie's scholarship.
Mary Vogl-Rauscher met Weiland-Hare through her side business, which was helping area high school students get accepted by colleges.
Vogl-Rauscher said that Weiland-Hare helped her son get into college.
"She would help them with the admissions process. She would set up the visits. She would do everything to make sure those college visits worked and happened. She arranged it," Vogl-Rauscher said. "From a parent's standpoint, the best thing she ever did for us is we didn't have to nag at our kids to get their stuff done, because Bonnie took care of it for us."
"We want her legacy to live on. And by being able to help, particularly a second year Beaver Dam student, Bonnie's legacy will live on."
Jo Schumann and her daughter, Brooke, met Weiland-Hare when Brooke was a sophomore at Wayland Academy.
"We just totally connected right off the bat. I mean, at first, we would spend the majority of our meetings talking about our lives and just, laughing, talking about our common interests, because we both loved shoes and fashion and all that kind of stuff. So we got really close, really fast," Brooke Schumann said.
"She helped me with everything for college," Brooke Schumann said.
Jo Schumann said that Weiland-Hare would spend a Saturday helping them with applications or essays.
"She taught Brooke how to interview, how to write a resume, how to, you name it, anything that's involved in filling out something, work, school, she worked with Brooke on a personal basis," Jo Schumann said.
Coley said that Weiland-Hare's dedication to education was a large part of her life.
"She was really a strong believer in technical college education, continuing education," Coley said. "She was involved in the state and the federal organizations. She really helped a lot of people."
tpruett@capitalnewspapers.com
More from WiscNews