Watertown man sentenced to 17 years in OWI death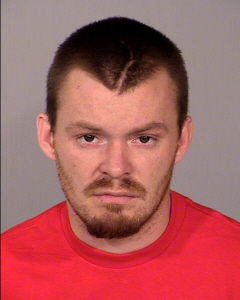 JUNEAU – A 24-year-old Watertown man was sentenced to 17 years in the prison system Monday for a car crash that killed 21-year-old Valerie Schmudlach, whose portrait was on display in the courtroom.
Wesley A. Ismert, 1015 Highland Ave., Apt. 3, pleaded no contest to homicide by intoxicated use of a vehicle on March 1. Judge Steven Bauer sentenced him to seven years of initial confinement and 10 years of extended supervision.
According to the criminal complaint, officers were called to a crash at 1:49 a.m. on Oct. 20, 2012, in Watertown. Schmudlach was unresponsive in the passenger seat of the vehicle, which was resting on its top at an angle against a retaining wall a few feet from a residence. A telephone pole had also been sheared off during the crash. Investigators determined that the vehicle was traveling at least 76 mph at the time of the crash. Ismert had a blood alcohol level of .144.
Schmudlach's family was in court on Friday to speak about the impact her death had on them.
Schmudlach's mother, Sheryl, spoke, stating that the young woman's death was the hardest thing she's ever had to live through.
"I used to believe that everything happens for a reason. I don't believe that anymore. LosingValerie is the first time I can't," she said. "I want Wesley to take advantage of the time and use the tools and help available. I want Wesley to come out a better man, not a bitter man."
Schmudlach's father, Don, and grandmother, Ruby, also spoke, asking for the court to help Ismert make a change in his life to honor the woman's death.
"We are not here for vengeance," Ruby said. "Valerie cared for you or she wouldn't have been with you. So please, don't become a second victim of this tragedy."
District attorney Kurt Klomberg asked the judge to give Ismert a stiff sentence, noting that Ismert had marijuana and alcohol in his blood system during the crash and has had a history with law enforcement, including a previous drunken driving charge in 2007 and several drug charges.
"This was not an accident," Klomberg said. "This was totally avoidable. This was the defendant making a choice [to drive drunk]. When that choice was made, he made the decision to take responsibility for whatever occurred. Somebody died."
Klomberg added, "Being sorry doesn't bring this young woman back. She had her whole life ahead of her."
Defense attorney Bill Mayer said that these cases are some of the most difficult for anyone in the court system to deal with. The behavior was criminal, but Ismert did not intend to kill his passenger. Mayer said that Ismert has clearly hit bottom, but wants to work to become the person that the woman would have been proud of.
"From the very beginning, he's made no effort to sugar coat what happened," Mayer said. "The one positive that he had in his life was Valerie."
Ismert also made a statement, apologizing to his family, the woman's family and the woman herself.
"I can't begin to imagine what this has done to you.Valerie was my life," Ismert said.
He said that the four years he had with Schmudlach were the best four years of his life and he will change for her.
Bauer said that although Ismert didn't intend to kill Schmudlach, he had made up his mind that he was willing to kill when he chose to drive drunk.
However, Bauer said the worst part of this case was the speed involved, 76 mph in a 15 mph residential speed zone.
"I listened to that 911 tape. I could sense the horror that you had with what you had just done," Bauer said.
He said that he had given some thought to how the woman felt as Ismert drove so recklessly.
"I can imagine the young woman being terrorized," Bauer said. "It was clear you were out of control."
Bauer said that Ismert could have also killed any pedestrian that might have been walking by. He did note that Ismert had a substance abuse problem and had lived a rough life.
"She was the best thing you had," Bauer said. "Society is victimized by her loss."
Bauer also noted that the first responders, several of whom were in the courtroom, were victims as they were the ones who had to pull the young woman out of the vehicle and see all of the damage the crash had done.
"It's amazing that the general public doesn't hear about Post Traumatic Stress Disorder [from first responders]," Bauer said.
He ordered substance abuse treatment during the 10 years of extended supervision and granted Ismert 233 days of presentence credit.
Klomberg said after the hearing that he felt Bauer had made a thorough and thoughtful judgment.
"I think that the sentence here that was pronounced by Judge Bauer was fair and took into consideration all of the different factors. I think it sends a strong message to the public about drinking and driving," Klomberg said. "People do need to realize that when they make that choice to drink and drive, they have made the decision that they are willing to kill and the court today said that if you make that choice, you're going to be held accountable."
tpruett@capitalnewspapers.com
More from WiscNews