Weather strikes Wisconsin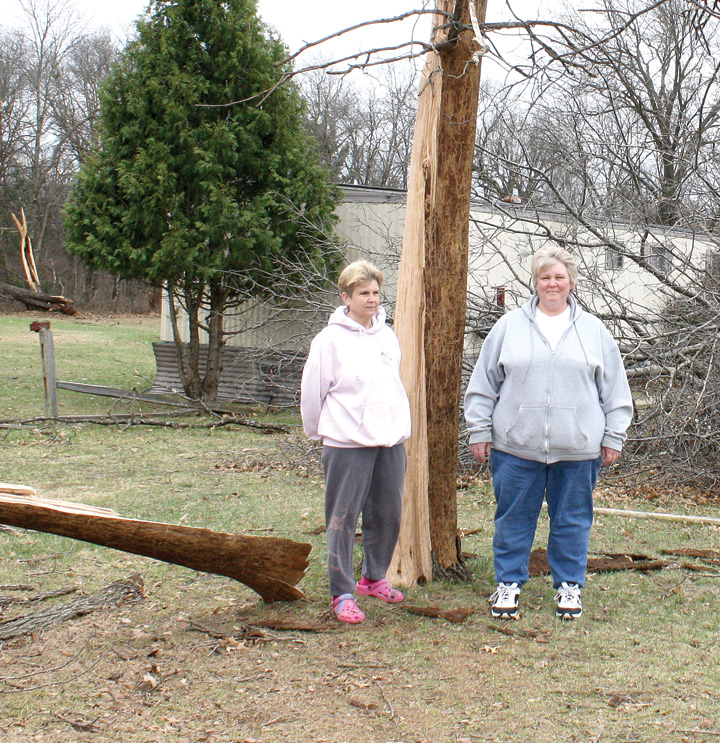 The spring season got off to a turbulent start Sunday with thunderstorms and tornados touching down throughout Wisconsin.
The Wisconsin Emergency Operations Center confirmed 10 tornados throughout the state, with at least two in Adams County.
According to the American Red Cross, a tornado in Arkdale destroyed seven houses. Adams County estimated over $3.5 million in property damage county-wide.
Several properties in the nearby Necedah area were damaged by the April 10 storms as well.
Judy Mauk, 69, saw damage to her mobile home and workshop located on State Road 80 in the town of Necedah during the storm.
She said, "I am lucky compared to damage that others had. I was glad I went to my daughter's home. I never saw winds like this before."
Her daughter Penny Temen, who lives on 17th Avenue in Necedah, said, "This is the first time she [her mother] ever went to anyone else's house during a storm.
After getting her over to my house, I saw a twister and funnel."
Mauk's daughter, April Wollschlager, who also lives in Necedah, said the tornado sirens went off in town that evening.
She said the wind blew the windows out and pulled the skirting off her mother's home.
Mauk said the workshop near the mobile home had the roof panels lifted and dented in.
Juneau County Sheriff Brent Oleson said his office received no reports of serious accidents or injuries related to the storm. "We had power lines down and some people in the Necedah area were without power for a few hours," Oleson said.
Water also closed a portion of Juneau County Highway HH, Oleson said.
The American Red Cross has set up a feeding site at Pineland Elementary School at 1070 Highway 13 in Friendship.
Residents affected by the tornado or power outage may pick up bottled water, breakfast, lunch and dinner at the site, which will be open from 8 a.m. to 7 p.m.
The Red Cross will also be driving an emergency response vehicle through the affected area distributing meals to residents throughout the week.
Those who have been affected by the tornado and are in need of additional services (such as crisis counseling, medications, medical equipment replacement and other emergency needs) may contact the Red Cross by calling (877) 618-6628.
More from WiscNews