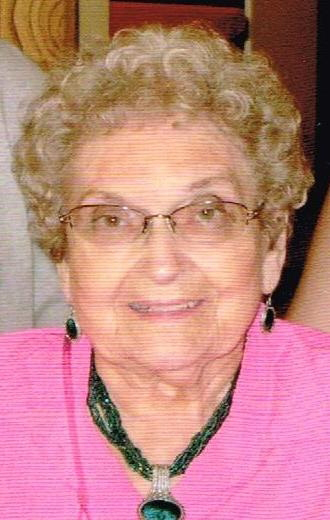 RIO — Helen Ruth Benzine, 86, of Rio, passed into the arms of her heavenly father on March 27, 2013.
She was born May 26, 1926, in Portage, to Joseph and Mabel Zabel Riley. Helen graduated from Pardeeville High School in 1944. On Aug. 24, 1944, she was united in marriage to Virgil Benzine at the Rio Evangelical Lutheran Church. He preceded her in death March 17, 2001.
Helen was a proud, loving and involved grandma. She enjoyed several fishing trips to Canada, two overseas trips to Israel and Germany, and annual Door County vacations. She loved to bake cookies, enjoyed card playing, gardening and watching Lawrence Welk. Church was very important to Helen and she was an active member of Redeeemer Lutheran Church. She took great pride in serving on Altar Guild and church council. She was a member of Rebekah Circle and a Sunday School teacher.
Survivors include four children, Terry (Gail Ann) of Custer, Gail Jean of LaCrosse, Patrick (Sue) of Portage and Jeffrey (Ronna) of Portage; 12 grandchildren; three great-grandchildren; brother, Jerry Riley of Madison; sister-in-law, Hazel Jacobson of Rio; nieces, nephews, other relatives and many friends of various ages.
Besides her husband, she was preceded in death by her parents; daughter, Sandra Kay Larson; son-in-law, William Larson; two grandsons, Tory and Joshua Larson; and Grandma Hulda Clara Marx.
Funeral services will be at 11 a.m. Tuesday at Redeemer Lutheran Church in Rio, with the Rev. Matthew Kruse and the Rev. Joann Fabie co-officiating. Burial will follow at Bonnet Prairie Cemetery, rural Rio. Friends may call from 9 to 11 a.m. Tuesday at the church.
In lieu of flowers, memorials may be made to Redeemer Lutheran Church. Smith Funeral Home, Rio, is assisting the family.
More from WiscNews