Ellen "Louise" Chickering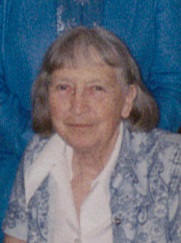 MONTELLO — Ellen "Louise" Chickering, 95, of Montello, passed away peacefully surrounded by her family Tuesday, April 23, 2013, at her home.
Louise was born March 7, 1918, in Frankfort, Mich., to Winfield and Lucretia Ford Carter. She graduated from Frankfort High School in Frankfort, and later married Maurice Chickering in October 1949; together they moved to Montello in 1954. They farmed together until Maurice's death in 1964; she continued farming for the rest of her life with her family.
Louise was an animal lover and also enjoyed gardening and watching birds. She was an active member of Trinity United Methodist Church of Montello, serving on many committees, singing in the choir and teaching Sunday school. Louise was also a member of the Marquette County Farm Bureau. She cherished the time she spent with her family and most of all being such a big part of her granddaughter's life.
Louise is survived by her daughter, Maureen Becraft of Montello, and her granddaughter, Surena (Josh) Loring of Montello. She is also survived by nieces, nephews and many dear friends.
Louise is preceded in death by her parents; husband; son-in-law, John Becraft; one sister, Harriet Johnson; and two brothers, Royce and William Carter.
A memorial service will be held at 11 a.m. Saturday at Trinity United Methodist Church in Montello. Visitation will be held from 9:30 a.m. until the time of service at the church. Pastor Dawn Helton-Anishinaabeqwa will preside. In lieu of flowers, memorials are preferred to Trinity United Methodist Church, W3032 Park St. (Fern Drive), P.O. Box 460, Montello, WI 53949.
Crawford Funeral and Cremation Service of Montello and Oxford is serving the family.
More from WiscNews