At Polish Fest in the Dells, a Wisconsin man continues his goal of saving polka — one dance at a time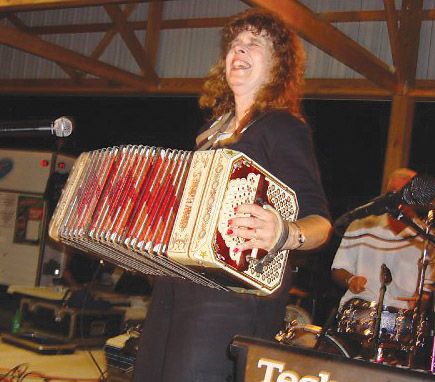 To solve all the problems in the world there is one simple solution - POLKA!
If everyone knew how to polka, crime would be lower, people would always be friendly and Brett Favre would not be a Minnesota Viking.
OK, it may not be the answer to all problems, but those who polka will tell you the happiness it brings could fix a lot of things.
"At a polka event there are very few fights. Cops don't ever come and people are happy," said John Pinter who is kind of a polka ambassador for Wisconsin.
"It's happy music," he said.
The problem Pinter is trying to solve with polka music, however, is a monumental one. He's trying to save polka itself.
Pinter makes his home in Cedarburg, but travels the state putting on polka dance lessons as a way to continue its survival - and to have a good time.
Last week he was at the University of Wisconsin in Madison giving lessons and stopped at the Essen Haus with his dance partner Lynn Harvancik.
"Friday night it was awesome. We put on a show. My God, we got a standing ovation," he said. "Wherever we go, that happens."
At 74, Pinter grew up in the polka heyday of the 1950s where he could go to Milwaukee on any weekend and find a dance. Now, he said, what used to be the polka capital has only one place within city limits to dance. And there are few young people in the town taking up polka.
"All you see is bald-headed old men and white-haired ladies," he said.
But up in the small town of Pulaski there is a seed of hope. Pinter said polka thrives there, with young people running the older folks off the dance floor.
And next weekend, as part of the Wisconsin Polka Boosters, Pinter will be at the Wisconsin Dells Polish Fest to help give dance lessons and act as chairman of the dance contest.
"It's called the Midwest Polka Dance Championship. We used to be Wisconsin, but we forgot to copyright the name and we got challenged," he said.
Pinter has been teaching polka as part of the Boosters since the early 1970s. While there are many different styles - from the fast-paced German style, to the more popular Polish hop in Wisconsin, Pinter teaches a hybrid he calls the polka hop.
One, two, three, and hop - one, two, three, and hop.
"The German style, they jump side-to-side, and the kids love to do that, but in the polka hop there is a hop to the beat," he said.
"It took me three years (to learn)."
While most young people jump around a lot on a polka dance floor - or in the stands at a Badger football game - to watch someone do a polka dance correctly is like watching one fluid movement.
"Now days, kids just get out there and think they are doing it. It's just kind of wild," he said.
But it's the interest by young people in polka that has Pinter excited.
To help the Boosters spread polka dancing to young people, Pinter and Harvancik travel the state and teach kids in schools.
"We feel the only way polka is going to survive is if we get the polka dance back in the school system," he said. "We're trying to get it into PE classes."
Harvancik said she learned how to polka when she learned to walk, and has been doing the Polish hop for 35 years.
"(The students) seem to have a good time," she said.
"The polka crowd is an older crowd, and that's why we're (teaching at schools)."
Part of keeping polka around was making it the official state dance, which Pinter, and the Polka Boosters, did in 1993.
"We're the only state in the Union that has a polka as the state dance," Pinter said proudly.
"There is more polka in Wisconsin than any other state."
While the polka capital may no longer be Milwaukee, Pinter said the dance does have a strong following in the northern part of the state.
"I think swing is the most popular (dance), but the polka is the state dance," Harvancik said.
Three days to dance
Polish Fest in the Dells is much more than a festival, it's like a family reunion.
"Just like people follow rock bands, people follow polka bands and the circuit," said festival director Patrick Henry. "Not just because they like the music, but they meet their friends.
"It's like a reunion every week. Some people go to the corner bar to hang out with their friends, we have people who drive hundreds of miles."
Polish Fest takes place at Mt. Olympus this year from Sept. 10-12. And for local residents in Columbia, Sauk, Adams, Marquette and Juneau counties, it's also County Days - which means anyone living in those counties can get into Mt. Olympus and ride all the rides for $5. And that admission also gets you into Polish Fest on Saturday or Sunday.
"We're expecting one of our best crowds ever," Henry said, adding that about 10,000 people came to the park last year during those days.
Henry hires bands mostly from Wisconsin, Minnesota and the Chicago area to promote the festival in those parts.
"Fans will travel to support their local favorite bands, but at the same time, they come to Polish Fest to see a lot of bands they normally wouldn't see," he said.
The event not only will have dance lessons from Pinter and Harvancik, but a competition as well, with categories for new and seasoned dancers.
"Our competition has been amazing, because we have people come from all over the country to compete," Henry said.
The format is kind of like "Dancing with the Stars," he said, because the crowd judges.
The event also will include a Catholic Mass at 10:30 a.m. Sunday as part of the festival, and it's bilingual, he said.
Let's polka!
"Can teach you in an hour," Pinter said of learning the polka.
But it may be just the basics to get you started, because learning to polka well can take years.
"Seems like men have a more difficult time," he said.
It's often easier to teach someone who has never polka danced before than someone who thinks they have, Pinter said.
"A lot of the lessons, we have to break their old habits. Once they go side-to-side, it's hard to break that," he said.
Pinter not only teaches polka to help it survive, he also is known in the polka world. He was one of the main subjects in a 2006 documentary called "It's Happiness: A Polka Documentary" that won a few festival awards and included an appearance by Willie Nelson.
If polka is to find a resurgence in Wisconsin, Pinter believes it will be through the Polish style of polka music, not the German that was once dominate because of the heritage in Milwaukee.
Polka will always be around, he said, but in what form is hard to tell.
And Pinter said it's his generation that's partially to blame.
"People my age, we had so much fun polka dancing when we were younger we forgot to teach the kids how to dance," he said.
But at the Essen Haus, Pinter found plenty of dancers.
"They drink the boots of beer and get a little boisterous. We had a great time up there, believe me," he said.
Pinter believes polka music will catch on with younger crowds again, knowing that everything comes back into vogue one day.
"Kids will think it's a new style of music and fall in love with it," he said.
If You Go:
What: Wisconsin Dells Polish Fest. (dellspolishfest.com for a complete lineup)
When: Sept. 10-12.
Where: Mt. Olympus in Wisconsin Dells.
Cost: On Sept. 11 and 12 the cost is $5 for residents in Columbia, Sauk, Adams, Juneau and Marquette counties and includes access to Mt. Olympus rides and the festival. The cost for everyone on Sept. 10 is $15 for the festival.
Cost for non-residents: $15 each day for Polish Fest. Or $35 for all three days.
Polka dance lessons will be at 1 and 4 p.m. Sept. 11 with the Midwest Polka Dance Championship at 6:30 p.m.
More from WiscNews