In person, Dylan Brown doesn't come off as too intimidating.
Standing at five feet, seven inches and weighing 135 pounds, the senior hockey player has a soft-spoken demeanor and looks like the average high school student. But the moment he steps out on the ice, watch out.
"It's Jekyll and Hyde," Reedsburg/Wisconsin Dells coach Neil Mattson said of Brown. "Once he's on the ice, it's a different Dylan."
Whether it's his speed, quickness, or puck handling ability, Brown is unlike any player in the state of Wisconsin and has the numbers to back it up. The senior currently leads the state with a monumental 84 points, racking up 38 goals and 46 assists over 22 games played. The next best player comes in with 68 points, 16 less than Brown.
"You look across the state, and I'd put Dylan at the top of any players in the state of Wisconsin," Mattson said. "Some of it is all work ethic, and lots of it is just, he's gifted. He's got the gift to play hockey."
Brown's passion for the sport started about 13 years ago, when hockey was a family tradition. Brown's grandfather Curt Henry was a youth hockey coach for six years in the 1980s, and taught Brown's father Jim Brown how to play the game and Dylan Brown kept the tradition going.
"My parents kind of brought me into it. They played at a young level too, so I just kind of wanted to do it and follow my parents," Brown said. "I started learning to play when I was five, and kind of fell in love with it from there."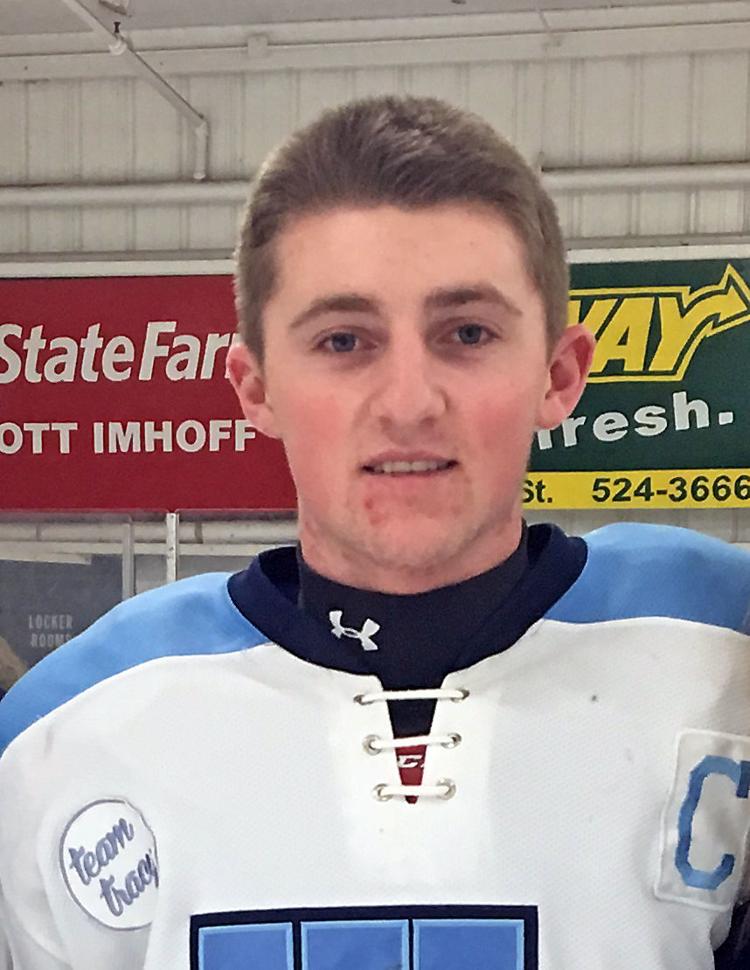 Henry, who passed away in 2010, is honored with a plaque hanging at the Reedsburg Area Community Arena, where Jim Brown served as the rink manager for several years. Mattson said on any given day, you could find Dylan Brown and his older brother Jordan skating around the rink with their father.
"Jim would be up here, and Dylan and Jordan would always be out here skating, and it was kind of a competition because Jordan started hockey later than Dylan did."
Both Jordan and Dylan Brown became star hockey players, and were even able to play together for RWD during Dylan Brown's freshman year.
"My favorite hockey memory is probably my whole freshman year," Brown said. "I was playing with my brother, I had a chance to play on a line with him so I learned a lot from him. I've kind of used that for the last three years of my career."
The brothers eventually led the Cheavers to a state appearance in that 2014-15 season, where RWD fell to Cedarburg 3-2 in the opening round. Dylan Brown scored both of the team's goals.
"I really realized what Dylan had on the biggest stage for hockey (when) he scored the first two goals in the state tournament game against Cedarburg to go up two-nothing," Mattson said. "For him to come in and do that, that's when you realize you have a special player on your team."
Mattson said Brown's freshman year was a crucial part in shaping his style of play today.
"He was fortunate enough he got to work with two really good guys, Jordan Bill and Jordan Brown, his brother," Mattson said. "It really acclimated him, because Dylan's not a big sized kid so he's had to learn how to protect himself and defend himself out there over the years."
Brown was able to do that and more. A four year varsity starter and letter winner for the Cheavers, Brown made Second Team All-Conference during his sophomore year, and went on to become a unanimous First Team All-Conference pick last season. It was an impressive feat for Brown, as he was sidelined with a broken left wrist for the first half of the season.
"I slid into the boards, the first practice of the season actually," Brown said of his injury. "It was exactly half a year. It made me really want to work hard and make the most of my senior year."
He was still able to bounce back that year, recording 33 points in 13 regular season games and was a force in the postseason after scoring four goals and five assists. Brown was a major contributor in advancing RWD all the way to the sectional championship game, where he recorded a goal and an assist in a 5-2 loss to West Salem.
Brown has kept his record-setting career point total going this season, as he's averaged 3.86 points per game. Brown's efforts this year have resulted in setting a school and team record for career points. Brown's one goal and one assist in Tuesday's win over Waunakee officially gives him the record for most points in the regular season as well, after surpassing Mike Lennon's record of 82 points set over a decade ago.
But while the numbers and the various accomplishments are certainly things to be proud of, Brown said he's all about the team.
"Yeah it's cool, but I just try to worry about the team more than anything," Brown said of knowing he leads the state in points. "I give a lot of credit to my line mates, because you can't do anything without them. A lot of it comes back to them and how well they pass the puck and how well they score. To get an assist, the other guy has to score the goal so just as much of it lies on them."
Teammates Jacob Ely and Derek Pawlak have been stellar contributors to Brown and the team, as Ely is 27th in the state for points with 45, 36 of which are assists. Pawlak has added 37 points as well.
Mattson said Brown remains humble at practice and during games, and simply leads by example.
"He hypes up (the team) just by showing what he does on the ice. He's pretty quiet on the bench. He'll come back and correct guys on what they should be doing but other than that he's pretty mellow. He never points the finger at anybody else; he just goes along with the game."
With the final postseason of his high school career looming, Brown said his team is taking a simple approach in the quest for another successful playoff run.
"We're just going to try and take it one game at a time and not look ahead too far in the playoffs. Our first game is most likely going to be Baraboo, so our focus is going to be all about Baraboo the first round."
So what's in store for Brown's future? It's a question Brown is asked a lot, and it's something he's still trying to figure out himself. Brown is also a standout golfer, having competed in the WIAA Div. 1 State Championship for the last two years running. He placed 24th at state last season.
"It's either junior hockey or golf at this point," Brown said of his future. "I'm just not positive of which one yet."
As far as golfing opportunities, Brown has been in contact with Edgewood College, Winona State, and Minnesota State University, Mankato. He has also caught the interest of a number of junior hockey teams, including the Janesville Jets. While Brown said junior hockey would be fun, he's leaning toward going right to college.
"As of now, I kind of just want to go to school so junior hockey seems like less of an option. I just kind of want to start my college career and living the next part of my life."
Brown said playing both hockey and golf at the next stage would be a dream come true, but it might be tough to do so.
"If I could I'd like to stay in both somehow, if there's a way. But I don't know, I feel like at a point it will come down to I will have to pick one of them," Brown said. "It kind of kills me."
For now, Brown can continue to enjoy leading the state in points, a feat that will be remembered for quite some time.
"For all of us coaches, it's amazing. You can see Dylan taking that on as a personal challenge for himself and continue it going," said Mattson of leading the state. "I think that every point that Dylan's earned this year is well deserved. Every high school team in the state has its weaker teams that it plays and you're going to get points, but you look at the averages and Dylan is getting points in the big games too which is most important. I'm very proud of him, and very proud of the accomplishments he's done for RWD."