IN DEPTH: Area authors find challenges, success with publishing industry
While the process of writing a book can seem draining, it's only the first step for a potential author. The next step of publishing a book is a completely different story.
The process of publishing a book depends on several factors: from the genre of the book, the goals the writer has for the book and even the route the writer wants to take to get their book into the world. Those who choose the traditional route of publishing may face many challenges like rejection from literary agents. While it can take years to secure an agent and receive an offer from a publishing company, the author has the support of their agent and the publishing firm to guide them through the process of editing, marketing and other aspects with their book.
Another route potential authors could choose to take is self-publishing-where the author oversees the process of publishing the book themselves. The process of self-publishing has changed drastically over the years, especially with companies like Amazon offering ways to publish a book by uploading the manuscript. While self-publishing may seem like an "easier route" with less rejection, authors face another challenge if they want their book to become a success. Without a publishing company or agent to guide them in areas of editing, marketing and printing their product, authors find themselves taking on that role themselves or hiring a team of people to help them do the work.
The invention of the internet and social media has also changed the publishing industry as a whole, especially with the way writers reach out to literary agents and find a way to reach out to their audience and potential readers as well as tell their story.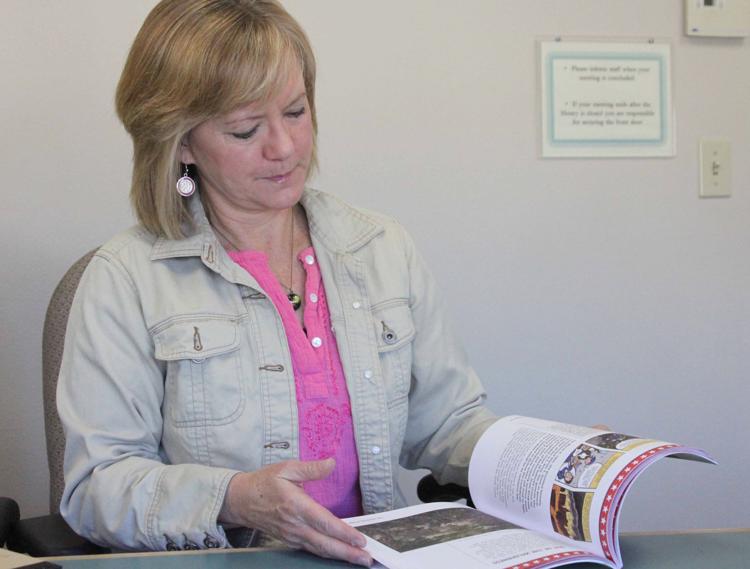 Traditional publishing
Judy Dodge Cummings of Reedsburg has written 16 books. She writes about national history and biographies. She started her writing career by making connections to write non-fiction books when she was in graduate school and starting writing history books for a book packaging company.
Cumming taught history for 26 years at Mauston and Monona Grove High School. She has a love for history and gets the word out about her books through creating a website and a blog as well as doing book presentations at libraries and schools.
"I'm trying to read and educate myself on it," Cummings said of the marketing her books. "The challenge is trying to do that without coming out as obnoxious."
The process to publish a non-fiction book is a little different compared to a fiction book. Some companies who publish non-fiction books will ask for an outline detailing what the book will be about and preliminary bibliography along with a full book proposal. A literary agent is not necessary to publish in the non-fiction route.
A literary agent is heavily recommended for those looking to take on the traditional method in another genre, like fiction. Without an agent, Cummings said it's difficult for fiction authors to publish a book through what's known as "the slush pile" of manuscripts. She has four completed manuscripts for fiction novels, one of them a mystery adventure novel based off of a prisoner of war camp located in Reedsburg in 1944 tentatively called "The Real Hero."
However, finding an agent can be tough. Cummings has spent the last four years writing query letters and researching literary agents who would possibly look at "The Real Hero." She has sent the manuscript to around 45 different agents over the past four years. Twelve have asked for the full manuscript.
"I have yet to get an agent and I'm not even approaching a publishing house because they are the ones who open the door for you and represent your work and negotiate your contracts," Cummings said.
The internet and social media have changed the way authors research and even reach out to literary agents. Rather than looking up agents in the back of a Writers Digest book, Cummings follows agents on social media to get a glimpse at what they look for in a potential submission.
"If I'm following you on Twitter and you're an agent I'm going to see what your interest are I'm going to see what other books you're publishing," Cummings said. "It's a way of connecting to them. It's allowed you to have more of a glimpse into the process of agents and editors and what they are interested in."
When Shaun Harris of La Valle was searching for a literary agent when he was writing "The Hemingway Thief," he connected with agents through their websites and even social media. It took him four years and 200 query letters before he obtained an agent.
"There was a guy who happened to be born in the same hospital so I wrote 'Hey, we were born in the same hospital' just to kind of stand out a little bit," Harris said. "But you don't want to be creepy and be like, 'Well I've been researching you and I know every little bit about your life.'"
By submitting manuscripts electronically, Harris said the process to submit work to an agent is less expensive.
"Back in the day you used to print out the first fifty pages and mail it," Harris said. "Now you just attach it to an email and send it. If this was pre-email I don't think I would've made it because there's no way I would have the money to do 200 queries and mail them and print out fifty pages each."
After securing an agent and obtaining a publishing deal with Seventh Street Books in New York, Harris said it took one year for "The Hemingway Thief" to get on bookshelves. The process included revisions with editors at the publishing house, as well as working with book designers the other areas of the publishing process. All of this is provided at no cost to the author.
Harris said with working with an agent, he has a team of professionals working with him to make decisions about his book.
"I'm not a great decision maker," Harris said. "It's nice to have the opinions of people who know what they are talking about and they get together and make a decision."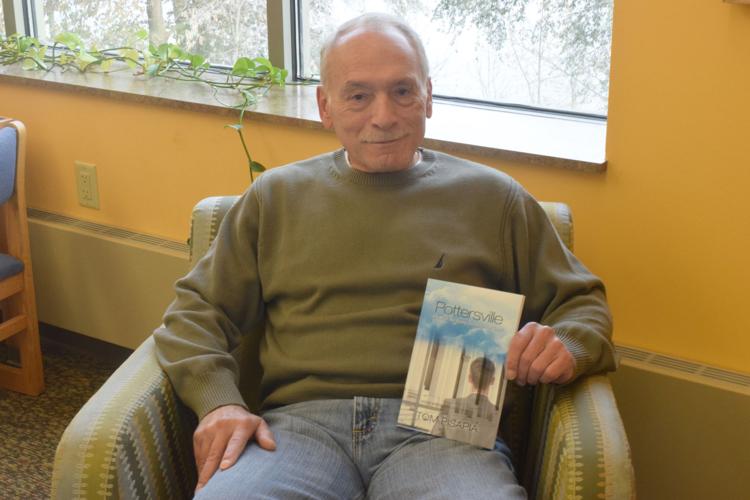 Self-publishing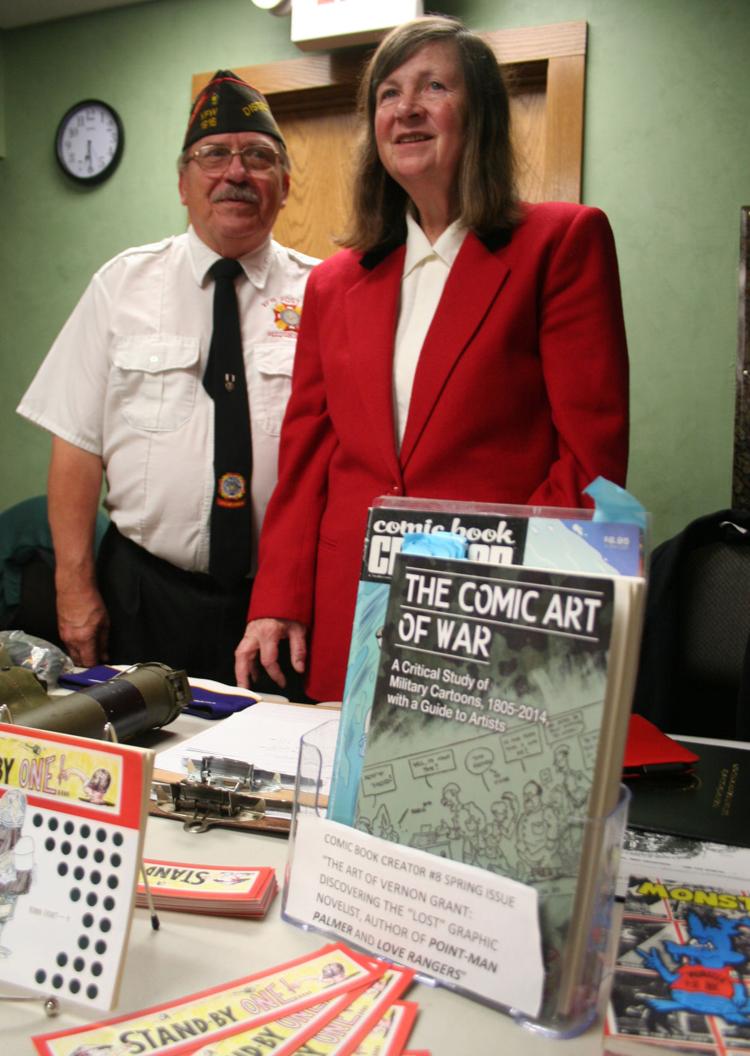 Tom Pispria didn't know anything about the publishing industry when he was writing his book "Pottersville: Where Is the Bailey Building and Loan" and said he made a lot of mistakes in the beginning trying to publish his book.
"I'm sure I made the same mistakes every new author did," Pispria said. "Try and contact the major publishers with this work and what I found out is major publishers absolutely have no interest in it and won't deal with you directly."
Frustrated with the process of reaching out to publishing companies and literary agents, the Merrimac author decided to self-publish his book. After two months of research, he decided on Dorrance Publishing Company in New Jersey to help him with the publishing process of his book. His book was released in October 26, 2017.
Betsy Grant took a similar route of trying to publish a book on her and her late husband's life together. Titled "The Adventures of Point-Man Palmer," the book describes her life with her late husband Vernon Grant through his artwork.She submitted her work to Little Creek Press and Book Design in Mineral Point to publish the book.
Self-publishing companies will use their connections with printers, designers, marketing professionals, distribution and even get the book on digital platforms. Unlike the traditional route, the author pays for these services. The author could also hire an independent team of people to do these services or complete them on their own.
"(It) is a challenge," Grant said. "You have to decide what you can handle and it's still a challenge to make find a publishing company who is interested in you."
While bigger self-publishing companies may offer marketing services, small publishers like Little Creek Press and Book Design will let the author design their own marketing plan. Owner and Publisher Kristen Mitchell said the company used to offer marketing services, but after a couple years decided to eliminate the option because the company wanted to focus more on book design.
"The return on those investments is typically pretty low," Mitchell said. "We support the authors with ideas we just don't do it ourselves. It's a lot of time to invest in it. To take staff time away to figure out how to get a Barns and Noble book signing, we weren't using our time to the best of our ability."
The self-publishing industry has changed drastically since Elayne Clipper Hanson of Portage self-published a poetry book titled "So This is Me" in 1970 at a local publishing company in Pardeeville. Her next book, a bound back book, called "The World According to Clipper" in 1994 she used her connections to mail her manuscript to someone she knew in Eau Claire to publish the book and had a friend design the cover.
"To get someone to publish your book of poetry unless you go to some small publication it's pretty hard to get anything published now especially because everything is on the computer and stuff now," Hanson said. "A lot of people don't buy hard copy anymore."
Digital self-publishing
Amazon acquired CreateSpace in 2005 and launched Kindle Direct Publishing in 2007, providing another platform in the self-publishing route for paperback and e-books.
According to an article from Publishers Weekly, self-published books represented 31 percent of e-book sales on Amazon Kindle Store in 2014. Authors may also use self-publishing as a way to lead them to the traditional route as a way to get their work noticed.
Tina Hallis of North Freedom wrote a book of personal daily application and exercise book called '"Sharpen Your Positive Edge: Shifting Your Thoughts for More Positivity and Success." Her husband, John, recently published a children's book titled "Sara Flutterbye and the Spooky Woods," both of them used Amazon's CreateSpace and Kindle Direct Publishing to publish their book.
If authors are looking for an editor or design services Amazon offers those types of services for a fee, or the author could build a team of people to help with the components of the publishing process.
Tina Hallis hired an editor from Madison to edit "Sharpen Your Positive Edge" which costs her $500 to $1,000. John Hallis connected with Natalie Krug, a Baraboo native, to illustrate "Sara Flutterbye and the Spooky Woods." Niki Shafer, the fifth grade teacher of his daughter, helped with editing the manuscript and through a mutual friend he met someone to assist with the design and layout to format the book and upload the file onto CreateSpace.
"Amazon makes it incredibly easy," Tina Hallis said.
Karmen Bernacchi of Mauston published her book "Still Waiting" through CreateSpace about the process to adopt her now 7-year-old daughter. She was inspired to tell her story using CreateSpace after her 98-year-old grandmother published a book through the site to pass down to her family.
"If you just want to self-publish in the past before you had to shell out thousands of dollars to get your book published and buy so many," Bernacchi said. "I've given more books away than I've sold to people that I find need it. Because CreateSpace is so affordable through Amazon to purchase a book it doesn't cost me a ton of money to give a book away, it costs about $2.30."
While the process may seem easy option at little to no cost, with thousands of books available on Amazon, making a self-published book stand out to potential readers can be a challenge. It's up to the author to come up with their own marketing and publicity plan to get the word out about their book.
"It's on there (Amazon) but they are not promoting it either," Tina Hallis said. "So even with Amazon you have to promote and the more your book sells it will help it show up in searches higher to the top."
Tina Hallis hosts speaking engagements while John Hallis hired a publicist and has invested around $3,000 to $4,000 to help promote "Sara Flutterbye and the Spooky Woods." Both authors will be holding book signings in December and are working on their marketing plan to get the word out about their book, especially with the holidays approaching.
"I sent out a Facebook and LinkedIn post recently listing 20 to 30 local authors saying 'Most people in Madison like to support local businesses don't forget about your local authors and check out these different local authors and their books,'" Tina Hallis said.
Both Hallis' have author pages on Goodreads for readers to write reviews about their book and have used traditional media, like radio and television, as well as their website and social media to create awareness about their book and connect to readers. Tina Hallis recently took advantage of Kindle's five day free promotion was offering and offered the Kindle Version of "Sharpen Your Positive Edge" for free. She received the best sellers list for the personal success category on Amazon at the end of the week.
"I didn't make any money off of it because it was free but I had 2,000 people download the Kindle version of the book," Tina Hallis said. "To me, that's a marketing investment when I can get the top sellers list because Amazon is going to help promote your book a little bit more."
Hybrid publishing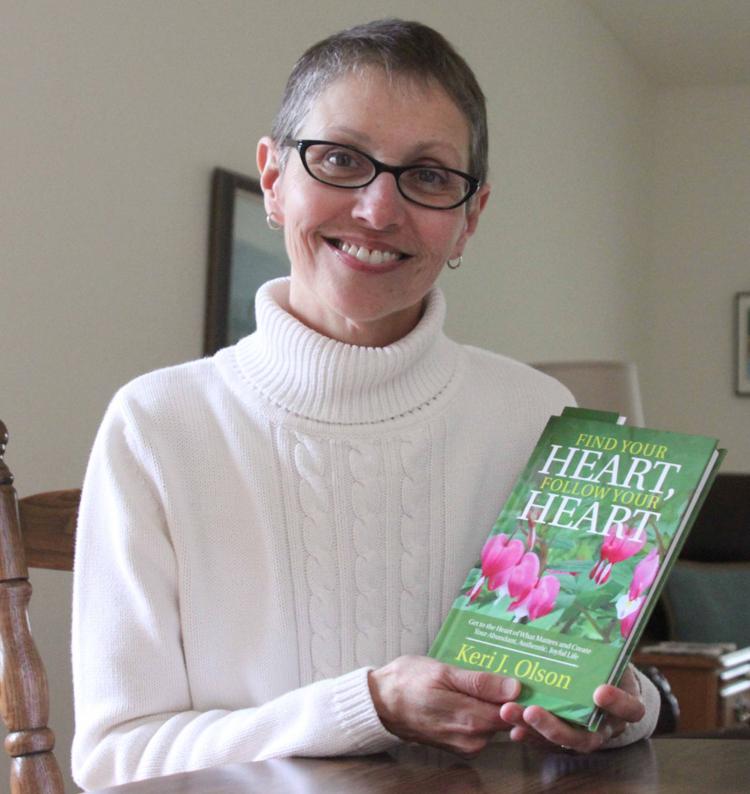 Keri Olson of Baraboo used Kindle Direct Publishing to publish her first book "Time to Be" which she said gave her a chance to dip into writing. After sales on Amazon started to slow down, she moved "Time to Be" off Amazon to OverDrive where it is now available for free and took a different approach with her second book, "Find Your Heart, Follow Your Heart."
After eliminating the decision to publish the book traditionally, she released "Find Your Heart, Follow Your Heart," through Balboa Press with the method of hybrid publishing. Also known as author-assisted publishing, hybrid publishing provides a way for authors to self-publish their book while having connections with a publisher.
"That way I maintained complete control of the book and I also had the professional muscle of a publishing house to make sure the cover looked good, that the editing was done, that they would assist with marketing," Olson said.
While she has 34-years in public relations industry, she still took advice from a marketing advisor from Balboa Press and utilizes some of their services, like writing news releases.
"I wanted their imprint on that news release because that was going to mean a lot that was going to open some potential doors for me or at least add a layer of credibility that would not come directly from the author," Olson said.
Like in self-publishing, authors have to bear some responsibility with publicity of their book. One of the components which helped Olson find her target market was focusing on an "ideal reader" for her book during the writing process. As a way to market her book, Olson hosts speaking engagements and book signings as well as formulating her marketing plan with certain holidays like Thanksgiving and Christmas.
"Your first thought is 'I'm writing to everybody' but you're really not," Olson said. "The more you can see who that ideal reader would be and the more reader-centric you are as a writer the more you're going to be able to reach that audience."
Knowing a purpose
While navigating through the publishing industry can be a frustrating journey, Tina Hallis said for authors to think about the purpose of writing their book. No matter what route each writer plans on taking to publish their book, knowing a purpose is going to change the approach to what comes after writing the book, she said.
"Your purpose is not only going to guide you through writing it and how you publish it but also guide you through how you want to market it," Tina Hallis said. "My business is not around selling books my business is centered around speaking and training and I'm in the process of creating online courses so to me this is another tool to create awareness to help spread the word (about the book)."
For Harris it's about telling a story and providing an escape for those who read his books.
"I like to tell a story if I have a story to tell I'm going to tell it," Harris said "I'm not changing the world with my book, I don't mean to change the world. I show them a world they may not be familiar with, characters they can bounce off of. If I'm writing a story I want it to be fun, I want it to be funny, I want it to be different."
John Hallis says finding a purpose is more than about making money or becoming the best author on the New York Times Best Sellers List but taking the glory of becoming a published author.
"It's probably never going to be a best seller or may never be financially any return on it but if I focus on that I become discouraged," John Hallis said. "That was another chapter in our journey as authors that I hadn't even thought about. I'm kind of resting on that as a measure of my success."
Bernacchi wrote "Still Waiting" to help others going through a similar experience with an adoption process and as a memento to pass onto her daughter.
"It means my family and loved ones will have a forever record of my journey," she said. "I want (my daughter) to know in 30 years when I'm gone all that I went through to give her a home and a future. She'll always have that record because I took the time to do this."
While there are challenges and many changes in the publishing world, Hanson encourages those with a story in mind to write it down.
"Everybody has a story to tell and I think everybody should get their story down in writing no matter how trivial it seems to you at the time," Hanson said.
Editor's note: This article was updated Dec. 1 to correct an error regarding how many books Judy Dodge Cummings has published. 
Contact Erica Dynes at 608-393-5346 or on Twitter @EDynes_CapNews.