Wright-designed Spring Green school to reopen as cultural arts center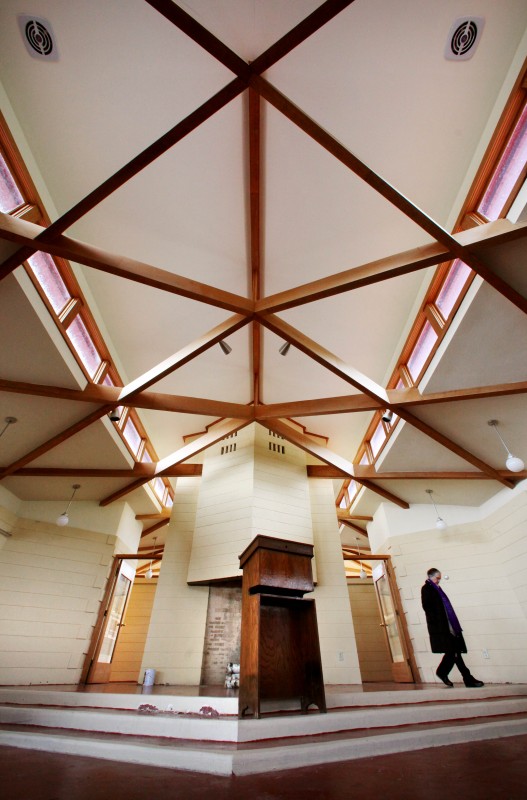 SPRING GREEN - On Saturday, the only elementary school building known to be designed by Frank Lloyd Wright opens its doors once again as a place of public learning and inspiration.
The Wyoming Valley School, located about two miles from Wright's Taliesin on Highway 23, celebrates its new role as a nonprofit cultural and arts center with a free open house from 10 a.m. to 2 p.m., including a ribbon-cutting ceremony, an Easter egg hunt and Earth Day activities.
The spring-related themes are timely, since the day will mark the renewal of a beloved local landmark, set in a verdant rural landscape. With its telltale sense of Wrightian scale, the red schoolhouse "is truly an amazing building," said Inez Learn, who taught a drama camp there in the late 1980s and is a board member of the nonprofit group that now operates it. "It has its own energy. You step in here and you just know you can do anything."
The 4,700-square-foot school has two classrooms, a kitchen, restrooms and an assembly room with a floor painted Taliesin red. Both the assembly room and a foyer have striking open fireplaces.
But it's light that makes the strongest impression. Even on a dark and drizzly day, it pours in through the expansive classroom windows and the clerestory windows that rise above the main roof. Expanses of sky are revealed through a criss-cross of oak beams, creating an interior sense of height and lift.
"I have been collecting the stories of students who went to school here, and they all talk about the light," said Derry Graves, a board member of the cultural center whose five children attended Wyoming Valley School. Other common memories: The school bus driver who let children board each Monday and Friday with their sleds, so they could spend recess sledding down the hillside that provides a backdrop for the school; and building forts outside from the woods that bordered the property.
The cinderblock structure opened in 1958 with 46 students in grades 1 through 8. Wright himself donated his design and purchased two and-a-half acres of land to a ensure a proper site for the building, said to be in honor of his mother Anna Lloyd-Jones Wright, a kindergarten teacher.
In 1977, the school consolidated with the River Valley School district and was used as school for fourth graders only.
"All the fourth graders in the district were bused out here, and it was called 'a year in the country,'" Graves said. "And I must say those kids loved it. I get the sense that this was so special."
In 1990, with River Valley facing more consolidation, the school was sold at auction to a Chicago speculator; a decade later it was purchased by PDQ founder Sam Jacobsen, whose son Jeff donated it in 2010 to the nonprofit group, Wyoming Valley School, Inc.
Volunteers and board members have raised enough cash and provided enough free labor to replace the roof and kitchen plumbing, regrade the grounds and plant about 20 trees, Graves said. Fundraising continues for a new heating and air conditioning system to allow the building to be open year round.
"I think everyone is just so glad to see it be used again, to see it come to life again," Learn said.
Organizers point to other changes in the valley: The recent purchase of the former Wyoming Valley Church by a European mime theater company, which plans to open a school there; and the conversion of a former cheese factory into a small-scale toy-making operation. Spring Green, home to numerous art studios and the professional American Players Theatre, is also celebrating this year the 100th anniversary of Taliesin, Wright's home.
Summer offerings at the Wyoming Valley School will range from a celebration of local authors to workshops on beekeeping, gardening, painting and star-gazing - and for children, classes on knitting, a pioneer day, and a choir.
"We have people here who can do things," Graves said of Spring Green. "In the future we can import somebody from New York, but we certainly don't need to because we have so many art-oriented people who would love to teach here."
More from WiscNews