uw hoops
Badgers men's basketball: Bo Ryan gets testy over question of team's 'plodding' style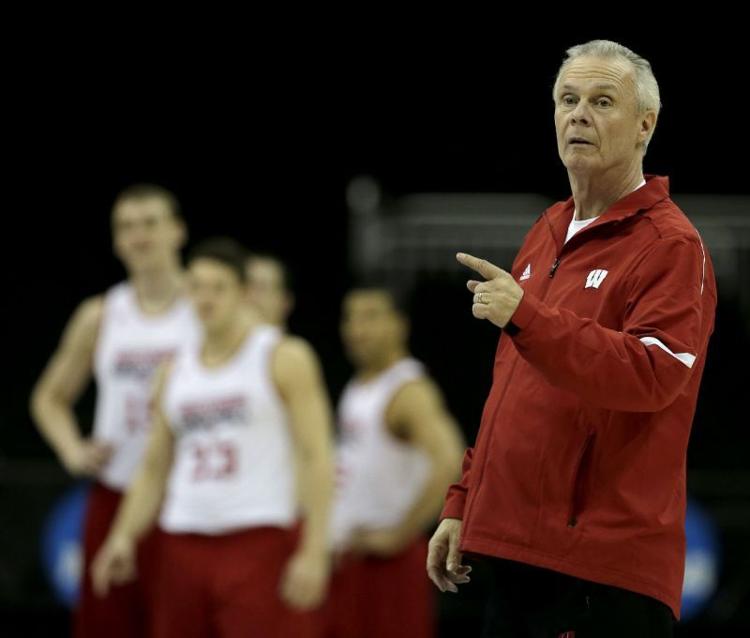 KANSAS CITY, Mo. — It's the NCAA tournament, so it must be time for reporters who don't watch the University of Wisconsin men's basketball team play very often to ask coach Bo Ryan about the Badgers' style of play.
One question directed to Ryan was phrased this way Thursday at the Sprint Center, where UW (23-11) will play Mississippi (26-8) at 11:40 a.m. Friday: "How would you respond to people who talk about your style as plodding or boring?"
Not surprisingly, Ryan got mildly testy in his response.
"I never hear it," Ryan said. "Unless you're going to say it, I don't hear it."
Ryan's long-winded answer included a flashback to his days playing on the outdoor courts in Chester, Pa., where "it would take us an hour to get to 15 points because of how physical it was" and how he was watching a "40-something (to) 40-something" game on television in which the announcers were raving about how well the teams were playing defensively.
"There's a lot of different reasons why scores are the way they are," he said, "but you really have to be intelligent to figure it out."
Chatter about style of play is particularly prevalent this week because of how different the Badgers and Rebels are in terms of tempo.
Ole Miss averages 70.8 possessions per game, the 11th-most in the nation and No. 2 among the 68 teams in the NCAA tournament.
UW averages 61.9 possessions per game, which ranks No. 309 of the 347 teams in Division I and 65th among NCAA tournament teams.
"It's obviously going to be a battle of wills as it relates to style of play," Rebels coach Andy Kennedy said. "We're going to do what we do. They're going to do what they do. Our hope is we can be a little bit better at what we do."
More from WiscNews