Some places become so common in communities, everyone expects a city to have one.
They even have a nickname.
When people talk about St. Vinny's, they're referring to the Society of St. Vincent de Paul and its resale and donation sites in Baraboo, Mauston, Portage, Reedsburg, Prairie du Sac and Wisconsin Dells.
The society's resale stores offer an almost infinite array of gently used – and sometimes new – clothing, furniture, household items and knick-knacks, from vintage lunch boxes and typewriters to pup tents and lawn maintenance equipment.
The stores receive and sort an array of donated items, some of which cannot be resold because of condition or other issues.
Some donated items never make it to the resale floor or local recycling bins, and those items — as well as every cent of profit each local Society of St. Vincent generates from its resale efforts — have a higher purpose. One that bespeaks the sole reason all these stores exist.
That purpose, as first established in the early 17th century in France by a law-student turned pastor is straightforward and likely never to change: To serve those in need.
Giving help
Whether the St. Vinny's in question is the century-old Baraboo conference of St. Vincent de Paul or the five-year-old Mauston conference formed almost exactly 100 years later – that single, simple function is unchanging.
"We serve and help the poor," said Chris Fearing, executive director of the Wisconsin Dells Society of St. Vincent de Paul, which earlier this year marked its 30th anniversary.
Each of the region's St. Vincent conferences operates autonomously and is sustained largely from profits derived from their resale stores. They also accept and receive financial donations, but unlike many non-profit organizations with national and world-wide reach, each local St. Vincent de Paul Society conference is 100 percent self-sustaining and self-governing.
The five St. Vincent conferences all trace their lineage back to Baraboo and the humblest of beginnings — a rectory closet inside St. Joseph Catholic Church.
The beginning
When Pastor Edward C. O'Reilly arrived in town as the third pastor of St. Joseph Catholic Church in 1911, "one of this first tasks was to form a society to help the poor," according to a regional history of the St. Vincent Society written by Mike Grogan, long-time manager for the Baraboo store at 100 South Blvd.
With the rectory closet serving as the region's first St. Vinny site, support from such local citizens as Carl Hoffman and M.J. Coughlin and fundraising by area organizations like the Knights of Columbus, the Holy Name Society and the Baraboo Eagles, the Baraboo St. Vincent Society became a reliable source for assistance to those in need.
"At times, the treasury has been low but, by the Grace of God, the society has never been broke," O'Reilly once declared, according to Grogan's written history. "It never was forced to turn down a request in urgent need."
The Baraboo conference eventually grew to offer assistance to those in need across the entire region, its reach stretching as far north as Mauston and Montello, west to Reedsburg and Richland Center, south to Mazomanie and Spring Green and east to Pardeeville and Rio.
The Baraboo St. Vincent eventually spawned several other local, autonomous conferences — a process known as "twinning — and all of the region's five societies can trace their roots directly or indirectly back to Baraboo.
Stores expand
The Portage St. Vincent Society opened a retail store in 1973, Wisconsin Dells opened its first store in 1989 and Sauk City opened in 1994. The Mauston conference was twinned by the Dells conference in 2011. The current Reedsburg branch of St. Vincent is a twin in progress and still under the management and oversight by the Baraboo conference, with a goal of autonomy and self-sufficiency in the future.
Each St. Vincent conference determines how best to serve local needs, with profits from the stores and any financial donations going back to their respective communities. This means each St. Vincent Society's assistance possibilities are unique to its location.
Unique variances
This explains why the Sauk Prairie St. Vincent Society provides medical and dental care and addiction assistance at a building just behind its resale store in Prairie du Sac.
The Portage St. Vincent operates a food shelf, and the Wisconsin Dells St. Vincent founded and manages transitional housing at the Stepping Stone apartment complex on Vine Street.
Resale offerings at St. Vincent sites across the region also vary widely, as does each society's approach to resale.
In addition to its traditional resale site on Highway 16, the Dells St. Vincent operates an upscale retail boutique on Superior Street downtown.
The Sauk Prairie resale store includes antique and vintage goods sections as well as a new line of artisan-made repurposed furniture items.
All St. Vincent locations provide clothing and financial assistance for expenses from those who have lost a job, need help on a mortgage or other hardships.
"The uncertainties in life 30 years ago" gave Chris Kleifgen-Fearing a perspective that led her to the life of a "Vincentian," the term used to describe those who have committed themselves to the ways of St. Vincent de Paul, the patron saint of all charities.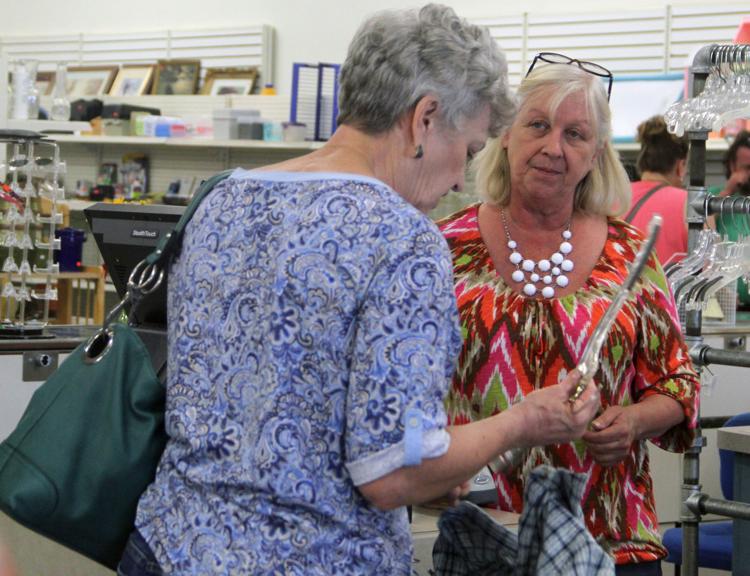 A way of life
Kleifgen-Fearing serves as executive director for the Dells St. Vincent de Paul Society, and her life experience three decades ago resulted in what she believes was a "call" to serve.
"Being a Vincentian is not something I do, it's something I am," Kleifgen-Fearing said. "I may need the help someday, but until then I'm able to give help."
In true Vincentian fashion, Kleifgen-Fearing walks the talk on a regular basis, with a recent rainy morning in the downtown Dells providing a vivid example.
Just before lunchtime, she sets out from her office in the basement of St. Cecilia Catholic Church near downtown, driving to nearby Spring Hill School to pick up a supply of hot lunches prepared by the food services staff there as part of the Dells-Delton area's summertime free lunch program.
The next stop is the site of Stepping Stone apartment complex on Vine Street, where Kleifgen-Fearing braved a driving rainstorm to deliver those lunches to the children who live there.
The Vincentian commitment to service apparently is contagious, whether one's "calling" comes early in life or professional circumstances simply lead to a position managing the store.
Baraboo and Reedsburg store manager Mike Grogan and Sauk Prairie St. Vincent assistant manager Jarrod Vande Hey both fall into the former category, having begun as volunteers on the way to long-term, permanent employment.
Mauston St. Vincent Store Manager Stacy Hartje, Portage St. Vincent General Manager Tricia Pionke and Reedsburg assistant manager Mike Sauey all joined their local Vincentian effort after careers in retail or food and beverage.
All of them leave no doubt as to the deeply meaningful effect their professional association with the Society of St. Vince de Paul has had on their respective lives.
"It's by far the most rewarding thing I've ever done," Pionke said.
"I love my job every day," Sauey said.
Dedicated full- and part-time employees are crucial to the region's Vincentian effort, as are countless volunteers across the regions who pitched in to help from the very beginning.
The National Council of the U.S. for the Society of St. Vincent de Paul estimates a national volunteer-to-staff ratio of 16 to 1 and the region's St. Vincent de Paul Societies always can use more volunteer help.
"Our task hasn't diminished," Kleifgen-Fearing said. "It's increased in today's society."