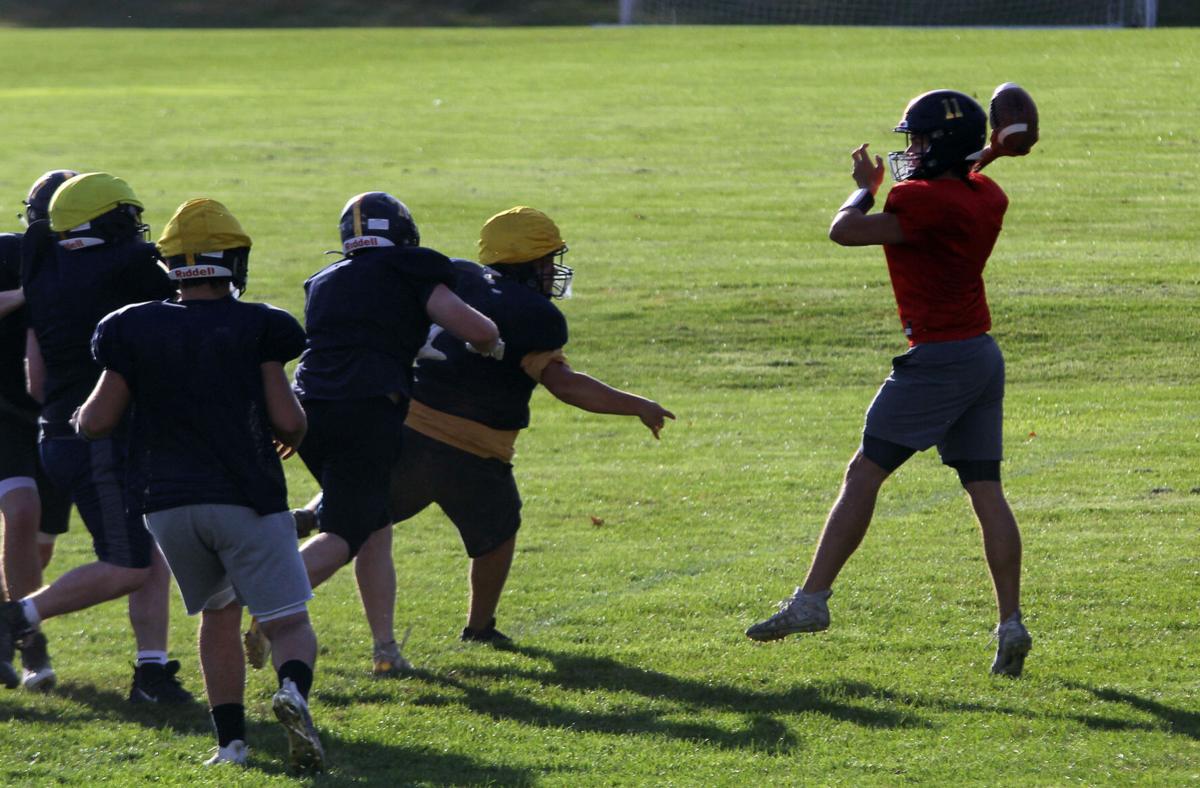 The Baraboo School District is approaching the proposed prep football conference realignment like its a foregone conclusion.
The school board hopes to alter that conclusion before the WIAA Board of Control votes March 5 to finalize a WIAA Realignment Committee proposal that would send Baraboo to the Mississippi Valley Conference in the La Crosse area to help make room for Sun Prairie East and Sun Prairie West in the Badger Large.
"It was a complete blindside, we had no idea we were involved in any of these conversations," Baraboo athletic director Jim Langkamp told the school board Monday about when he found out the task force's plan last month. "(The Board of Control) meets again on March 5 where we can go and again state our case. Historically, when it gets to that point it is a long shot and with this first year of this task force, it would take an awful lot for them to veto what this group did.
"I would say the odds are very long that we're going to be able to swing something, but we're still working with Portage and Reedsburg."
Langkamp went to Stevens Point Jan. 6 to state his three-minute case to the WIAA, as did representatives from Reedsburg — which would also move to the Mississippi Valley — and Portage — which would lose two of its closest rivals and be the smallest remaining team in the Badger Small.
"I really think the process was fundamentally unfair to us," Langkamp said Monday of the decision that would increase Baraboo's shortest football travel from 32 miles roundtrip to Sauk Prairie to 120 to Tomah. "This is a huge shift, and we had nine days to respond."
Doubling the average distance Baraboo needs to travel for games would have ancillary impacts according to board member Nancy Thome.
"The fact that we have such a large number of low-income students, this is really going to cause a hardship on their families," Thome said. "When you compare the wealth of our district with the wealth of Waunakee or Sun Prairie, I mean this is horrible that they're picking on the small, rural district."
The Baraboo School Board instructed superintendent Lori Mueller to strengthen the response by going through options with legal counsel, and also seeing if other schools will support them.
"We're going to have to get legal involved, start a process maybe injunction, or you get a review of policy and procedures — you get eyebrows raised that way," board member Sean McNevin said. "it's evident that they don't care about boards, the athletic directors, the coaches or the kids. They're just trying to move the shells around on the table to align the way they want. If we want to be self-determined in it, we need to get legal representation that can actually get people to answer us, question the process and review what's going on. Otherwise, this to me is already a foregone conclusion. … and if it's a foregone conclusion, then shame on us for sitting back and saying well we really don't want to, but they made us do it. If we want to change that, we have to take alternative actions that the process that's been laid out for us is already predetermined."
Langkamp said he's continuing to work with Portage athletic director Ed Carlson and Reedsburg athletic director Bryan Yager, but the momentum appears to be going the way of realignment. The local group would like to keep the natural rivalries that were strengthened when Baraboo, Sauk Prairie, Reedsburg and Portage were placed in the Northwest Division of the new Badger Conference East/West configuration scheduled to start in 2021-22.
"As a conference a couple years ago, we spent a lot of time to get to consensus about Badger Large and Small and with 16 schools that is really tough with a topic like this," Langkamp said. "It blew up before we even had a chance to try it. They blew up our conference and started a new one. Or at least this task force did for now.
"They say our best shot is don't just go in and say you don't like it, you have to come up with a plan. But you have to get buy-in from other schools to support you."
Langkamp said the Mississippi Valley is really supportive of adding teams in realignment, while Mueller said that "the Badger Conference superintendents meet every other week and we have 100 percent support from our other Badger Conference peers. They would like to keep Baraboo and Reedsburg in the Badger Conference for football."