When Sussex Hamilton came to Baraboo last season, the hosts learned they could play against the biggest schools in Wisconsin.
When Madison East came to Beryl Newman Stadium on Friday, the Thunderbirds showed they can beat them.
The T-Birds did so convincingly, jumping out to a 30-0 halftime lead and holding Madison East to 28 total yards en route to a 44-6 home win over the Purgolders in a game that was called with 8 minutes, 35 seconds remaining due to lightning.
"I was telling the guys before the game, our motto is TPW, tough people win, and it's more of a mental thing than physical," Baraboo coach Steve Turkington said. "I knew as a group that they could handle any situation. I said, 'Just be mentally tough tonight,' because we knew this storm was coming and the game was going to start early. We were rushing through things, and we knew it was going to be a tough team. They were physically tough, bigger kids and our guys handled it well."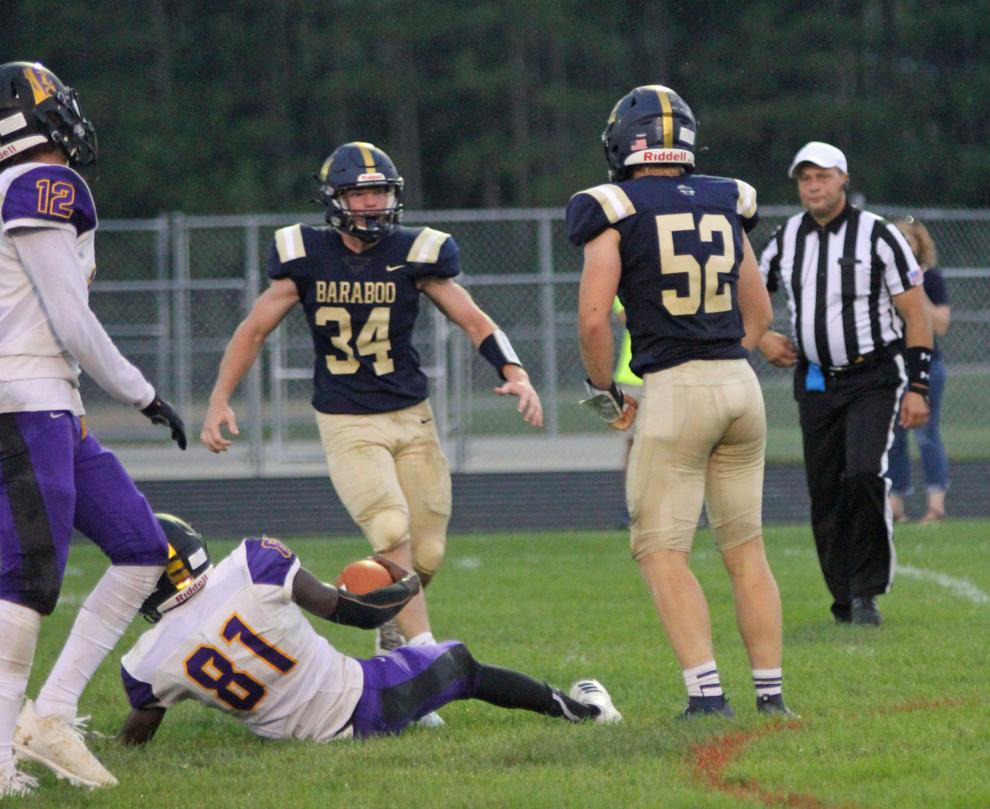 The T-Birds built up that mental toughness through a 2020 season that saw them go 7-2 and win the third WIAA playoff game in program history. Much of that confidence was developed in the wake of a 20-19 home loss to Sussex Hamilton on Oct. 10, 2020, when Turkington said, "I'm really, really proud of the kids' effort because that's a Division 1 program, there are 1,500 kids in their school, and they're rotating quality guys all game while our guys are gassed. Our guys are gassed and they gave everything they had in that game. So at the end of the day, it's like, yeah we made mistakes and missed some opportunities, but we're super proud of them. I think we showed we can hang with the big boys."
Going up against another team with an enrollment over 1,500 on Friday, the T-Birds (2-0) — who received votes in the Large Schools division of the opening Associated Press poll of the season — found the end zone before the scheduled 7 p.m. kickoff time. Baraboo received the opening kick, quickly worked its way downfield and took a 7-0 lead when Luna Larson ran it in from 20 yards out and Brady Henry tacked on the extra point 4:24 into the game.
Baraboo's second possession of the night also moved right along until Madison East's Idowu Fadele made a play. The senior intercepted a Larson pass to give the Purgolders possession at their own 14-yard line with 4:23 remaining in the first quarter.
The T-Birds didn't panic. Larson just made a play on the other side of the ball. The senior inside linebacker read the snap, got right through the middle of the offensive line and teamed up with Kane Mahoney to sack Madison East quarterback Carsen Koch for a safety to give Baraboo a 9-0 lead with 3:50 to go in the first.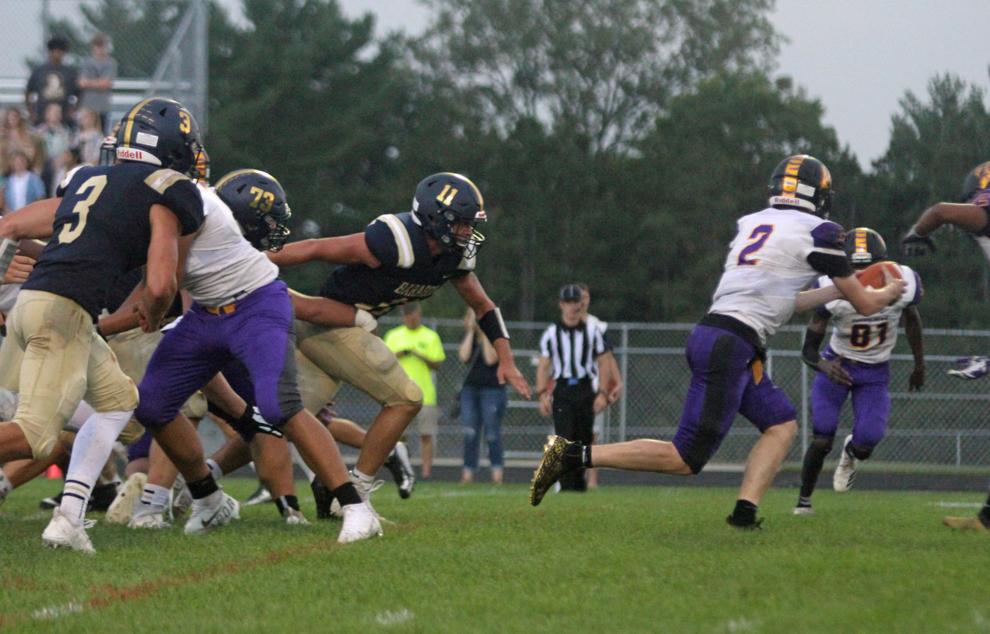 "They don't panic," Turkington said of his players. "I felt like we did that last year, too. There's no panic, they don't flinch, they just play the next play. And we've talked about that so many different times, even at practice. That's what you see there, we make a mistake and we come back down and make a big play that changes the game."
The momentum turned fully in Baraboo's favor on the ensuing possession. Madison East squibbed the kickoff to Gabe Fitzwilliams, who returned it to the opposing 35-yard line to put the T-Birds right back in business.
Larson immediately went deep to Riley Weyh, who scored two touchdowns in the final 40 seconds of last week's 28-21 season-opening win over Onalaska, but Fadele broke it up it to temporarily hold off the T-Birds. They didn't take long to strike, as Mahoney ran for 6 yards before Larson carried it 22 yards down to the 7-yard line. Mahoney, who had 19 carries for 115 yards and two touchdowns, finished the drive with a 7-yard touchdown run to give Baraboo a 16-0 advantage.
Baraboo senior Ryan Liegel immediately put Madison East behind the sticks on their next possession, sacking Koch for an 11-yard loss to put the Purgolders in third-and-20. Koch completed an 11-yard pass to Anthony Glenn, but the Baraboo defense held and the T-Birds took over near midfield with 10 seconds left in the first quarter.
Mahoney ran to the 34-yard line on the final play of the first quarter. The first play of the second went to the end zone, with Larson running for a 34-yard touchdown with 11:52 to play. After the Purgolders were called for running into the kicker on the extra-point attempt, Larson snuck in the two-point conversion to give Baraboo a 24-0 advantage.
Emmanuel Bingham briefly gave Madison East (0-2) life, returning the kickoff to the opposing 20-yard line. The Purgolders nearly took advantage, with Bingham carrying it 12 yards to give them first-and-goal from the 8.
But the T-Birds stiffened. Mahoney recorded a third-down sack before Evan Kephart intercepted Koch's fourth-down pass, which was deflected by Fitzwilliams, to give Baraboo possession at the 5-yard line with 7:32 to go in the half.
"Defensively, we played a pretty good game," Turkington said. "They had a pretty dominating performance."
So did the Baraboo offense, which embarked on its longest drive of the night, following the offensive line for a 7-minute drive that ended with Mahoney's 7-yard touchdown run with 48 seconds left. The line paved the way for 315 rushing yards on 35 carries, while the Baraboo defense allowed just four rushing yards on 23 carries.
"Our offensive line is doing a great job, and it's five guys who haven't played varsity football on the offensive line before," Turkington said of a group that spent 2020 playing different positions or on the junior varsity team. "For them to be performing at this level is pretty impressive. We had a great line last year and now, plug in five new guys, and they get to this level early. It's a smart group, they're physical, they're tough, they spend a lot of time in the weight room... it's nice to run behind that group."
The T-Birds took a 30-0 lead into the locker room, then immediately went back to the ground on their first possession of the second half. Mahoney broke loose for a 19-yard run on a drive that ended with Larson's 4-yard touchdown run. Henry added the extra point to give Baraboo a 37-0 lead with 6:43 to go in the third.
Bingham answered with another nice kickoff return, carrying it to the 48-yard line before a penalty moved the Purgolders up to the Baraboo 35. The Purgolders converted this time, with Koch turning a fourth-and-1 into an 11-yard touchdown run to cut the deficit to 37-6 with 17 seconds remaining.
A little more than a minute later, Larson was in the end zone for the fourth time of the night. The 6-foot-2, 220-pound quarterback, who finished the night with 204 yards on 13 carries, got free down the right sideline for a 57-yard run that stretched the lead to 44-6.
The game, which was already being played with a running clock due to Baraboo's lead, was delayed by lightning with 8:35 remaining.
Baraboo will welcome Monona Grove into Beryl Newman Stadium next Friday for a Badger Conference game. The Silver Eagles improved to 2-0 with Friday's 48-20 home win over Madison La Follette. The teams haven't played since Baraboo suffered a 39-0 season-opening loss to Monona Grove on Aug. 17, 2018.
"That's a team that you think, 'OK, they'll be in the top half of the conference,'" Turkington said. "And hopefully we're one of those teams, so it'll be one of the matchups and a conference game with two top teams that could be a deciding factor in the conference championship race. It's going to be a tough game."