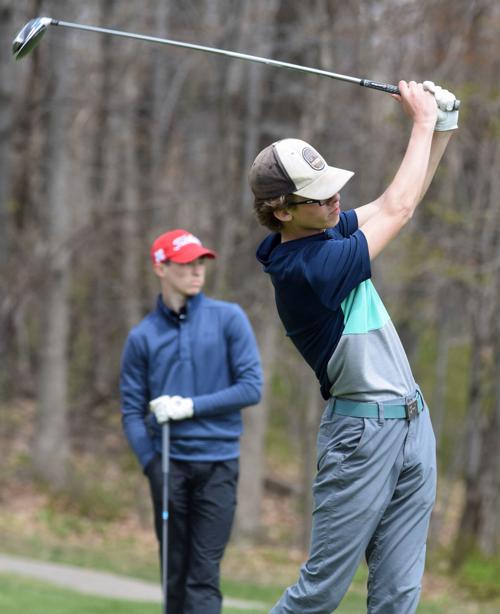 The Baraboo High School boys golf team dropped its first dual meet of the season on Monday.
The Thunderbirds put together a consistent round but suffered a 179-184 loss to Mount Horeb in a rainy nine-hole event at Baraboo Country Club.
"Golf is something you have to learn how to do in the rain," Baraboo head coach Landon Brownell said. "It is a pretty valuable experience because you realize a number of things. I had that conversation a few times with players today that you need to keep your head in the round and stay mentally tough. Rainy conditions are not ideal but you have to find a way to grind through it, keep your hands and grips as dry as you can, and adjust your swing. It actually forces you to slow your swing down and really stay focused on your grip and hands.
"We fell a few strokes short of a very solid Mount Horeb team. ... As each player thought back to their round, it came down to about one stroke per player that we lost by. In a round of golf, that one or two strokes can be made up in a lot of places.
Baraboo's Charlie Gibbs had the lowest individual score of the day. The junior had three pars, four bogeys and a double bogey to finish with a 43 on the par-36 front 9.
"Charlie Gibbs had a very respectable round today," Brownell said. "He was hitting the ball pretty well and keeping himself in the right spots to manage pars and bogeys."
Baraboo's Adam Janssen and Mount Horeb's Sonny Lombardo each carded a 44 to come in right behind Gibbs.
The Vikings won the dual with their next three golfers, as Ethan Wittmann, Nathan Albrecht and Alex Sutter shot a 45 to round out Mount Horeb's scoring.
Kane Mahoney added a 48 for Baraboo, while Luna Larson and Oliver Scanlan shot a 49 and 51, respectively.
Monday was Baraboo's third home dual meet in a week. The T-Birds won their first two, claiming a 180-211 win over DeForest on April 26 and a 181-208 win over Beaver Dam on April 30.
The T-Birds, who have played six of the last eight days, will get one day off before competing in an invitational at Lawsonia Golf Course on Wednesday.
"I am looking forward to seeing each Baraboo player keep working hard in practices and in playing opportunities as we continue our season," Brownell said. "Players will continue to have opportunities to work their way into our varsity and JV spots."
Individual winner: Gibbs, B, 43.
Mount Horeb: Lombardo 44; Wittmann 45; Albrecht 45; Sutter 45; Whaley 50. Baraboo: Gibbs 43; Janssen 44; Mahoney 48; Larson 49; Scanlan 51. At Baraboo CC, par 36.