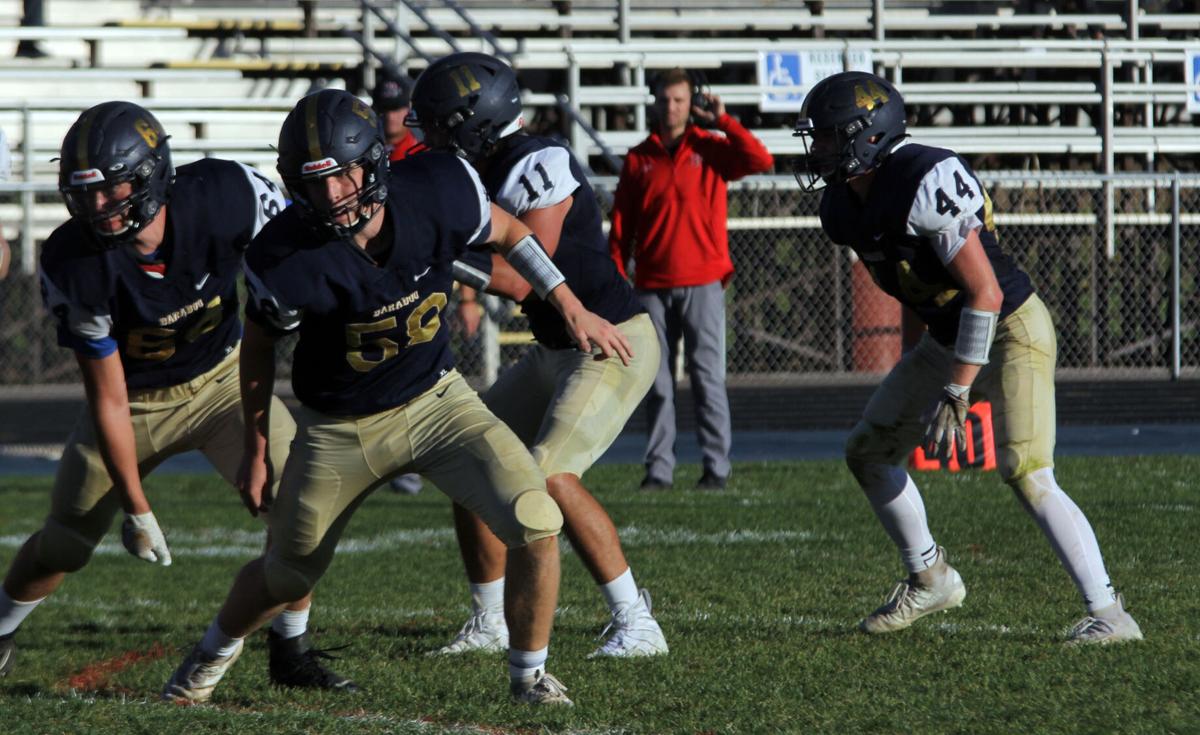 Baraboo's seniors could have very easily packed it in.
Coming off a 2-7 season in a 2019-20 school year that ended virtually due to the COVID-19 pandemic, the Thunderbirds could have spent their extended time at home doing whatever they pleased. Yet, they kept at least some of their attention on football, and the way they handled the offseason has them at 6-1 going into Friday's Division 2 playoff game against visiting Tomah (4-2).
"We were always working," Baraboo senior Campbell Koseor said after Thursday's walk-through. "We always just believed that we were going to play eventually."
That attitude stemmed heavily from the players, as there wasn't much Baraboo's coaches could do during an offseason that saw the weight room locked down until July 1. The T-Birds took it upon themselves to do home workouts through an app, while some players were able to get together and throw the ball around or play 7-on-7.
"Eventually the weight room opened and we were good to go. Everything went from there," said Koseor, a fullback and linebacker who co-captains the T-Birds alongside Luna Larson, Owen Nachtigal and Mason Schultz.
"They have done a good job of taking ownership and just being leaders," Baraboo head coach Steve Turkington said. "And we don't have to give them a leadership position to be a leader. Our captains lead, but a lot of our seniors take that role as well. The other piece to it is they lead themselves. They take care of what their responsibilities are in a really good way and that spills over to everybody else. That's a big piece of it, we've got leaders that our captains, we've got leaders that aren't captains, we're growing leaders, we're multiplying leaders and that's always the secret to success."
It's a veteran group that used the motivation from last season, when many of the current contributors were in key roles for an inexperienced team that took its lumps. The T-Birds' roster had turned over heavily after the 2018 team ended a 12-year playoff drought. That led to natural growing pains, as the 2019 T-Birds were pushed around and saw all seven of their losses come by double digits.
The 23 returning letterwinners were ready to take another shot at it this fall, but they knew they needed to put the work in.
"Us seniors wanted to make sure we were ready to go this year," said Nachtigal, a running back and defensive back. "From the get-go, we thought we were going to be better this year than last year, and it all starts in the offseason. Compared to last offseason, we were definitely more active."
"We kind of felt that this was our year," Koseor added.
That became more clear Sept. 25, when the delayed season started with a 21-3 road win over Sauk Prairie, a team that beat Baraboo, 16-3, last season. Larson, a junior quarterback and linebacker who ran for 174 yards and two touchdowns against Sauk Prairie, said he immediately realized Baraboo had a chance to put together a special season.
"Kind of just after the first game, when the other team couldn't move the ball or anything and we could," Larson said of when he knew the T-Birds had turned the corner. "In the past, we've had pretty good defenses but we couldn't move the ball on offense. That's what's really changed this year."
The offense never slowed down, scoring at least 19 points in every game en route to averaging 30.7 points per game in the regular season, nearly double their 2019 average of 16.3 points per game. Much of it comes on the ground, as Kyle Adams, Mason Schultz, Bronson Schultz, Lucas Miller, Payton Munch and Jake Schaefer have paved the way for a punishing ground game.
"It's fun to watch, it's body language," senior receiver and outside linebacker Quinn Mueller said of what it feels like to control the game on the ground. "They start out really hot and they're trying to come at us, then they just slouch and then they're done."
The demoralizing rushing attack starts with an offensive line that came back this year stronger, more experienced and with better chemistry.
"They just communicate a lot better," Larson said of a group that mostly stayed intact from last season. "Everybody does their job. Nobody tries to do anything more than they do or anything special. Everybody just does what they can."
Larson and Nachtigal are enjoying all their newfound running room. Larson has rushed for 831 yards and 11 touchdowns on 117 carries while adding 599 passing yards and five touchdowns. Nachtigal has carried the ball 82 times for 549 yards and six touchdowns as the T-Birds have had little trouble moving the ball.
Their most difficult outing of the season came when they took on Sussex Hamilton, a Division 1 program that was placed on Baraboo's schedule after Lakeside Lutheran backed out due to COVID-19.
"The Hamilton game I think is the most important game of the season," Turkington said of the 20-19 home loss on Oct. 10. "It was one of those games where, we walked on the field, we saw them, we saw their depth, the numbers that they had, the size that they had and our guys were unfazed by it. They just played and played and battled all the way to the end and we had an opportunity to win that game. ... We knew we could play anybody at that point."
The T-Birds haven't really been tested down the stretch. They've outscored their last four opponents 142-26, pitching three shutouts while also claiming a 45-26 win at Watertown. Nachtigal said that consistency comes from improved all-around effort.
"Everyone knows we're doing great this season, so every week we're giving it everything we've got and trying to get better," he said.
"I think everyone's bodies matured, their brains matured and there's way more dedication," Mueller added. "I remember my junior year, it'd be three or four of us every day after practice running routes and going over basic stuff. Now it's 19 or 20 of us, and it's showed.... It's hard to focus when you're a freshman in high school obviously, but now when you're seniors, it's way better, we actually work hard through practice and that's one of the big things for me is focus. I hate when we're out of focus."
The focus has been there all season for a Baraboo defense that has given up just seven touchdowns this year and is allowing 7.0 points per game. Koseor, Larson, Mueller, Nachtigal, Kane Mahoney and Gabe Fitzwilliams are all part of a deep group of athletic playmakers who rally to the ball.
"Everyone's just flying around, everyone wants to be out there and wants to make plays," said Koseor, who is currently dealing with an ankle injury. "We all just came together."
"You can just play, you don't have to worry too much and if you make a mistake usually somebody covers for you, so you can play fast," said Larson, who received an offer from Central Michigan in the offseason. "Everybody's on the ball, it's group tackling, everybody's there."
That two-way dominance has made the T-Birds the 10th-ranked team in the large schools division of the most recent Associated Press state poll. As the milestones and wins continued to pile up, the T-Birds kept coming to the field with more and more confidence.
"I think we just want to win more," Mueller said. "We know that we're actually good and we're starting to put it together. Those plays that didn't seem possible, we're making possible."
The next two games didn't seem possible earlier this fall. A special Baraboo season will also get a special ending, as the pandemic led the WIAA to form a new two-week playoff format in which programs were split into four-team regional pods.
Baraboo earned a No. 2 seed in Division 2 and will host No. 3 Tomah on Friday. The winner will advance to play No. 1 Onalaska (3-2) or No. 4 Portage (3-2) next week, when the postseason will end well short of naming any state champions.
"I'm just happy we got the whole season and we get some extra games," said Larson, who will enjoy his last couple games with the Class of 2021. "They're very different. There's a lot of them that are funny and then there's some that are serious. I don't know, they just work well together. They're fun to be around."