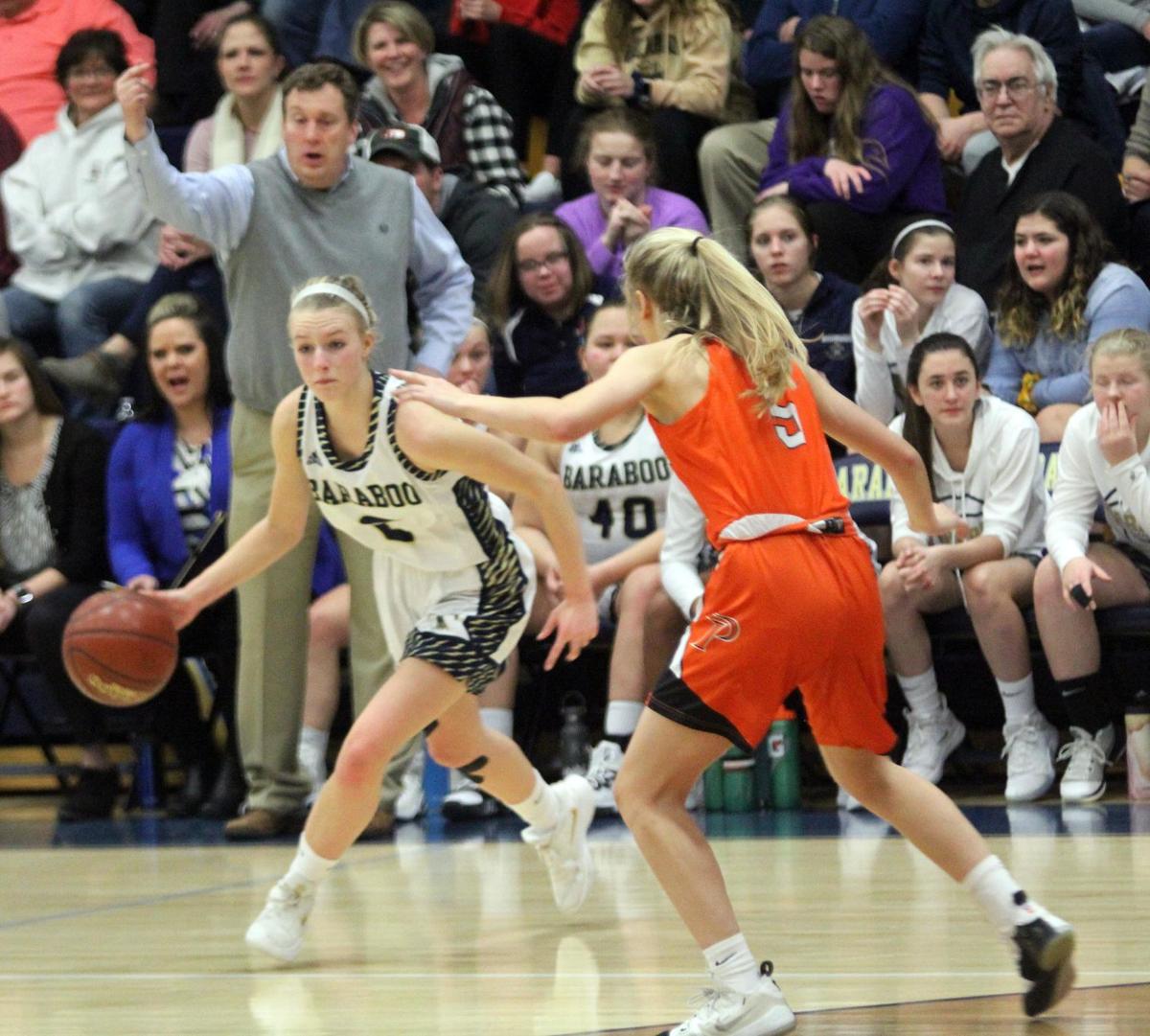 A pair of previously winless teams had a chance at a win Tuesday night.
The Baraboo High School girls basketball team took it and ran with it, jumping out to a 33-8 halftime lead and cruising to a 66-22 non-conference win at Mauston.
Baraboo (1-11) ended a 15-game losing streak, doing whatever it wanted against Mauston (0-13) in a matchup of teams that have struggled to score the ball this season.
"We just executed our game plan," Baraboo head coach Michael Behl said after the win. "We wanted to pressure them in the full court and create some turnovers.
"It was fun to get a win. We knew one was coming, but this felt good."
It also felt good to put the ball in the basket, as the Thunderbirds scored their most points in a game since notching a 71-20 win at La Crosse Central on Nov. 18, 2016.
Baraboo entered Tuesday scoring 28.6 points per game this season, while Mauston came in averaging 19.8 points per game.
The T-Birds were the aggressors, pressing and attacking the basket to open up a quick 13-2 lead. They surpassed their previous season high in points — which came during a 48-47 overtime loss to Portage on Jan. 3 — with plenty of time to spare as the game finished with a running clock.
"We wanted to be aggressive and get to the basket," Behl said. "And we hit some shots tonight, and did a good job getting to the free-throw line."
The T-Birds kept the pressure up much of the night, playing with energy and creating turnovers despite the absence of regulars Jillian Shanks, Seneca Funmaker and Claire Bildsten.
"We practice that on and off, and when you walk into the gym after school, they're in their working on stuff," Behl said of his players' ability to play up-tempo. "Their basketball IQ is growing.
You have free articles remaining.
"Taylor (Pfaff) had a number of steals in our press and found her teammates on the other end."
Pfaff outscored Mauston on her own, finishing with 23 points on seven field goals and 8-of-12 shooting from the free-throw line. Autumn Klemm had an efficient 16-point effort, finishing with four two-point field goals and a 3-pointer while making 5 of 6 free throws.
"Autumn took the ball to the rim and converted," Behl said of Klemm. "She had a good night on both ends of the floor."
Moon added 13 points for the T-Birds, while Jayden Ross added nine points, Emma Fluette had three points and Cece Oettinger had two points. The T-Birds finished with 23 made field goals, including four 3-pointers, and shot 16 of 24 from the free-throw line.
The Baraboo defense held Mauston without a 3-pointer and kept the Golden Eagles under 25 points for the ninth straight game. Ruth Hammer scored seven points to lead Mauston, which has lost 20 straight games since a 47-39 win at Viroqua on Jan. 31, 2019. Bridget Gunther and Kayla Dominguez added six points and five points, respectively, for the Golden Eagles.
Tuesday was Baraboo's first win since notching back-to-back victories over Mount Horeb and Sauk Prairie last February. The T-Birds hadn't had a non-conference win since a 48-36 home win over Fort Atkinson on Jan. 11, 2019.
Baraboo will face Fort Atkinson on Friday in the opening game of the Badger Challenge at Beaver Dam High School. The T-Birds enter the game last in the Badger North Conference at 0-7, while the Blackhawks are 0-6 at the bottom of the Badger South.
BARABOO 66, MAUSTON 22</&hspag4>
BARABOO (fg ft-fta pts) — Klemm 5 5-6 16, Moon 5 2-2 13, Pfaff 7 8-12 23, Oettinger 1 0-0 2, Ross 4 1-4 9, Fluette 1 0-0 3. Totals 23 16-24 66.
MAUSTON— Hammer 2 3-5 7, Kobylski 1 1-2 3, B. Gunther 2 2-5 6, Dominguez 2 1-1 5, Dodson 0 0-1 0, Randall 0 0-1 1. Totals 7 8-16 22.
3-point goals: B 4 (Klemm, Moon, Pfaff, Fluette); M 0. Total fouls: B 18, M 16.
Follow Brock Fritz on Twitter @BrockFritz.