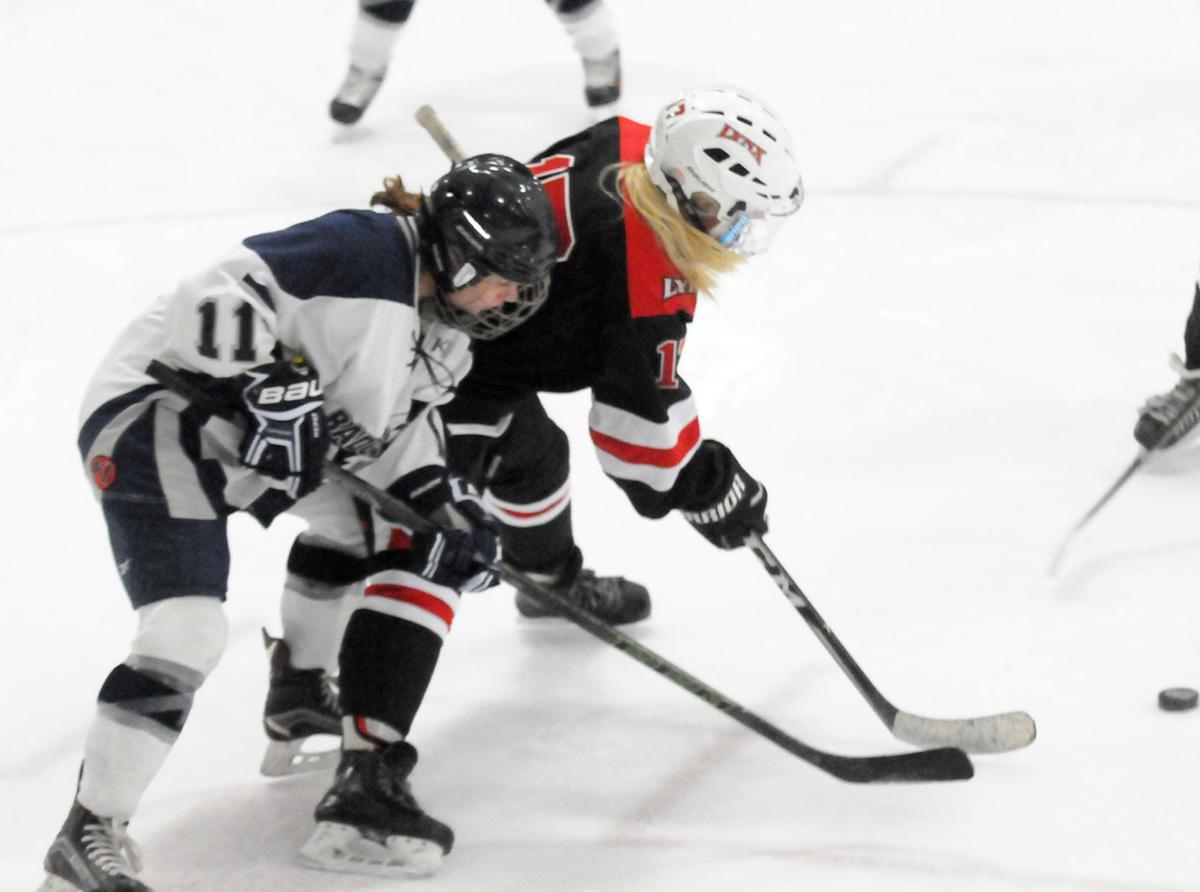 The Badger Lightning prep girls hockey team picked up its first win of the season Saturday afternoon.
The Baraboo-based co-op broke a tie with three straight third-period goals on the way to a 7-5 win over Medford at Poppy Waterman Ice Arena in Lake Delton.
The Ligtning's first goal of the game came from Bella Bowden, who took an assist from Baylee Babcock and scored 4 minutes, 39 seconds into the game.
Medford's Emily Schafer answered with back-to-back goals, the first at 11:34 with an assist from Kristen Brandner and the second unassisted at 12:27.
Baraboo freshman Kayla Capener scored at 14:47 to tie the game at 2, then Mauston senior Emily Patton scored a power-play goal at 15:08 to give the Lightning a 3-2 lead going into the first intermission.
Reedsburg senior Kaylee Engel added on 1:01 into the second period. Schafer and Kyla Kennedy each scored for Medford to tie the game at 4 going into the final period.
The Lightning came out of the gates fast in the third, with Babcock and Capener assisting Bowden 0:43 into the period to give them a 5-4 lead. "Mallory Ruhland and Cooper added insurance goals, while Katlyin Elder made 31 saves for the Lightning."
The Lightning matched their win total from last season, when they ended a 23-game losing streak with a 10-3 win over Medford on Nov. 23, 2018. The Lightning's last win against a non-Medford opponent was a 9-2 victory over the Beaver Dam co-op on Feb. 7, 2017.
Lakeshore 5, Lightning 2
The Lightning's doubleheader wrapped up with Saturday's 5-2 loss to the Lakeshore Lightning.
Baraboo senior Ellie Goethel scored just 2:03 into the game, taking assists from Allison Knull and Jordan Meinhardt to give the Thunder (1-3) their only lead of the night.
Lakeshore (2-1-1) responded with four unanswered goals, with Alison Kellner, Gwen Cherella, Anna Gontarski and Caitlin Kennedy each scoring to give the Mequon-based co-op a 4-1 lead through two periods.
Knull scored 5:16 into the third period, receiving assists from Goethel and Engel. Kellner closed the scoring with four minutes to play.
You have free articles remaining.
Elder finished with 33 saves, while Kami McCardle had 33 saves for Lakeshore.
The Lightning will visit Middleton on Tuesday.
First period: B — Bowden (Babcock), 4:39; M — Schafer (Brandner), 11:34 (pp); Schafer, 12:27; B — Capener (Babcock, Bowden), 14:47; Patton (Engel), 15:08 (pp).
Second period: B — Engel, 1:01; M — Schafer (Kennedy), 8:31; Kennedy (Crass), 16:07 (pp).
Third period: B — Bowden (Babcock, Capener), :43; Ruhland (Patton), 4:44; Capener (Bowden, Babcock), 12:37; M — Schafer (Crass, Kennedy), 13:27.
Saves: M 35 (Nicks); B 31 (Elder). Penalties-minutes: M 4-8; B 8-16.
First period: B — Goethel (Knull, Meinhardt), 2:03; C — Kellner (Gontarski), 2:53; Cherella (Curtis), 5:18 (pp); Gontarski (Kennedy), 13:11 (pp).
Second period: C — Kennedy (Kellner), 15:15.
Third period: B — Knull (Goethel, Engel), 5:16; C — Kellner (Gontarski, Curtis), 12:56.
Saves: C 24 (McCardle); B 33 (Elder). Penalties-minutes: C 2-4; B 5-10.
Follow Brock Fritz on Twitter @BrockFritz.