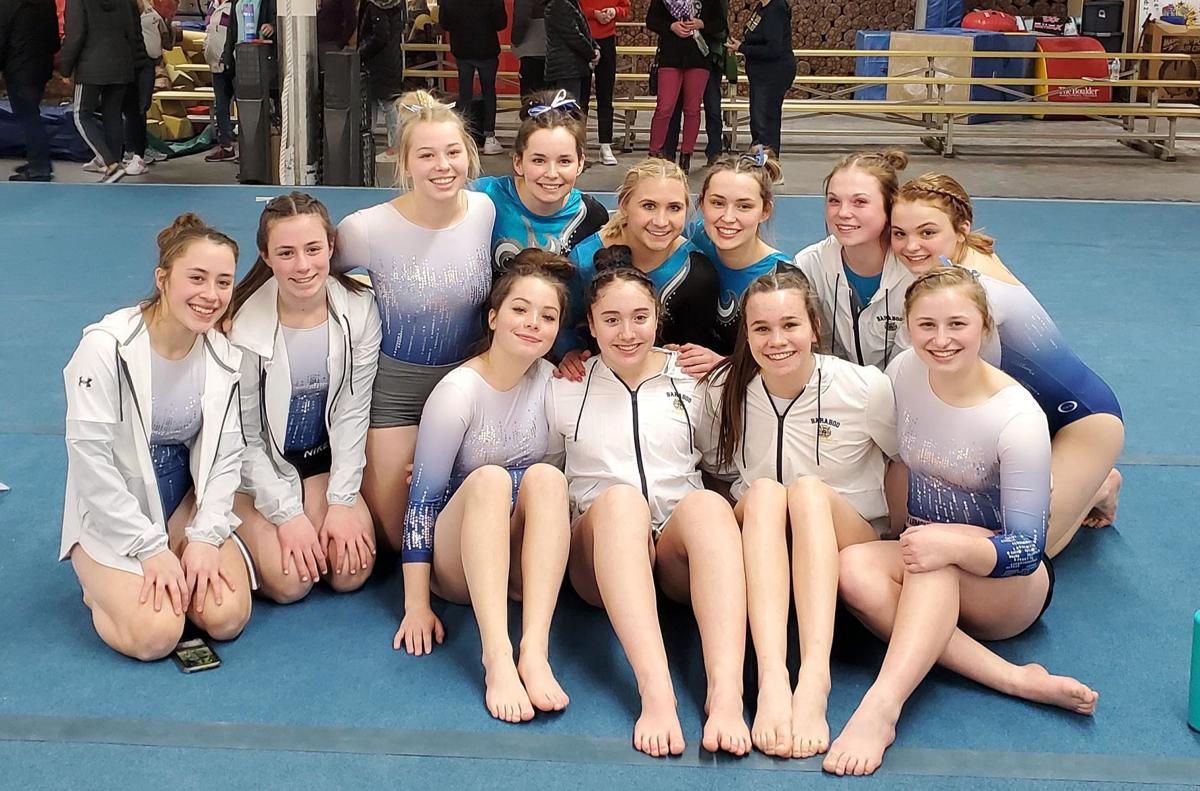 The Baraboo prep gymnastics team dealt with adversity heading into Tuesday's Badger Conference loss at Milton.
The visiting Thunderbirds suffered a 138.05-126.35 loss to the Red Hawks to finish the dual meet season with a 4-3 record.
"Scores were down a bit for our team," Baraboo coach Teri Creighton said after the loss. "We have been battling some minor injuries and illness this week, so we unfortunately were not full strength today. I am proud of the girls for pushing through to compete with such circumstances in this last dual meet of the season."
Brittany Reuter led Baraboo in two of the four events, scoring 8.65 points in the floor exercise and 7.9 points on the uneven bars.
Olivia Fernandez-Hydzik (8.35), Meghan Reuter (8.2), Samantha Walter (7.85) and Tierney Becker (7.4) also represented the T-Birds in the floor exercise, while Rachel Laux (7.85), Meghan Reuter (7.65), Fernandez-Hydzik (7.4) and Mia Burkhalter (7.35) competed on the uneven bars.
Fernandez-Hydzik had a team-leading 8.4 on the vault. Brittany Reuter added an 8.35, Burkhalter an 8.2, Meghan Reuter an 8.15 and Becker a 7.75.
You have free articles remaining.
Meghan Reuter led Baraboo on the balance beam, scoring 7.95 points while competing alongside Laux (7.4), Fernandez-Hydzik (7.25), Burkhalter (6.8) and Brittany Reuter (6.4).
Milton's Brooke Girard and Ireland Olstad each scored 8.8 points to tie for first on the beam.
All five Red Hawks scored higher than an 8.0 in the floor exercise, with Girard scoring a 9.1, followed by Caroline Burki (8.9), Olstad (8.75), Hannah Dunk (8.6) and Morgan Cheatle (8.1).
Dunk, who led the field in the vault (9.05) and bars (8.65), won the all-around title with 34.95 points. Girard (34.65) and Burki (33.65) took second and third, respectively, followed by Meghan Reuter (31.95), Fernandez-Hydzik (31.4) and Brittany Reuter (31.3).
Baraboo had been coming off tallying its highest point total in more than 20 years in Friday's 132.925-131.050 home win over Watertown.
The T-Birds will close out the regular season at Saturday's meet in Platteville. The Badger Conference meet will be held Feb. 22 in Waunakee, while Baraboo will compete in the Feb. 27 WIAA Division 2 sectional meet in Mount Horeb.
"Looking forward to getting everyone healthy again soon so we can prepare for our conference and sectional meets," Creighton said.
Follow Brock Fritz on Twitter @BrockFritz.