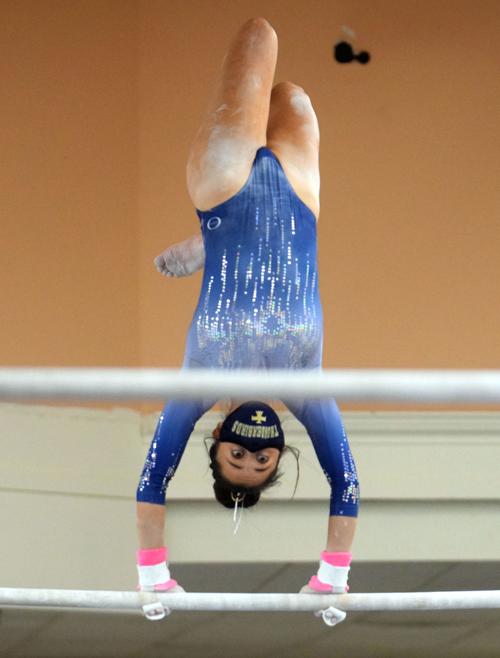 The Baraboo High School gymnastics team won nearly everything Friday night.
The Thunderbirds claimed all but one event en route to a 122.475-120.525 win over Monona Grove in a regular-season-ending dual meet at Baraboo High School.
Baraboo took home the top-three spots in the all-around competition. Olivia Fernandez-Hydzik won three of the four individual events on the way to winning the all-around title with 33.025 points, while Samantha Walter (30.7) and Tierney Becker (30.2) took second and third, respectively.
Fernandez-Hydzik won everything but the vault. The sophomore took first in the floor exercise (8.95), balance beam (8.3) and uneven bars (7.65). She rounded out her day with a third-place finish on the vault, scoring 8.1 points to finish behind Monona Grove's Ellie Van Veghel (8.4) and Shae Donelan (8.3).
Becker tallied a pair of second-place finishes, scoring 8.4 points in the floor exercise and 7.3 points on the bars to trail only Fernandez-Hydzik in both events. Becker also took sixth in the vault (8.0) and seventh in the balance beam (6.5).
Walter's second-place all-around performance was highlighted by a third-place finish on the beam (7.65). She also took fourth in the floor exercise (8.25), fifth on the bars (6.95) and tied teammate Alexis Weyenberg for eighth in the vault (7.85).
Baraboo will return to competition with Saturday's WIAA Division 2 sectional meet at Platteville High School.
BARABOO 122.475, MONONA GROVE 120.525
Balance beam: Fernandez-Hydzik, B, 8.3. Vault: Van Veghel, MG, 8.4. Uneven bars: Fernandez-Hydzik, B, 7.67. Floor exercise: Fernandez-Hydzik, B, 8.95. All-around: Fernandez-Hydzik, B, 33.025. At Baraboo.