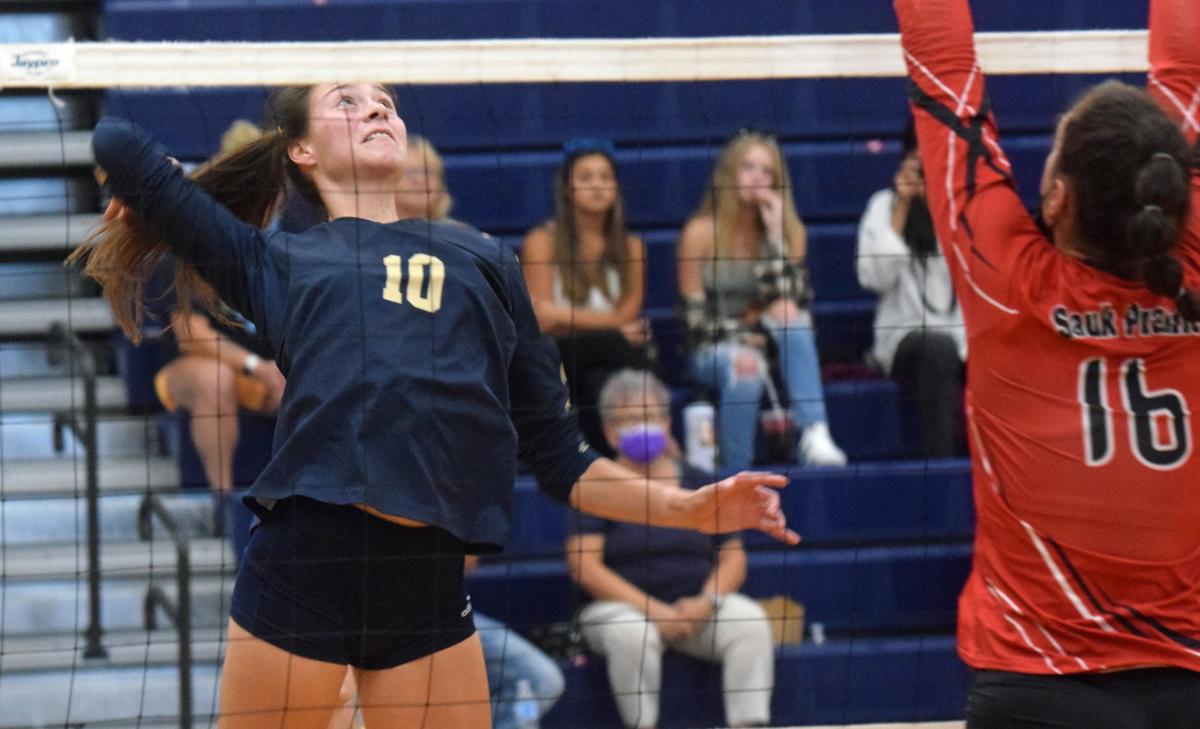 The Baraboo High School volleyball team had little trouble breaking in its home court, sweeping by visiting Monroe on Thursday night.
The Thunderbirds claimed a 25-11, 25-15, 25-16 win to improve to 13-8 on the season, including 1-0 at home.
The second set saw the T-Birds use a 7-0 run to take a 14-7 lead, eventually running the score up to 21-8 and cruising to the finish.
Baraboo closed strong in set three, turning a 19-15 lead into a 25-16 win with a 6-1 match-ending run. A McKenzie Gruner kill gave the T-Birds a 22-16 advantage, a Jayden Ross tip kill stretched the lead to 24-16, and a Monroe error gave Baraboo its first win non-tournament win of the season.
McKenzie Gruner finished with 10 kills, 10 digs, three aces and two blocks; while Jaydnn Gruner added eight kills, two blocks and 12 assists; Katie Peterson had 17 assists and two aces; Taylor Pfaff had three blocks; and Paityn Lewison had five digs.
Reedsburg 3, Oregon 0
Reedsburg continued its fast start with a 25-17, 25-16, 25-15 home win over Oregon on Thursday.
The Beavers have lost just three sets this season, one during a 2-1 win over Monticello on Sept. 4, and two in Tuesday's 2-0 loss to Sauk Prairie.
Reedsburg will compete in the Sauk Prairie Invitational on Saturday.
BOYS SOCCER
Sauk Prairie 4, Reedsburg 0
Sam Drescher scored two goals and the Sauk Prairie boys soccer team claimed a 4-0 Badger Conference win at Reedsburg on Thursday to improve to .500 on the season.
The Eagles (3-3) led for 70 of the 80 minutes thanks to Quinn Baier assisting Drescher for a goal in the 10th minute. The duo switched roles two minutes later, with Drescher feeding Baier to give Sauk Prairie a 2-0 lead.
The Eagles added a pair of second-half insurance goals, with Drescher scoring in the 42nd minute and Elliot Carlson finding the back of the net in the 52nd.
Ellis Kirner made one save to notch his third shutout of the year. The Eagles have shut out all three teams they've beat this season, while being held scoreless in all of their losses.
Sauk Prairie, which is ranked ninth in Division 2 by the Wisconsin Soccer Coaches Associations, will compete in a tournament this weekend at Woodside Sports Complex.
Reedsburg (3-3) has traded wins and losses all year, and will return to action Tuesday at Watertown.
Baraboo 6, Portage/Poynette 0
Baraboo remained unbeaten with a 6-0 win at Portage/Poynette on Thursday.
The T-Birds (3-0-2) will host a weekend invitational at Woodside Sports Complex.
GIRLS TENNIS
Edgewood 4, Sauk Prairie 3
Madison Edgewood won two of three doubles matches to hand Sauk Prairie a 4-3 home dual-meet loss on Thursday.
"We knew Edgewood always has a strong team of players," Sauk Prairie coach Heather Slosarek said. "While we came up one match short for a team victory, we had some great growth moving into the back half of the season."
Sauk Prairie's lone doubles win came from Lauren Frey and Faith Holler, who picked up a 6-3, 3-6, 6-4 win over Samantha Buchner and Maeve Shanahan at No. 1 doubles.
"Lauren Frey and Faith Holler had one of their most competitive matches of the season, and they were able to pull off a third-set victory tonight," Slosarek said. "Lauren and Faith have developed with every match they have played, and it was exciting to watch them play in their element. It was a victory on all fronts."
No. 2 and No. 3 doubles went Edgewood's way, with Sydney Johnson and Jamie Johnson notching a 6-1, 6-1 win over Avery Leigh and Lexi Chrisler, and Logan Grabbins and Grace Imhoff earning a 6-3, 6-1 win over Allison Shelton and Molly Diske.
The Badger Conference foes split singles play. Sauk Prairie's wins came from Devin O'Connor, who earned a 6-2, 6-0 win over Lucy Herlitzka at No. 2 singles, and Ava Andres, who picked up a 6-0, 6-1 win over Ella Kory at No. 3 singles.
"Devin O'Connor had a confidence-boosting win tonight. Her shot selection and placement were on target," Slosarek said. "Ava Andres continues to rack up 'Ws'. Her tennis IQ grows from match to match, and there is no doubt that she give 100% teach time she hits the court."
Edgewood's Lilly Olson beat Quinlyn Mack, 6-4, 6-2, at No. 1 singles, while Hannah Poehling beat Emilia Pape, 6-1, 6-2, at No. 4 singles.
Reedsburg 7, Monroe 0
Reedsburg won every match in straight sets to claim a 7-0 win at Monroe on Thursday.
Gabby Weis notched a 6-4, 6-3 win over Kylie Miller at No. 1 singles; Katelyn Wilhelm a 6-2, 6-2 win over Alicia Brunton at No. 2 singles; Emma Rockweiler a 6-0, 6-0 win over Bella Brunton at No. 3 singles; and Halle Hahn a 6-0, 6-0 win over Vaughn Barker at No. 4 singles.
The No. 1 doubles duo of Sophie Tourdot and Emily Wood recorded a 6-0, 6-1 win over Sydney Conway and Lydia Setterstrom; while Yerly Rothwell and Ashley Crary claimed a 7-5, 6-0 win over Morgan Johnson and Melena Brunton at No. 2 doubles; and Maria Ruiz and Stephanie Torres a 6-3, 6-3 win over Bre Giasson and Allison Wunshel at No. 3 doubles.