What is it that distinguishes the fare at a Wisconsin supper club from other restaurants?
To some it is the standard of a Friday night fish fry. Others point to the necessity of an excellent brandy old fashioned. While both are important considerations, one critical element that sets a Wisconsin supper club apart from the food at other establishments is a Saturday prime rib special.
Juicy meat, crisp fat and drippings make prime rib a coveted dish. Quindt's Towne Lounge and Catering has brought these elements together into a mouth-watering serving that won't leave patrons hungry.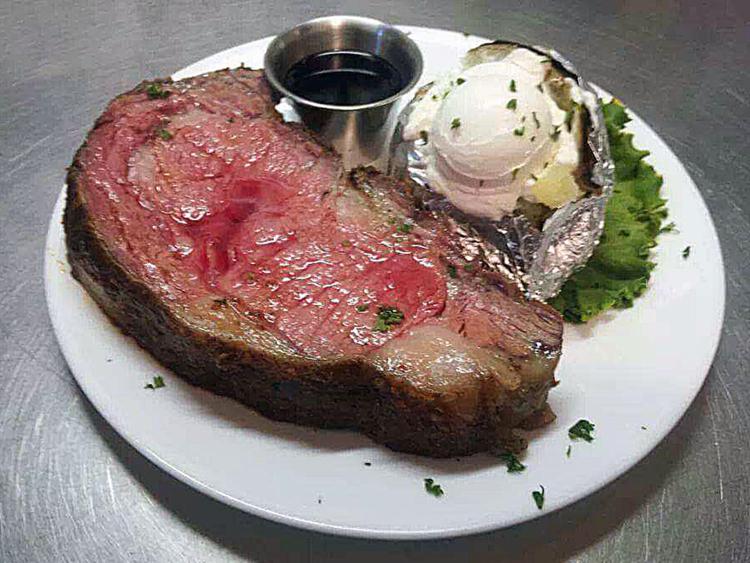 "That's a lot of beef, but honestly, Quindt's prime rib is the best around," said Sue Dost who, along with her husband Bill, is a regular customer.
Executive Chef Anthony Teasdale prepares close to 200 pounds of prime rib each week at the local supper club.
The prime rib is so popular, it is featured on Wednesdays as well as the traditional Saturdays in three different sizes: petite at 10 ounces, queen at 12 ounces and king at 16 ounces.
Teasdale has the prime rib preparation down pat. It takes him less than five minutes to season the meat and ready it for the oven.
"The secret to our prime rib is the spices and the rub," he said. "I will not tell you what secret ingredients are in it; but trust me, it is the spice mix that seals the meat."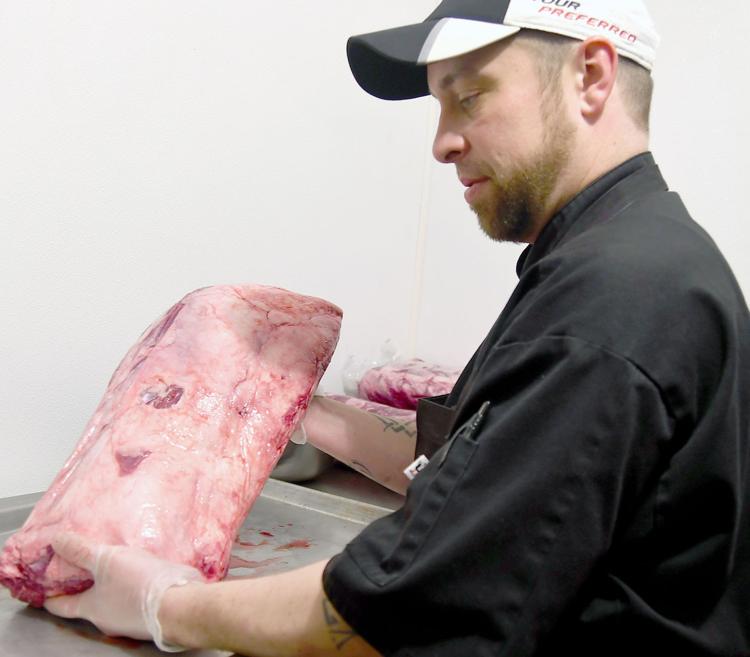 The secret to preparing prime rib, which is the flavorful roast cut from the center of the rib section of the steer, is to cook it low and slow. A key for restaurants is to finish the meat rare, and chefs can then bring it up to different levels of doneness in a pan to match a customer's preference.
Teasdale said in addition to cooking prime rib low and slow, he always lets the cooked meat rest for at least 20 minutes before cutting and serving to ensure the juices don't run out.
Teasdale has been a chef at Quindt's for almost 20 years and credits his skill to learning over time and what he calls the "school of hard knocks." Like most chefs, he does not use recipes but has learned his craft simply by touch, feel, senses and trial and error over time.
Quindt's co-owner Rebecca Quindt said Teasdale is able to quickly move from one task to the next.
"He is creative and he does everything," she said. "He can go from making prime rib to Rockefeller-style lobster tail to doing the dishes or bussing tables. He does whatever is needed."
Rebecca and her husband, Ryan, took over the business from Ryan's parents, Mark and Virginia Quindt when they retired two years ago.
"Since the kids took over they have let me be really innovative and inspired," Teasdale said. "It does not hurt that my mom, Robin Teasdale, is the menu coordinator at Sysco, so she gets my creative juices going, too."
The chef says the business continues to grow.
"I think partly because we are truly one of the only old-fashioned supper clubs around and partly because we offer outstanding food at a fair price," he said. "We offer a $5 special every day."
Quindt's also offers the traditional Friday fish fry, and don't forget to order an old fashioned.

"Everyone likes to try new things but we just have that local supper club feel so we go through a lot of whiskey and brandy old fashioned," Teasdale said. "It's a Wisconsin tradition.
Sue Dost said the people at the local business are as important as the food.
"They are successful not just because they have great food," she said. "It's the owners and the chef and the atmosphere that makes the food taste even better."