Eric Meyer knows a thing or two about beef.
The proprietor of Baraboo Burger Co. has been crafting exquisite burgers for local patrons for more than 20 years. During that time, he's developed some strong opinions about what makes the perfect burger, and to him, it all starts with quality beef.
"A dry burger just isn't going to work," he says, while preparing two patties on the restaurant's flat-top grill in the heart of downtown Baraboo. "There has to be that kind of flavor and juiciness where you get that first big bite and you have to take a napkin and wipe your wrists off a little bit."
Meyer throws a handful of chopped onions on the grill. It carries years of flavor from the other sautéed onions and grilled burgers that have graced its surface. He cooks the onions underneath and on top of one patty so the flavor cooks through the burger.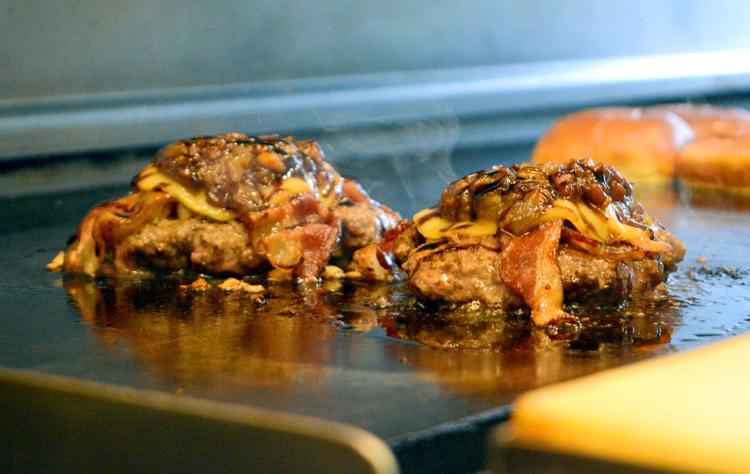 "Some other places will clean their grill right back down to the stainless," he said. "Here we like to make sure that it's good and seasoned, and I think that every time you cook a burger you're getting a little bit more flavor out of it as well."
The restaurant uses certified Angus beef that is 81 percent lean, hand-pattied and never frozen, Meyer explained.
If sales are any indication regarding the quality of its meat, Baraboo Burger Co. went through about 18,000 pounds of ground beef last year, Meyer said. He hopes to continue the restaurant's success this Valentine's Day by bringing back a burger-beer special that's sure to steal patrons' hearts.
The aptly named "B Mine Burger," paired with Abita Brewing's Mardi Gras Bock, features a half-pound beef patty topped with bacon and onion jam, bourbon and brown sugar-glazed bacon, balsamic glaze and smoked Gouda cheese on a grilled brioche bun. That's a lot of B's on one burger.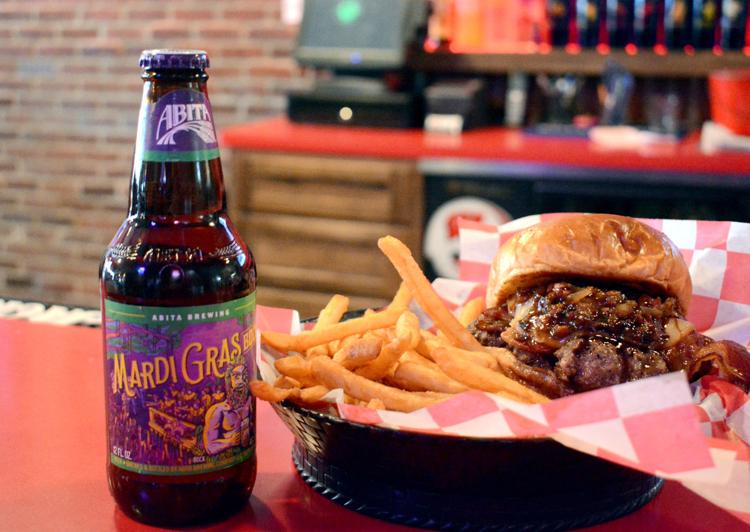 The sweet and salty special had been one of Baraboo Burger Co.'s most requested special gourmet burgers last year, but never made the regular menu. Its popularity with customers led Meyer to bring to the burger back as a February special.
Meyer said restaurant staff works together to come up with ideas for monthly specials.
"I like researching and walking through the grocery store and looking at different things and going, 'Hey that might be good,'" Meyer said. "Some of the cooks that we have in the back will come to me with some of their ideas, and we'll have a little sit down, sample burgers and vote on them to see what we come up with."
Apart from its wide array of gourmet, artisan burgers, Meyer said Baraboo Burger Co. relies heavily on the sale of its four classics, which include the hamburger, cheeseburger, mushroom and Swiss and bacon cheeseburger. The restaurant normally has about a dozen burgers on its menu and includes a black bean and veggie burger for vegetarians. The menu also features plenty of options aside from burgers, like Reubens, wraps and other sandwiches.
Since separating from the Monk's franchise in 2015, Baraboo Burger Co. has branded itself a family friendly sports bar and hot spot for Wisconsin sporting events. The restaurant offers a variety of free drink specials during Badgers games and raffles off prizes at the end of each football game. Jell-O shots are handed out as "You've said it All" is played for Wisconsin touchdowns.

Meyer said the friendly atmosphere and stellar service at Baraboo Burger Co. make it one of Baraboo's unique dining destinations.
"Customers know they're going to see a smiling face, and they know that they're going to get good service," he said. "We always joke if we don't know a regular customer's name, we're 100 percent sure what they usually drink."