For many local patrons, the food most associated with Baraboo's Gem City Saloon and Eatery may be the establishment's thick crust pizza. However, co-owner Gary Bowar says the real hidden gems are the tavern's burgers.
The saloon's namesake Gem Burger is a hand-pattied, half-pound burger with Romaine lettuce, fresh tomato, apple-smoked bacon and choice of American, cheddar or Swiss cheese, served on a toasted Kaiser bun.
"The hamburgers are our best-known secret here at Gem City," Bowar said. "We are so well-known for our pizza, but I like to have people try our hamburgers."
Both the bar and its signature burger reflect Baraboo's longstanding nickname. Since the 1890s, the community has been known as Gem City because it sits amid the Baraboo Hills like a gemstone.
Bowar, with co-owner Jamie Hausse and manager Jeff Brescia, maintain a selection of more than 50 craft beers and a number of tap options.
Bartender Mandi Mittlesteadt has worked at the tavern for 2 years and said all of the meat comes fresh from the Meat Market in Baraboo and never is frozen.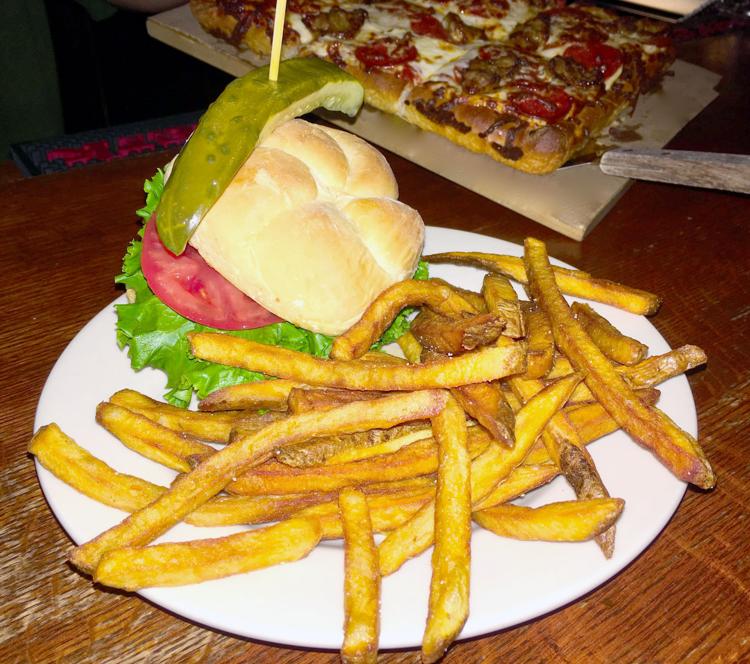 "Everything that we do here at Gem City is fresh," she said. "The owners and manager, Gary, Jamie and Jeff, won't have it any way but fresh."
Patron Kylie Delmore said she visits Gem City regularly for the food, atmosphere and a personal touch.
"I love it here. It's always so clean; the people are always friendly," she said. "They don't have a turnover in staff. It's the same great staff, night after night."
You have free articles remaining.
Middlesteadt said the establishment has consistent staff for patrons because people like working there.
"Why would you want to work any place else? We have the best burgers and pizza in town and I'm not just saying that because I work here."
Delmore also backed up co-owner Bowar's take on the establishment's signature fare.
"The pizza is to die for, but the hamburgers are just delicious," she said. "They're so fresh and they're big. I can't really finish one all by myself, but I try."
The popular pizzas are made from scratch, including the dough and sauce, in an undersized kitchen behind the bar.
Mac Ebert said the atmosphere at Gem City stands out in Baraboo.
"It's a great place. It's for everyone, young and old and families," he said. "It's a different crowd than most downtown bars. It's more mature and laid back."

Lauren Block, who was visiting Baraboo from Chicago, said she visits Gem City whenever she is in town.
"We vacation here and we always, always visit Gem City at least twice while we are in the area, once for their burgers and once for their pizza," she said. "My daughter talks about the fresh-cut cheese fries and nachos all the way here."