Little Village Café receives a shipment of fresh salmon from the Bay of Bundy in Canada every Friday morning.
Chef Austin Blacker signs off on the order, placed the day before, and cuts the fillets into smaller portions. The salmon will be used for salads, sandwiches and a variety of other dishes throughout the ensuing weekend. As he works, Blacker makes sure nothing goes to waste.
"I'll take the rest — the belly and the parts that aren't too terrible — spice it up, and make a soup out of it," he said, carefully slicing a fillet. "There's a lot of fat in the belly, and fat equals flavor."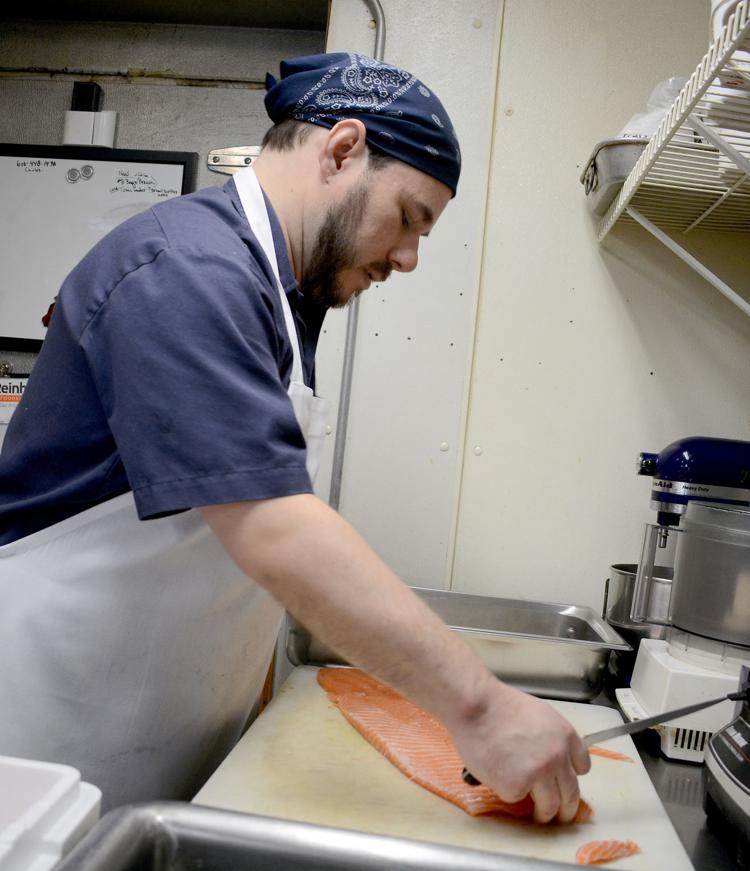 Blacker makes seafood chowder from the leftover cuts that's a bit different than the traditional New England staple. It swaps shellfish for salmon, incorporates traces of tarragon and lemon zest for aromatics and uses mashed potatoes instead of diced spuds. Blacker said the variations create a thicker, more savory chowder and incorporate the potatoes into every bite.
The chowder is one of several homemade soups that Little Village Café is known for, all of which are made from scratch. Blacker said the seafood chowder is a twist on one of owner Jim Dickey's old recipes, and it turns out a little different each time it's made. Its popularity with weekend customers makes the savory soup Little Village Café's signature fare.
"The classic soups that make this place famous aren't written down," Blacker said. "They've been passed down over time."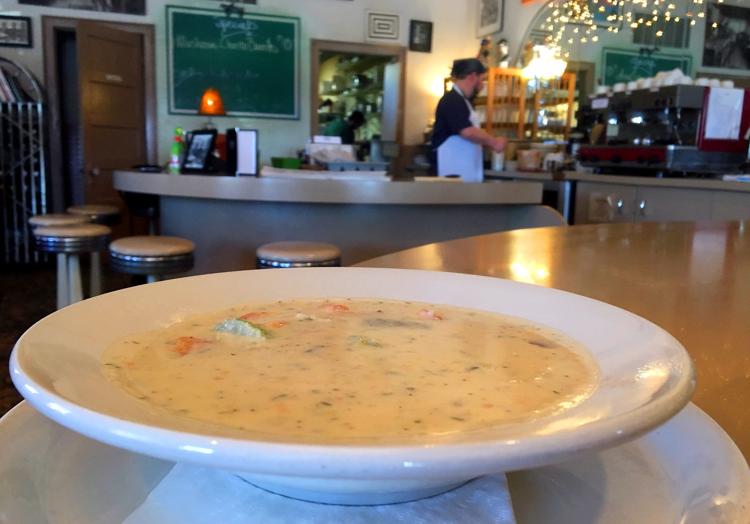 Dickey and his wife Christine ran two Little Village Café locations in Madison before opening the downtown Baraboo restaurant in 1995. They now operate just the Baraboo location, which will celebrate its 23rd anniversary Thursday. Dickey said his vision for the restaurant was to offer a little bit of everything.
You have free articles remaining.
"If you go back to when we opened, the menu we have now is very similar," Dickey said. "The variety of pasta, salads, burritos and sandwiches are what everyone wants. Everything is very eclectic."
Little Village Café's menu is a fresh take on modern dining. In addition to soups and sandwiches, its mac and cheese, Moroccan chicken and goat cheese on sourdough bread earn rave reviews online.
Dickey got his start in the culinary industry washing dishes at the age of 14. He grew up in northern San Francisco, training in a diverse selection of restaurants. He said the name of his future establishment was inspired by one of his mentors who owned an Italian restaurant in Larkspur, California, that was called the Little Village Café.
After working in high-end California restaurants for many years, Dickey and his wife decided to open a restaurant in Madison. The first Little Village Café was opened in Madison in 1989, and the Baraboo restaurant followed several years later.
Blacker also trained in many diverse kitchens across the country. He attended culinary school in Denver and Charlotte, North Carolina, and worked in vegetarian and vegan establishments in California and Madison. Blacker said he and Dickey's eclectic cooking styles often are incorporated into the Little Village Café menu.
"Our customers love that we try things and that it's not just another day in another restaurant," he said. "It's more about injecting our personalities and skillsets."

Blacker said he believes the restaurant's fresh take on classic dishes is one of many reasons Baraboo patrons flock to the location for lunch and dinner service. Dickey added that Little Village Café's friendly customer service also creates a unique atmosphere where any customer can feel at home.
"I think it is unique because it is a place that could be filled to capacity or it could be just you there, and you feel comfortable to be there," Dickey said. "It's more than just food. Mine and Christine's philosophy is it's about the whole experience."