When members of the Kilbourn Fire Department visit Baraboo's Log Cabin Restaurant and Bakery, they always finish their meal with pie.
The restaurant with a flair for comfort food has carved out a niche with its homemade pies, and has sold more than 1 million slices in the 20 years it has done business. Its pies are featured in displays around the restaurant and even on the backs of servers' shirts, which state, "Thank goodness it's Pieday!"
Fred and Ellen Montgomery live in Reedsburg, but find lots of reasons to come to Baraboo to enjoy the family-style meal they describe as down-home cooking.
"We have been coming here for years," Fred Montgomery said. "The food is great and so is the service. We have a special waitress we enjoy, Diane Ziech."
Fred Montgomery also pointed out the restaurant has its own in-house bakery creating those well-known pies, breads, muffins and cookies.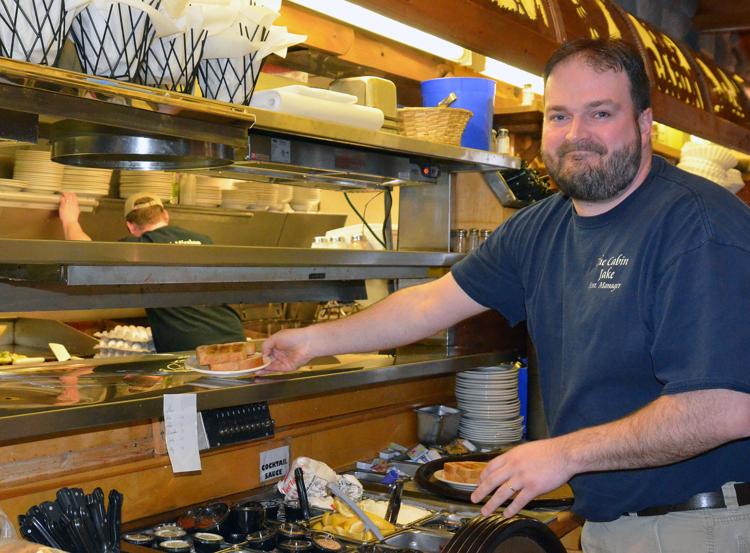 Many of the Log Cabin's employees have worked at the restaurant for years.
"I've been here 15 or 16 years and I definitely have repeat customers that I truly enjoy," Ziech said. "Fifty percent of our employees have been here over five years."
When Mary and Todd Wyss decided to start a restaurant in Baraboo, they sought to create a unique place.
Assistant Manager Tracy Carbonara said the log cabin atmosphere is warm and welcoming.
"A cabin is a place a lot of people long for, but can't afford," she said. "The idea of a log cabin just makes you think about warmth and delicious homemade food."

Gordy Ringlestetter serves as both head chef and general manager. He also heads up the pie-making efforts. The Log Cabin offers dozens of pie flavors, and has four full-time bakers on staff to keep up with demand. The restaurant offers many of its baked goods for sale directly to consumers.
The family atmosphere is what customers and employees talk about most and attribute that to the owners being on site every day to help with operations. Carbonara describes the couple as hands-on with Mary being the "go to girl" and Todd taking care business operations and maintenance.
"One thing you'll always notice about the Log Cabin is that the owners love to create new things, whether it is décor or food," Carbonara said. "Every six months something changes, with the exception of our delicious food and pies."