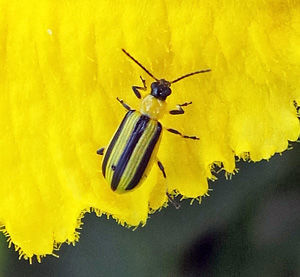 "When first you discover unwanted pests, a strong blast of water usually works best." — Unknown
Apple maggot flies are emerging and laying eggs on our apple trees. The coddling moth egg hatch has peaked on most apple trees. Apples are one of the fruits that are prone to many insects. It is important to wash all apples that you may purchase. You never know what they are sprayed with.
You have free articles remaining.
If you have several fruit trees in your yard, there is an organic way to control insects without worry about chemicals. I have used this method and had great success. I call it "Miracle Mud" but it is known as kaolin clay spray. It changes the plants' surface and makes it unrecognizable and inhospitable to insects. It also increases photosynthesis and protects it from sunscald. This clay mixture stops moths from laying eggs on all fruits. A weekly application is required starting in spring but a spray now should help some to protect your fruit. The gritty powder is water soluble and acts like a barrier for both eggs and feeding. It usually needs to be sprayed for eight weeks but from my experience if it doesn't rain I only used it every two weeks. Your fruit may look like it has a white powder on it but washes off easily. The product comes under the name Surround. You can also use this product on cucumber beetles if you spray plants before they arrive.
There are two types of cucumber beetles — the striped and the spotted. The striped are the more serious problem because they cause bacterial wilt on melons and cucumbers. They are the most common. The spotted cucumber beetles is often confused with the corn rootworm beetle which is not a pest of vine crops but is a bad pest on corn. To tell the difference, the cucumber beetle have black undersides and the corn borers have yellow/green undersides. The striped cucumber beetle overwinters in Wisconsin in the soil while the spotted beetle migrates north by the end of July. One of the best methods of control is rotating all your crops. Never plant the same species in the same spot every year.
A new Master Gardener class will be held this fall and the registration deadline is Aug. 7. The cost for program that includes classes weekly for 12 weeks is $150 with a $25 rebate after you complete the certification process. This class is for gardeners and anyone who would like to be a better gardener or open to someone very new to gardening. Classes will be held on a combination of Friday evenings and Saturday mornings from in Baraboo starting at the beginning of September. For more information, call 608-355-3250.
Contact Phyllis Both by email at pboth@charter.net or by telephone on Monday mornings at the Sauk County University of Wisconsin-Extension office, 608-355-3253.