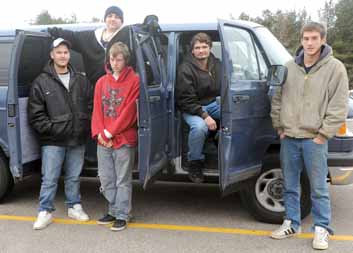 This is where teens go to recapture opportunities nearly lost.
For students in Baraboo's Fresh Start Program, learning to work together repainting a rusted van or building a home are steps toward getting the high school diploma they came close to missing.
Fresh Start is designed to help students who otherwise might not compete high school get their diplomas and learn a trade. It is run by Renewal Unlimited, a nonprofit social service agency.
Students in technical instructor Tom Runnels' class restored the 1995 Dodge Ram they ride in every day to their work and service projects.
Runnels said the van was covered with rust from top to bottom, and some sections were completely rusted out. The students were between tasks on a three-bedroom ranch house they are building when they suggested restoring the van.
"The rocker panel on the passenger and driver's side was rusted out, it was kind of ugly," student Tyler Maki said. "There was not a good spot of paint on it."
The students had to sand the entire vehicle and fill rusted-out spots with putty. Then they masked the windows and chrome trim before priming the body with cans of spray paint.
Greg Klitzke of Klitzke Metal Fabrication completed the paint job. Fresh Start provided the paint. Klitzke did the labor for free.
"Greg wanted us to resand it, so they resanded the primer down," Runnells said. "When we came back we were quite surprised with the finished product you see now. It was pretty cool."
Maki said at one point he was a "punk and a troublemaker" in school. Now he's taking advantage of Fresh Start to turn his life around.
"I learned how to build a house, a pretty important thing, I guess," he said.
At age 17, student Zac Bebensee said for a long time he neglected school, often skipping classes. However, now he has a daughter and sees Fresh Start as his last chance to complete his education and be a responsible father for her sake. "I'm here to get some money, get a job and support my family," Bebensee said.
John Dixon said he "never liked" school, skipped out a lot and was involved in fights. The combination of learning construction and completing his studies at Fresh Start appealed to him.
Students said the work they do requires tough jobs that demand cooperation. One example was handling a 50-foot wooden beam that needed four of them to lift and place in the house they're building.
With the van completed, their next job is to finish the trim on this year's house, Dixon said.
"In June, everybody here will get a high school diploma," said Michael Rundio, Fresh Start's teacher for academic studies.