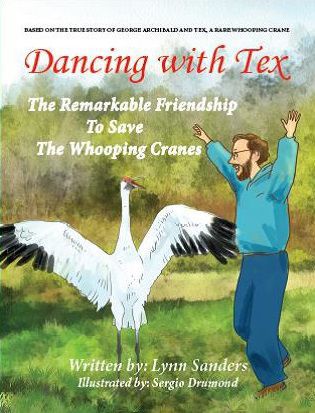 An illustrated children's book telling the story of George Archibald's friendship with a domesticated crane is available for readers of all ages.
"Dancing With Tex: The Remarkable Friendship to Save the Whooping Cranes" by Lynn Sanders is a personal tale that George Archibald, co-founder of the International Crane Foundation, told Sanders more than two decades ago.
While she was working on a video project at the Crane Foundation in 1995, Archibald told Sanders off camera about his friendship with a rare whooping crane named Tex. The bird had been "imprinted," or domesticated by a zookeeper, so she believed people were part of her natural family and avoided other birds.
At that time in the 1970s, whooping cranes were on the verge of extinction, so it was important for Tex to reproduce. However, cranes perform a mating dance before laying eggs, and Tex had no mate to dance with because she didn't get along with other birds. Archibald took it upon himself to become Tex's dancing partner.
After six years of dancing, Tex was able to lay an egg, and her offspring helped save the whooping cranes. Archibald even made an appearance on the Johnny Carson show to tell the story in 1982.
"This is a very important historical story that I think everyone should know about," Sanders said. "It raises environmental awareness among youth and also promotes positive values like having faith and perseverance in pursuing your dreams."
Sanders is president of Difference Makers Media and has helped a wide range of clients tell their stories through a variety of mediums for the past 30 years. She said her goal is to bring people more positive media.
"We need more positive stories so that we can be more inspired and motivated and make a difference in the world in whatever we do," she said.
Rick Fox is a former board member of the International Crane Foundation and said Archibald is one of his environmental heroes. He also is familiar with Sanders' work.
"I think she did a remarkable job with this," Fox said. "She took a remarkable science story and turned it into a feel-good children's book."
It took nearly a decade for the story to reach its final form. At one point the story was almost published by a traditional press, but the company ran out of funding. Sanders and two of her colleagues then adapted the story into a children's musical in 2008, and it ran two nights at the former Theatre Building Chicago before the theatre was sold.
But like Tex and Archibald, Sanders said she was able to persevere.
"It's so important for people to realize that they can do something positive to make a difference," she said.