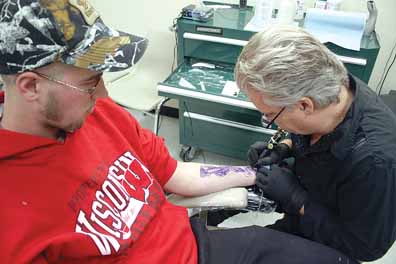 Mark Detter knows what it takes to make a tattoo sing.
Detter, who goes by the nickname "Smooth," has inked the skin of thousands of clients since he became licensed to practice cosmetology 25 years ago.
But these days, some of the people who visit Detter's Smooth Fx tattoo parlor in Sauk City aren't there to get one of his colorful, customized tattoos. They sit in his chair, close their eyes, and pray he can fix a bad tattoo they received from another artist.
"It happens far too often," Detter said. "The state requires that artists abide by certain health and safety standards. But there's no requirement that an artist have talent."
Tattoo artists must apply for a practitioner's license from the Wisconsin Department of Health Services. In Sauk County, they also must license their tattoo parlor and allow public health officials to inspect on occasion.
Detter said people are often tempted to visit unlicensed artists because they offer lower prices. They work out of their living room or kitchen.
It's a gamble that may leave a person with a decent tattoo at a discount rate. But there's no guarantee the provider follows proper sterilization or needle disposal techniques, and therein lies the real risk, health officials said.
"It leaves people exposed to contracting HIV/AIDS and Hepatitis C," said Matt Kachel, health technician with the South Central Environmental Health Consortium. "These are diseases a person may contract and not know about it for a long time. It can lead to outbreaks, and that's not something that we'd like to see."
Sauk County health officials say they've recently received numerous tips about unlicensed tattoo providers. That includes so-called "tattoo parties," where artists provide discount ink jobs at large gatherings, such as fundraisers.
They set up shop in a remote location for one evening, and never return.
"They're not always easy to catch because they know what they're doing is illegal, so they keep it discrete," Kachel said.
A mother recently filed a complaint with the Spring Green Police Department after a man tattooed her underage daughter. Kachel aided law enforcement in an investigation that led to charges against a man who allegedly had provided numerous tattoos in his kitchen without a license.
There have been no illegal tattooing convictions in Baraboo in recent years, and only one tip, Baraboo Police Lt. Rob Sinden said.
Reports show Baraboo police received an anonymous tip in 2009 about an unlicensed person tattooing children. An officer investigated, but could not locate the correct address with the scant details provided by the tipper.
"I think parents need to be aware of this," said Sauk County Public Health Department Director Cindy Bodendein, adding that artists must get parental consent to tattoo an underage person.
The Sauk County Public Health Board recently approved the removal of a part of the county's tattoo parlor ordinance that required licensed artists to prove they are free of communicable diseases.
Bodendein said that part of the ordinance cannot be enforced because it conflicts with a federal law that protects the privacy of health records. The county's tattoo parlor ordinance was adopted before the Health Insurance Portability and Accountability Act.
But Bodendein said removal of that requirement shouldn't matter, because the safety requirements licensed providers must abide by protect customers' health.
Kachel said there's one sure-fire way to be safe when visiting a tattoo artist.
"Ask to see their license," he said. "If they can't produce it in an instant, you probably want to go somewhere else."