A proposed $40 million development would bring a new hotel, RV park, vacation rentals and single-family homes to the town of Baraboo near Devil's Lake over the next four years.
First reported last week by Derrick Mayoleth of Skillet Creek Media, the project seeks to redevelop about 39 acres off of Highway DL across from the park's north entrance, according to developer Michelle Lickness of Ikwe Development, based in Balsam Lake. She said the project has been in the works for two years and added Ikwe in January.
"This is not outside money," she said. "This is all local investors to the area that are believing in their community and want to see some growth over by the Devil's Lake area."
Project scope
The proposal, shared at an informational meeting Aug. 31 at the Al. Ringling Theatre in Baraboo, shows a project split over four phases. Twenty-six vacation rental duplexes and 22 single-family homes comprise the first two phases, projected to break ground in March just off of the existing Tranquility Subdivision, a neighborhood of single-family houses, several of which are used as vacation rentals.
The third phase consists of a luxury RV park with 30 long-term rentals and 25 seasonal rentals, while the fourth calls for a 60-room hotel to be opened by June 2025. Each plot in the luxury RV park would have a cottage and outdoor space, Lickness said.
She said project planners are working "in the best interest of that neighborhood," planning to clean up land that was being used as a "dumping ground," put in walking trails and design the new elements as modern, high-end "outdoor chic" to complement Tranquility Lane's log cabin aesthetic. They already have the land under contract, she said.
One of the local investors, a Baraboo native who now lives in Verona, said he's excited to see other investors wanting to do "what's best for the land."
"It's my obligation to my hometown and the area of Sauk County, which I grew up in … to make sure that everyone are good stewards of the land and the right things are done with the property," Gregg McArthur said.
He declined to say how much money he invested, but said he owns some of the property going into the project. He's the registered agent for Devil's Lake Properties LLC, which owns the 12.4-acre parcel on DL where the hotel is proposed and another 6.7 acres at the end of Cooper Court that extends behind the houses on Devil's Lake Parkway.
He said he and other investors saw the recent addition of Tumbled Rock Brewery & Kitchen as an asset to the area and wanted to expand on it. The new development would make a "blighted" area vibrant again, he said, and connect it to downtown Baraboo.
"It's not going to be a Dells attraction," he said. "It's going to be a beautiful, in-the-woods setting. That's my vision for it."
Lickness said project leaders invited local residents to the informational meeting last month and got mostly positive feedback. Of the 31 attendees, 21 answered a survey, half of whom were not residents of the town of Baraboo, according to Lickness who shared the survey results with the News Republic. They showed only one person disagreed with parts of the project — the first two phases, citing the development's proximity to existing homes.
"We are here to listen to our neighbors," she said.
Neighbors, park lovers concerned
But several Tranquility residents said they didn't attend the meeting, either because they didn't know about it or weren't in town at the time. Baraboo native Ty Manthey, who's lived in the subdivision for 11 years, said he opposes the project because it will disturb the wildlife, the forest view from his back porch and potentially "draw a lot of the problems that they're having in Wisconsin Dells right now."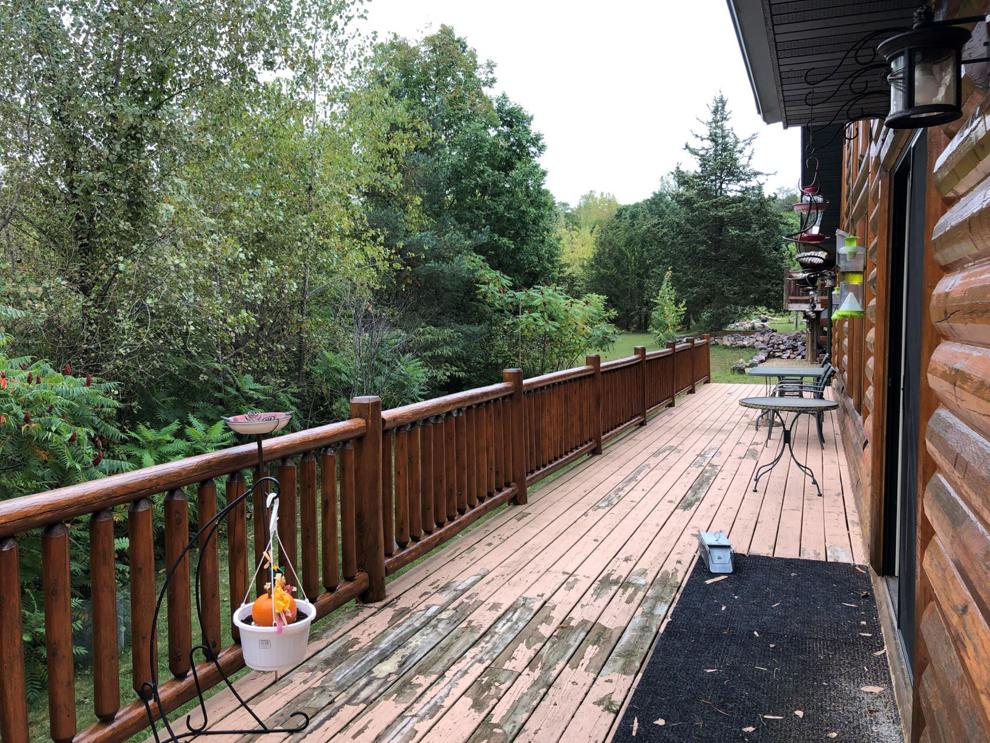 "Those of us who built out here — you hear them birds?" he said Monday, standing at his front door. "That's what we like to hear. I don't want another Kalahari, I don't want … any big convention centers.
"I want to hear the coyotes at night, want to hear the birds, and I'm sure that there are migratory birds that come through this area back in here. Once they build that all up, they'll be gone. They just don't think of those things," Manthey said.
He said several of his neighbors were gone at the time the meeting was held. That includes Matt Stieber, who said he's lived there for the last two years since building a house but was on vacation at the end of August.
Vladimir Skurla said he found out about the project last week because he didn't check the mail. While he lives in Chicago, Skurla said he spends around four days a week at his cabin near Devil's Lake, renting it out the rest of the time. According to Sauk County land records, Skurla owns five properties in the Tranquility area.
Stieber and Skurla said they're concerned about the additional traffic and noise that would come with such a large development.
Illinois resident Luke Gillen, 59, doesn't live there yet, but he bought a parcel at the end of Cooper Court in 2008 with the intention of building a house for his retirement.
"That's been the whole plan since I've been a little kid," he said, "and it's going to break my heart, now that I'm this close, if this turns into a zoo."
He's been going to Devil's Lake State Park at least once a year since he was young and wanted to enjoy the peacefulness and quiet of the area in retirement, he said. He wasn't aware of the informational meeting.
"Now to hear what possibly could happen, it's just tearing me apart," Gillen said, adding that he might reconsider his plans if the development goes through.
He's also worried about traffic and noise, as well as the possibility that it could make the park — already Wisconsin's most visited state park — even busier.
That concern has been echoed by other Devil's Lake enthusiasts. Eric and Diane Dietmeier, a retired couple from Freeport, Illinois, who recently sold their house to spend summers in Wisconsin, said they worry the development would exacerbate congestion at the park, which they visited for a hike last week.
The parking lots are always full on weekends, Diane said, so "to bring in more people … that's not a really great idea. We don't come here on weekends, because there's just too many people."
"I think there's a lot of us ... that want this park as a state park because of its beauty, its serenity and its quietness, in a lot of ways, and hiking ability," Eric said. "If you hike and you've got to follow a person right behind you and right in front of you all the time, that would be a detriment."
McArthur, the investor, said the development will bring more activity, "but there's a tremendous demand for housing in that area." The town of Baraboo also "does a great job of making sure that things are run properly" with noise and parking ordinances, which will be addressed early in the project plans, he said.
"We're real excited about the team that's involved," McArthur said. "They're going to be very careful, and they're very good planners, which is good. You have to plan something like this properly and don't rush it. Do it right."
Next steps
Residents will have a chance to comment at public hearings as part of the process.
Before the duplexes and RV park can be constructed, the town would need to approve zoning changes for 20 acres, Lickness said. Half of them need to change from agriculture to commercial recreation and the other half to multi-family residential, she said.
Lickness said she's already met with town and Sauk County officials, as well as the sewer district. Developers presented the project to the town's Plan Commission June 24, according to the meeting agenda. Minutes from the meeting are not yet available online. The Plan Commission chairman did not respond to a phone call Thursday.
She said she's also asking the town to consider adding three adjacent town-owned lots to the project, in lieu of developers asking for a Tax Incremental District.
"We're not requesting it to be free, but we're also asking them to take a look at the infrastructure that we're bringing in to that facility," Lickness said.
According to the meeting handout, the project is expected to bring $1.3 million in new property and lodging taxes to the area over five years, in addition to millions of dollars to the local economy through spending by new residents and vacationers.
Follow Susan Endres on Twitter @EndresSusan or call her at 745-3506.