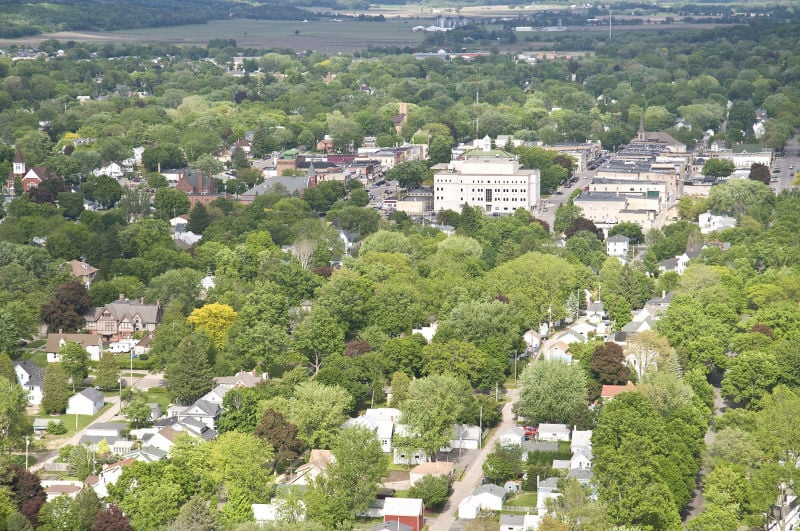 Ask a few average Baraboo residents what it's like to be on a national list of best small towns to visit this year, and they'll likely answer that it's wonderful to be included on such a list, but it's nothing they didn't know already.
Baraboo was named No. 4 in the Top 20 Best Small Towns to Visit in 2013 by Smithsonian Magazine this week, in a list that includes places like Gettysburg, Pa., St. Augustine Fla., and Galena Ill.
Baraboo Mayor Mike Palm is tickled to be on the list. He said he got a call in January from reporter Susan Spano, explaining the article and telling Palm she wanted to visit.
When she arrived, Palm personally took her around Baraboo, showing her everything the town has to offer. They were busy from 7:30 a.m. to 8 p.m., both days she was here, he said. Palm proudly showed off his city.
"To make the top five of any positive list, nationally, is something. I mean, the top 20 is just wonderful, but we made the top five," Palm said. "Everyone in Baraboo knows how special we are, but to have someone as prestigious at Smithsonian Magazine recognize it is very special."
Longtime Baraboo resident and local historian Bob Dewel agrees with Palm.
"It's an outstanding small city," Dewel said, adding that he came here years ago after looking at other small towns in Wisconsin, before many of the amenities were added to the city.
"How many towns have a zoo?" Dewel said. "And of course, we have Devil's Lake, the jewel of the Midwest, and it's right in our backyard."
Deb Bauer, Executive Director of the Baraboo Area Chamber of Commerce said Devil's Lake State Park is the most popular attraction in Baraboo "by a long shot," boasting two million visitors last year. Bauer said other highly visited attractions in Baraboo are Circus World and the International Crane Foundation.
"We have so many unique things and events, like art fairs and parades, and that all just adds to our appeal," Bauer said.
Bauer said she expects tourism to rise following the publication of Smithsonian Magazine.
Smithsonian Magazine Executive Editor Terry Monmaney said the magazine worked with Esri, a geographic information services company to narrow the list of towns to include on their list.
Esri has a large database of all the services and amenities of nearly every town in the country.
"We asked Esri to look at towns under 15,000 people and check them for a couple dozen different cultural features or assets, such as museums, performance stages, parks, galleries, amusement parks and the like," Monmaney said in an email. "That resulted in a list of a few dozen high-scoring towns ranked by the number of assets. We at Smithsonian then narrowed those results further, to achieve a kind of ratio describing the number of cultural assets per capita. That's what primarily determined a town's 'ranking.' We then worked from that list to arrive at the top 10 and top 20. For the overall list we were looking for geographic range, editorial mix and what might be called freshness. Baraboo met all those criteria, and then some."
He also added, "Our list is about the best towns to visit for cultural experience, culture being what Smithsonian Magazine is all about."
Al. Ringling Theater Executive Director Brian Heller thinks Baraboo certainly has that cultural appeal.
"We've got a lot to offer," he said. "I expect Baraboo to be at the top of a list like this. This is a really great place."
Spano writes in the Smithsonian Magazine article, "'Nothing is too good for Baraboo,' Albrecht Ringling, oldest of the seven Ringling brothers who grew up in town, said while gilt was being applied to columns in a theater he built and artists were painting a French Baroque mural on the fire curtain. 'The Al' opened in 1915, though vaudeville has yielded to concerts, musicals and talkies accompanied by a 1928 Barton organ. "
Heller said the Al. is a very special and unique feature of Baraboo.
"There's always been music and drama. It's always been a part of the human condition. But's it's extremely rare to have something like this," Heller said of the theater.
Being built in the golden age of cinema, Heller pointed out that the Al. Ringling was "the first theater to be built from design to include a full stage and projection booth in the ornate palatial style."
The Al. Ringling sees its fair share of visitors, Heller said, though it's hard to track because the theater frequently is rented out for events. However, during the time between Thanksgiving and Christmas last year, 5000 people visited the Al.
Village Booksmith owner Annie Randall knows how important visitors to the area are.
"I don't have any hard figures, but my guess is that probably close to a third of my business is from out-of-towners, and close to a third are locals. The other third is what I consider regional locals … regulars from Milwaukee, Madison, Wisconsin Rapids … they're not really tourists and they're not really locals," Randall said.
Randall is excited Baraboo made the list from the Smithsonian Magazine. "I'm so proud of our town. It's real. It's not a theme park."
"You get a real Rockwellian feel here," he said. "It just feels like home."