A severe thunderstorm Wednesday swept through eastern Baraboo, closing the Sauk County Fair carnival for the night and downing trees into power lines and into a home along Second Street.
Tom Thebault, general manager of the carnival company at the Sauk County Fair, said the storm came in too fast to evacuate fairgoers and staff.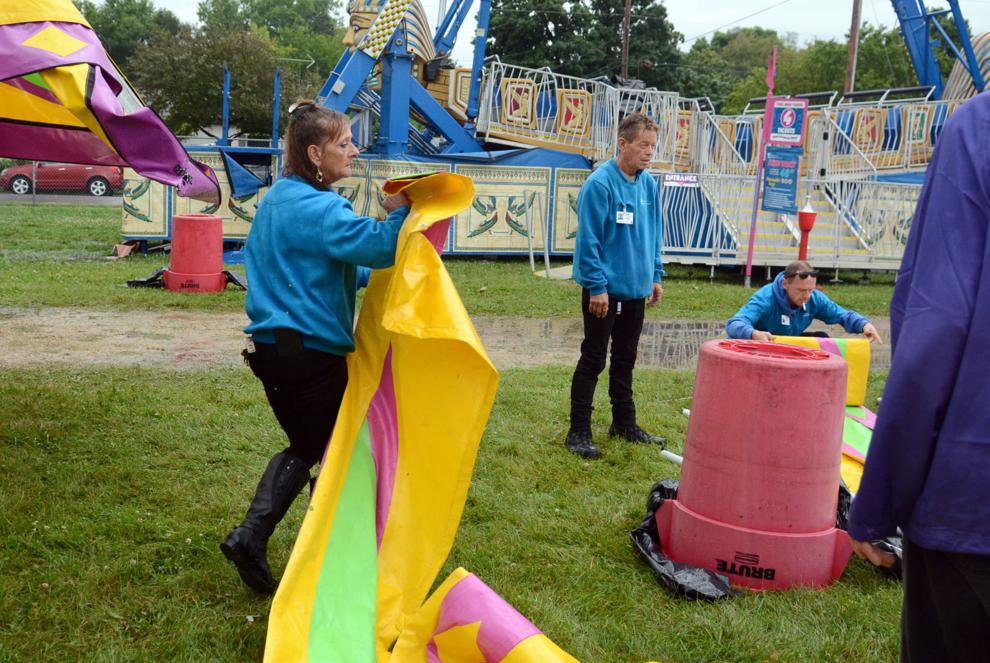 "There was really no warning, not even on the apps that we use," he said. "Rain yes. The winds that we had? No."
Damaged joints, tents and lumber, flipped the duck pond and left the fairgrounds with large, deep puddles of standing water. Thebault said the company decided to refund everyone who had purchased wristbands for the night.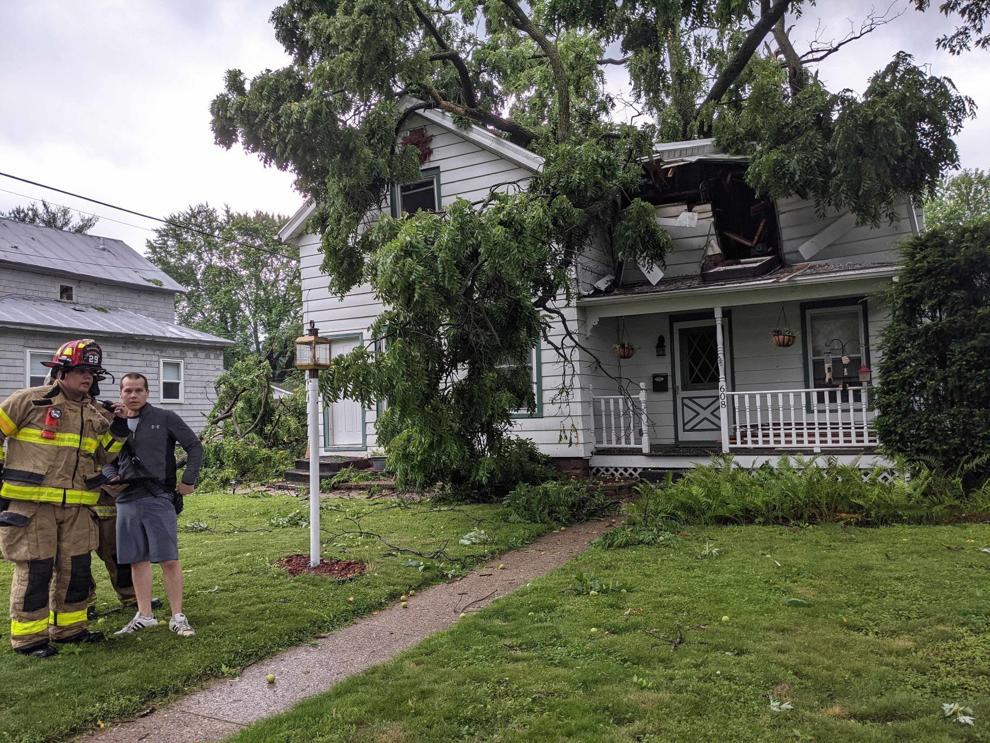 "We felt it was safest just to close for the evening and regroup for tomorrow," he said.
Emily Copeland, Muscoda, said she came to the fair to see The Dweebs perform at the grandstand, but the band packed up after the storm blew rain under the shelter.
"Oh my god, it was so windy. ... I got soaked all over the place, and then the power went out, so we've all just been standing around ever since doing nothing," Copeland said.
Just a few blocks over, branches and large trees lined Elizabeth Street around 6 p.m. as neighbors convened along the sidewalks to see the damage.
At 608 Second Street, the residents were reviewing the structural damage after a tree fell onto their home, crushing the roof and much of the second story.
A man who would only identify himself as Tyler said he owned the house. According to online property records, the owner of the home is Tyler Patten. He was trying to coordinate with firefighters to get personal and time sensitive items when he returned to the house. Patten said he had been driving to Richland Center to pick up a bed frame, but his wife and son were on the ground floor of the home when the tree hit it.
"They went to the basement because they didn't know what happened," he said. "And the house shook."
The dogs made it out safe, he said, though there were still cats in the basement.
At the intersection of Second Street, a large tree had fallen into a power line. Another blocked entry onto Third Street, split from its trunk. People used chainsaws to clear debris, working together even as the rain started to fall again.
Officials with the Baraboo Fire Department issued a warning just before 7 p.m. urging residents to stay in their homes over concerns about fallen power lines and requesting they not use chainsaws or other tools to cut fallen trees if there are power lines around them.
The National Weather Service has issued a tornado watch for the area until midnight.
Editor's Note: This story was updated July 15 to reflect the full name of the homeowner.
Follow Bridget on Twitter @cookebridget or contact her at 608-745-3513.